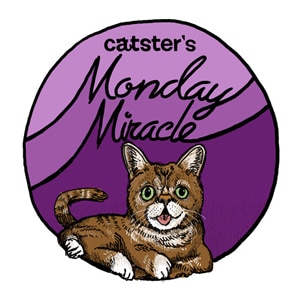 Another week, another wheeling wonder. This time we salute Emerson, a 10-year-old cat who was found in a serious state after a case of suspected abuse from a former owner. Now he's on his way to recovery and living a relaxed life at the Houlton Humane Society in Maine, complete with a wheelchair, which he's learning to use to help him get around on his own front paws.
Emerson's adventure begins back in August of last year, when he was brought to the Houlton Humane Society with a list of injuries that included "broken ribs and neck, spinal damage and burned feet."
Worse still, the organization's Facebook page says, "The woman who brought him in claimed she 'snapped' his neck because he was annoying to her. It was very apparent after seeing him that he had some major damage from the abuse he had endured."
A visit to a vet revealed more: "We learned he had a broken neck that healed wrong due to no medical care, spinal cord damage from being kicked or some sort of trauma to his back." Cruelty charges were soon brought against Emerson's original owner.
Thankfully, Heather and John Miller of the organization decided to rescue Emerson. With the cat unable to use his back legs, Jonathan set about constructing a walking device from PVC pipes and the training wheels from a bicycle. The contraption didn't quite work as planned — but soon a kindly observer sent over a feline wheelchair for Emerson to use.
Now he's discovering how to scoot along by using his front paws to haul the rest of his frame around. Emerson's chair has also been accessorized by the staff at the Houlton Humane Society, complete with a flag proclaiming his No. 1 status.
Writing to Facebook, the Millers sum up Emerson's life these days: "We love him and know every day he is a blessing to all that meet him. He radiates strength and forgiveness. He deserves this chance, and we will give it to him."
Pop on over to Facebook to keep up to speed with Emerson's moves.
Read more Monday Miracles on Catster: 
About Phillip Mlynar: The self-appointed world's foremost expert on rappers' cats. When not penning posts on rap music, he can be found building DIY cat towers for his adopted domestic shorthair, Mimosa, and collecting Le Creuset cookware (in red). He has also invented cat sushi, but it's not quite what you think it is.