Wonky the cat might have a little wobble in his walk due to cerebellar hypoplasia, but that won't stop the handsome brown-and-white tabby from fulfilling his dream of becoming the next "meower" of San Antonio.
In a political campaign for the ages, Wayward Whiskers Cat Rescue has teamed up with San Antonio Animal Care Services for this year's "meoworal" race. Unlike human mayors, whose job description sounds hard and boring, the meower will presumably have the final say in everything from sun puddle occupation to treat rations.
Wonky wants to be the next "meower" of San Antonio.
Wonky is Wayward's candidate, making a strong showing for special-needs pets. Since he's also completely deaf, he knows exactly how amazing differently abled cats can be.
"Special needs cats are often overlooked at shelters because the potential adopter is afraid that the cat will require a lot of extra time or money, but that usually isn't the case," says Wayward Whiskers founder Sherry Pfau, who rescued Wonky. "They might need a little extra care and attention, but the love and affection they give in return is totally worth it."
Wonky's campaign poster highlights his stance on adopting special-needs pets. He also supports recreational catnip use!
Wonky's "catform" is simple: He wants to encourage people to adopt special-needs cats. Additionally, "he is a supporter of the legalization of recreational catnip, and has a more liberal agenda than Casa (his opponent). His stance on most issues is pretty much to just lie down and take a nap, though he can be quite vocal at times!"
Speaking of Wonky's opponent, Casa: He's the house cat at San Antonio Animal Care Services. His catform is geared toward providing TNR and vaccinations to feral cats, including flea and tick treatments.
According to Casa's campaign materials, the orange tabby has his catchphrase all figured out: "I guess you could say, as Meower of San Antonio, I plan to take the ticks out of politics."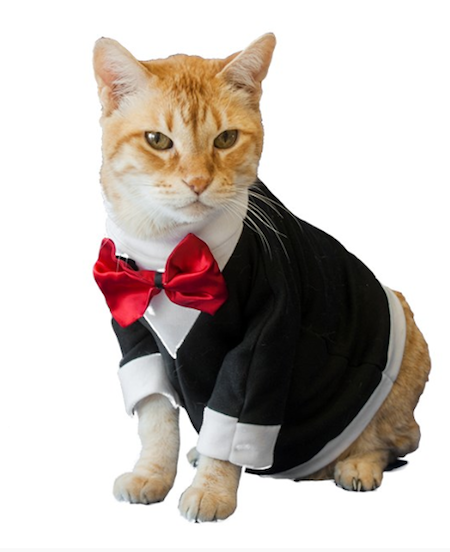 Casa is also running for "meower" of San Antonio — and he looks great in a tux!
Though the campaign is lighthearted, Pfau hopes it will draw attention to more serious issues, including misconceptions about FIV.
"FIV is not a death sentence and shouldn't be feared," Pfau says. "Too many cats that test positive for FIV are immediately euthanized by shelters and vets because of this misinformation, and their deaths are absolutely preventable and unnecessary."
All of the funds raised will go toward constructing a new Wayward Whiskers shelter location, as well as a San Antonio cat cafe. Pfau says the cafe will be much more than just a place to hang out.
Wonky takes a break from the campaign trail to celebrate the recent Easter holiday.
"Our vision is to have a place where people can gather, share ideas, spend time with adoptable cats (maybe take one or two home!), and have a cup of coffee, glass of wine or a craft beer," she says. "The cafe will feature an outdoor patio with live music, art for sale from local artists, meeting rooms with free Wi-Fi, pet concierge services such as dog walking, pet sitting, food and litter delivery, and much more. We also want to assist people who are trying to do TNR but can't get the cats to the clinic due to work schedule, lack of transportation, etc. It will be a hub for all things pet-related."
Pfau also hopes to remind people that special-needs cats like Wonky make amazing pets.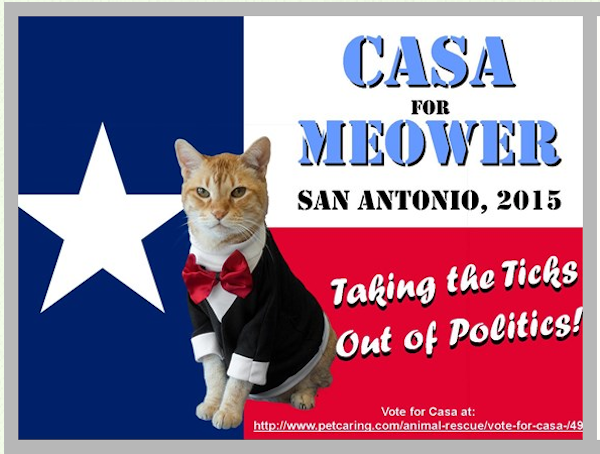 Casa's campaign poster shows that the handsome orange tabby is a master of clever tag lines.
"When a cat is blind or deaf, missing an eye or a leg or a tail, he doesn't mope around and feel sorry for himself," she says. "He plays and runs and acts like nothing is wrong! It's inspiring to see the determination of a cat with cerebellar hypoplasia, that even though their body doesn't cooperate with their brain, they still get where they want to go and never give up. A special-needs cat will make any bad day better. And a cat who is rescued from a bad situation will be that much more grateful to the person that saved her!"
Cast your vote by May 9!
Now that sounds like the kind of meower I'd like to vote for -– but you'll have to make your own decision. Vote for Wonky here and vote for Casa here. Each vote requires a minimum one-dollar donation –- though larger donations are welcome, and you can vote more than once.
The candidates will square off in a heated debate before the polls close on May 9, so vote early and often to ensure your favorite cat-idate takes office –- though I'm sure they'd both do an excellent job. Follow Wayward Whiskers on Facebook for real-time updates from the campaign trail.
More by Angela Lutz:
Learn more about your cat with Catster:
About Angela: This not-crazy-at-all cat lady loves to lint-roll her favorite dress and go out dancing. She also frequents the gym, the vegan coffee joint, and the warm patch of sunlight on the living room floor. She enjoys a good cat rescue story about kindness and decency overcoming the odds, and she's an enthusiastic recipient of headbutts and purrs from her two cats, Bubba Lee Kinsey and Phoenix.