There is nothing in the world that is better than kittens. This is a fact that has time and again been proved to be true by the world's leading scholars. But this irrefutable truth hasn't stopped some enterprising Internet wags from using it as the basis for an irresistible new site, which pitches artwork against kittens and allows the public to vote. Nattily, it's called Better Than Kittens.
The interface is simple: You're shown two images, one of a kitten and one of a piece of artwork, and you vote on the one you like best. Then you click "Kittens" in the top left of the browser window to be given another selection.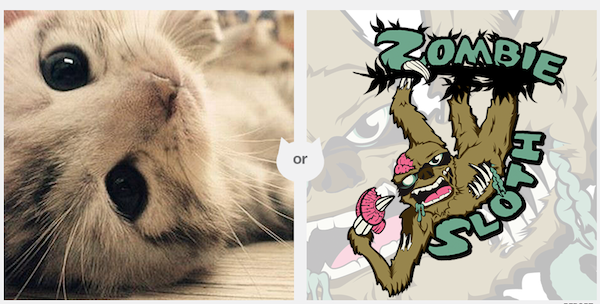 The site keeps a running track of who's winning in each bout and even includes a very exclusive Hall of Fame consisting of those images that have beaten the kittens. At the moment it stands at 11 images, including one of a dog with a beer can on its head.
Users can upload their own images via the "Take the challenge" button. Once you've done that, you're emailed a personal link that takes you direct to your showdown with your kitten foe. I uploaded a fine art illustration of the floor plan for a bar based in part on a scene in Peep Show that a friend and I came up with. It's not beating the kitten.
While the usually fruitless charge of pitting artwork against kittens is fun, the site also enables artists to include links to their portfolio. (On the downside, a couple of clowns have decided to try and cheat the system by uploading blatant advertisements to their websites — as if that's going to endear you to the kitten-loving masses!)
Anyway, head over to Better Than Kittens now and consider it your official new Internet time-waster!
About Phillip Mlynar: The self-appointed world's foremost expert on rappers' cats. When not penning posts on rap music, he can be found building DIY cat towers for his adopted domestic shorthair, Mimosa, and collecting Le Creuset cookware (in red). He has also invented cat sushi, but it's not quite what you think it is.
Read more about Internet time-wasters: