When I used to go to work in an office every day, I had fun putting together outfits and accessories. I've always thought I had an okay sense of style and mostly dressed in what I liked, instead of what the fashion magazines dictated. These days I dress really casually: like lounge pants-casually. I work from home and no one but my cats see me. And they really don't give a rip what I wear … at least that's what I thought.
Cosmo recently expressed an interest in putting together an outfit for me. He said he was tired of the same old raggedy t-shirts and jammie bottoms. What, was he suddenly Tim Gunn? I mean, I know he wears a fur tuxedo and everything, but who was he to tell me how to assemble an ensemble? But I figured I really didn't have anything to lose — I wouldn't have to leave the house or anything.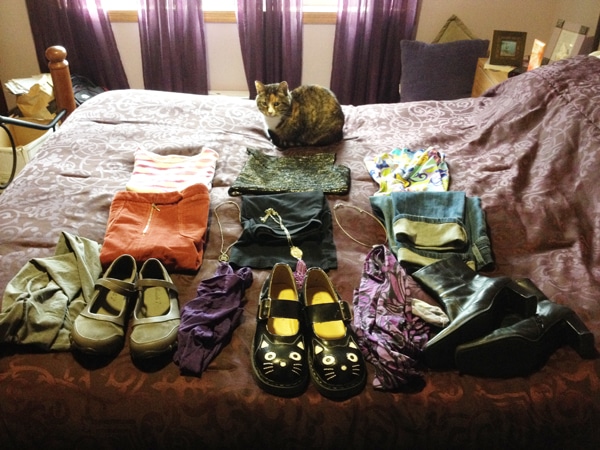 I did ask to have some sort of control in the situation and he agreed I could give him three choices of tops, bottoms, shoes, tights and necklaces. So, with Phoebe as his assistant, Cosmo set out to "make me pretty."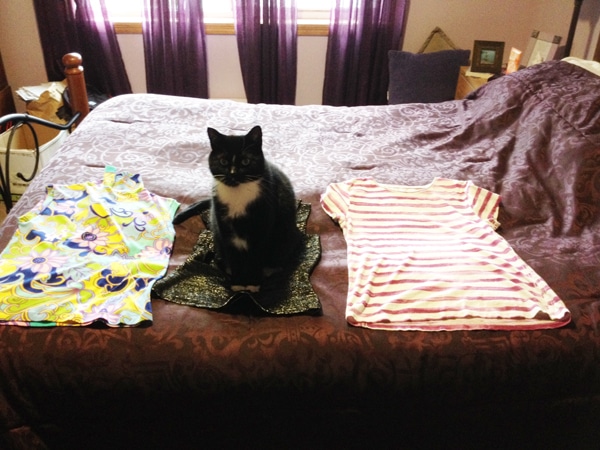 I'd chosen three tops: one vintage psychedelic-patterned sleeveless number, a glitzy disco-style top and a plain striped cotton-blend t-shirt. He didn't hesitate in choosing the crazy Saturday Night Fever number. Really, I'd only made it a choice for fun's sake, but he seemed totally committed to the choice. He must know what he's doing. Right?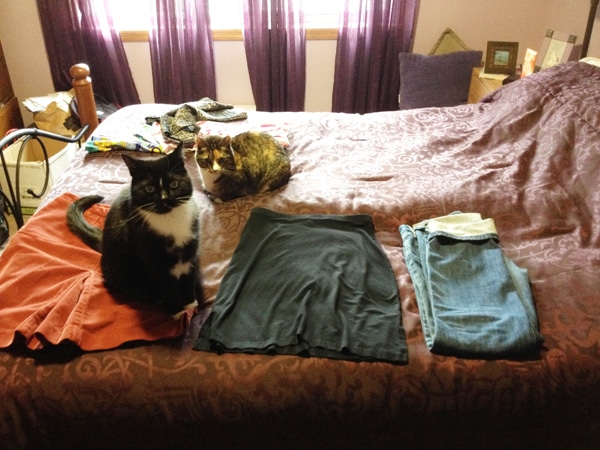 Next came the bottom. I'd presented a rust-colored corduroy skirt, a snug little black skirt and a basic pair of jeans. Again, he wasted no time making a choice. Personally, I would have chosen either of the other two. I wasn't so sure about the disco-corduroy combo.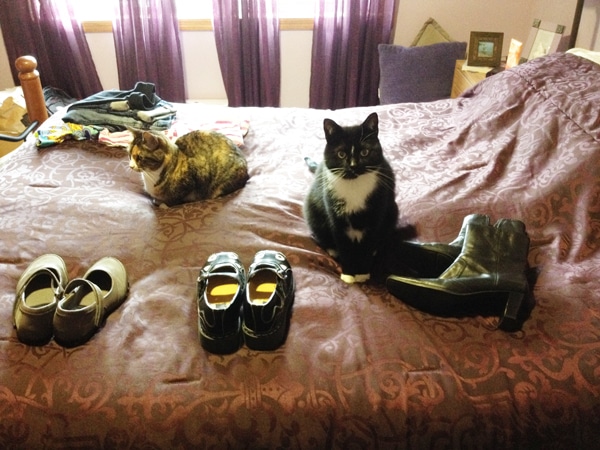 On to shoes! I lined up a pair of comfortable gray shoes, my adorable kitty-cat Mary Janes and black boots that I normally wear with pants. I thought for sure he'd go for the cat's shoes … obviously! Nope. He sniffed around the cat ones, but then settled on the boots. My outfit was getting curiouser and curiouser.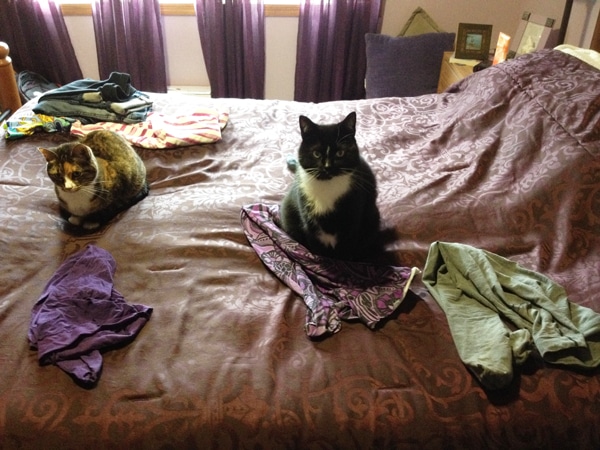 As for tights, I'd offered up a purple pair, a gray pair and a wack-a-doodle purple-and-gray patterned pair. At this point, it really didn't make much of a difference what he chose — I was going to look like a disco schoolgirl who got dressed in the dark.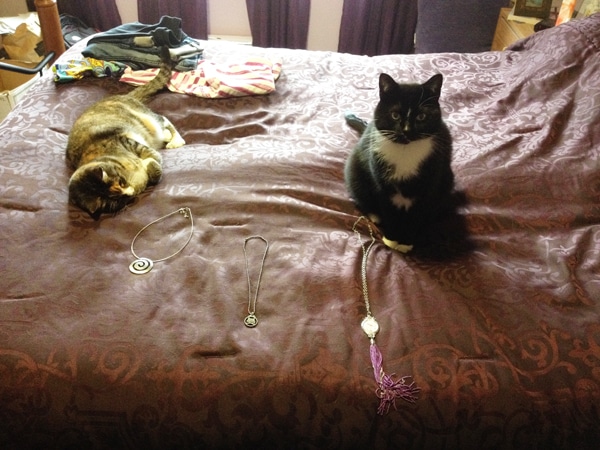 Lastly, he made a jewelry decision. I asked him to pick between three necklaces that I wear pretty regularly: a silver one with a big spiral pendant, my favorite pirate cat chain and a kitschy little necklace with a bird cage pendant and purple tassel. I was really fine with any of these. He decided to go with the most festive. I could have guessed that.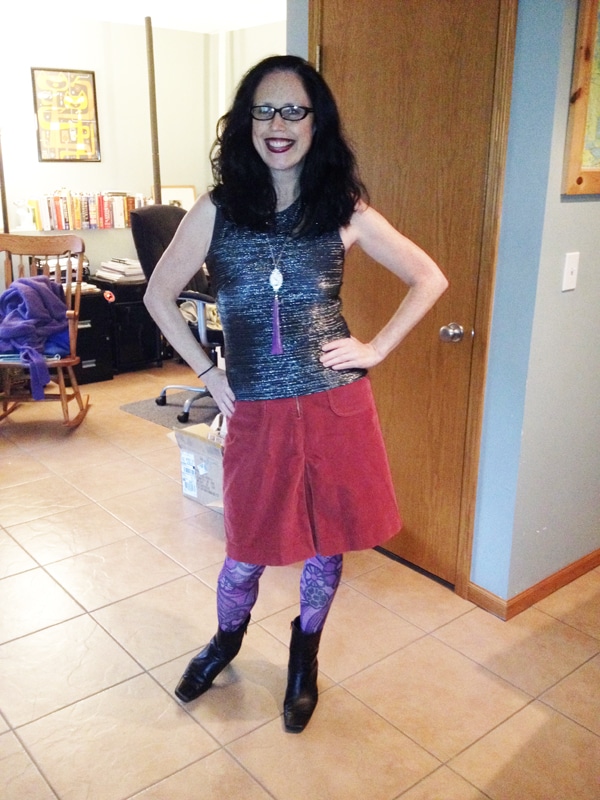 Although Cosmo assured me I'd look fabulous, I wasn't quite so certain. I skeptically put together all the pieces chosen by my fuzzy fashion consultant and cautiously looked in the mirror. I have to say that, even though I'd never have (or will) combined any part of the outfit, it didn't look horrible. In fact, it was kind of interesting. I feel a little badly for doubting my cat's ability to dress me — I may ask him to do it again someday. Oh, and he wanted me to tell you he's available for hire. He'll accept payment in the form of bendy straws, Sharpie caps or something comparable. But act fast, he expects to be busy around the holidays.
What kind of fashion choices would your cat make for you? Tell us about it in the comments!
About the Author: Angie Bailey is an eternal optimist with an adoration of all things silly. Loves pre-adolescent boy humor, puns, making up parody songs, thinking about cats doing people things and The Smiths. Writes Catladyland, a cat humor blog, Texts from Mittens (birthed right here on Catster) and authored whiskerslist: the kitty classifieds, a silly book about cats wheeling and dealing online. Partner in a production company and writes and acts in comedy web series that features sketches and mockumentaries. Mother to two humans and three cats, all of which want her to make them food.
Read more by Angie Bailey: