My cats love their toys and spend lots of time batting them, wrestling with them and carrying them in their mouths. In fact, Saffy loves to "hunt" toy mice at night. She carries one in her mouth and walks around howling. Then she'll drop it somewhere, usually outside our bedroom door. We always thank her for the gift and tell her what a good girl she is.
Although my cats have a couple of baskets for their toys, I'm constantly finding them strewn across the house. This is good — it means they've been playing and having fun. I can usually tell which toys are their favorites and what they've been doing with them, based on the locations I find them. There are some pretty common places I find these playthings. Here are five of them.
The 5 Random Places I Find Cat Toys
1. Floating in the fountain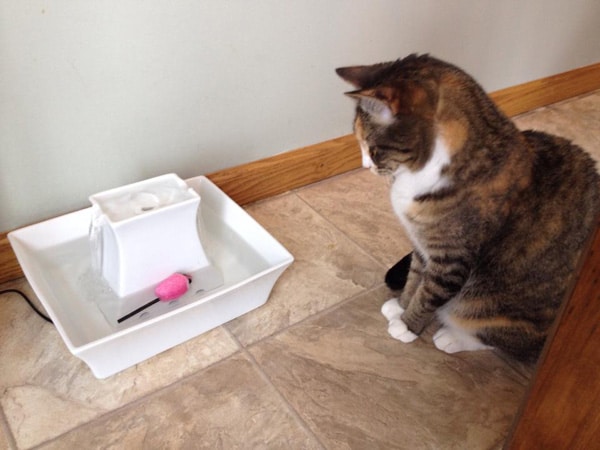 Why do cats like to drop their toys in their water dish? For as long as I've shared my life with kitties, mine have done that. It totally cracks me up when I find the drowning mice and floating balls. Cats are smart — I'm sure they have a good reason for doing this.
2. Under furniture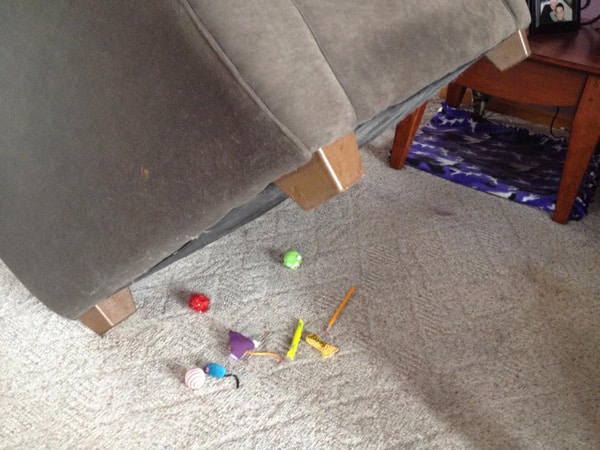 I love it when my friends post photos of the treasures unearthed when they move a chair or sofa. I usually find some of my cats' favorites, which I'd written off as MIA. It's like Christmas morning! And yes, that's a pencil under there. In addition to the "official" cat toys, I usually find a makeshift one like a pencil or tube of Chapstick.
3. Batted under doors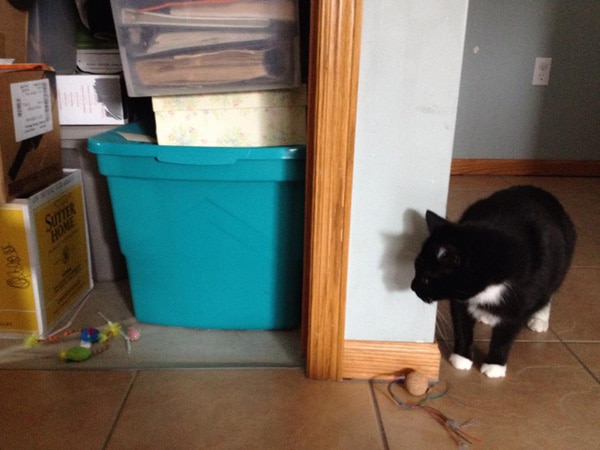 We have a storage closet on our lower level. There's a bit of an opening between the door and the floor, and toys often get batted under the door, into the closet. We have smooth tile downstairs, so it's exceptionally slick and a batted toy can really pick up speed. Do you see that little pink ball? That is one of Phoebe's best baubles. It's small enough to carry in her mouth and she will swat it around like a little soccer ball for an extended amount of time … until it slides under the door. Goal?
4. Buried in sheets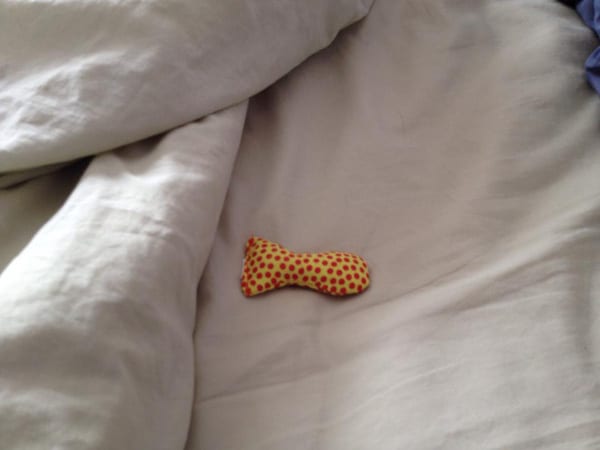 My cats enjoy sleeping and playing on my bed. Oftentimes I'll toss them a toy or they'll bring one up with them. They love to create games for themselves, and concealing a plaything under a sheet or blanket makes an instant challenge. I think they sometimes become distracted or give up, because I'll find the toy when I go to bed at night. Instant smile.
5. Inside shoes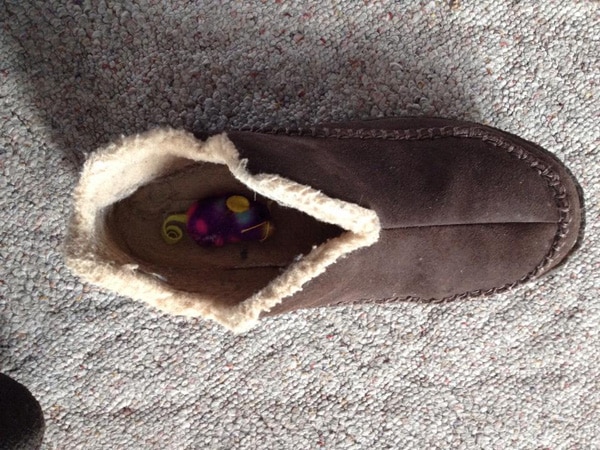 This is a pretty common one. We leave our shoes in the entryway of our house, and sometimes they can pile up. When I walk by, I scan the shoes to see if any of our cats had left a "present" in one of them. Once I was cranky and in a hurry leaving the house I quickly shoved my feet inside my shoes and felt a huge lump the the toe of one of them. I removed my foot, looked inside the shoe and found a small blue catnip mouse had been left for me. I couldn't help but start laughing. I wonder if my cats knew I needed that laugh? They seem to always know what we need, don't they?
Where do you find cat toys? Tell us in the comments!
Laugh with us:
Read more by Angie Bailey:
Featured Image Credit: Jeanette Virginia Goh, Shutterstock