When Sparkle first came home, she had the usual cute kitten face. She was four months old and playful and a little bit shy.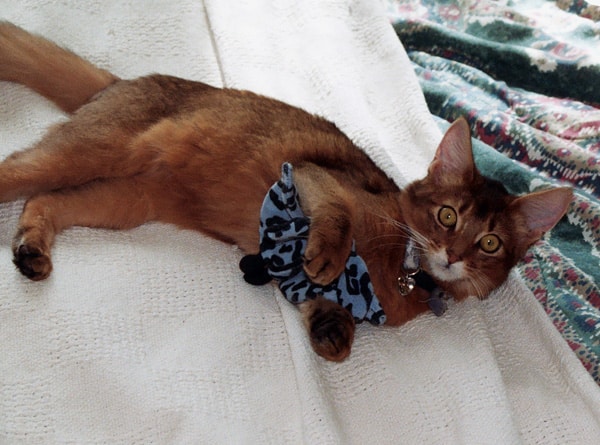 The problem with kittens, however, is as fun as they are, you don't know what kind of cat personality you are really getting. I lucked out, because Sparkle is a very sweet-tempered, pliable cat. She is affectionate (usually), easy to pill, and a funny little thing with a crazy imagination. But you would never know any of this to look at her — because she has a bitchy resting cat face. I got a hint of what was to come when she was barely a year old: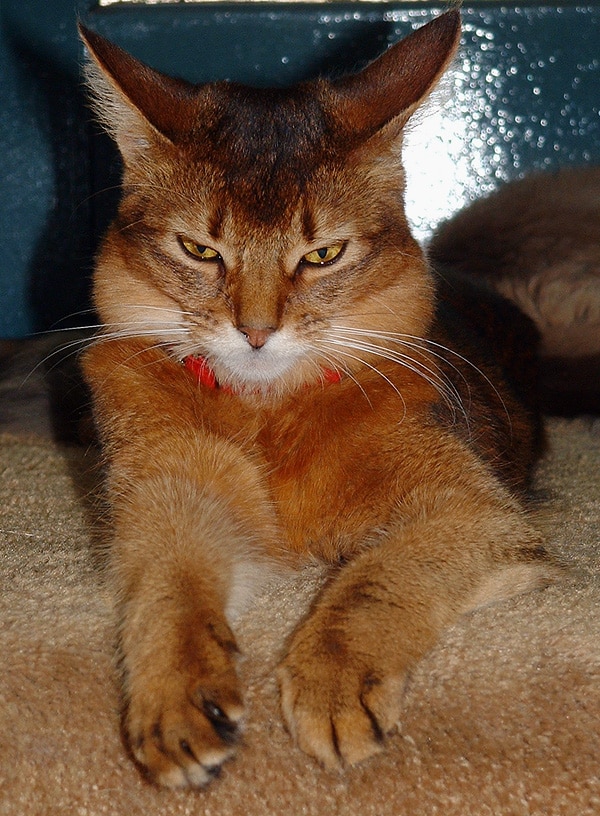 It's almost like her face froze like that. Even when she is doing something purr-worthy, like hanging out in her favorite red cat bed, this is the face you see: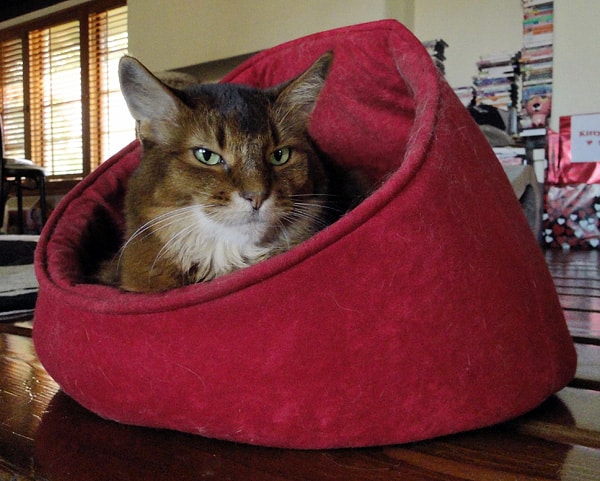 Sparkle is not alone. I've noticed that a lot of cats have perpetually grouchy facial expressions. I'm not talking about Grumpy Cat. Her permanent frown is a result of her dwarfism. I'm talking about everyday, non-famous cats who look annoyed even when they are not thinking about anything in particular. It happens to some women, hence the "bitchy resting face" video and meme. I'm surprised it hasn't yet gravitated to include cats. With both female humans and felines, their faces belie their inner nature. Women with resting bitchy faces generally aren't bitches for real, and kitties with bitchy resting cat faces aren't preparing to scratch your eyes out.
I talked to a number of cat bloggers about their grouchy looking felines to uncover the truth behind their faces. Here's what I found out.
Scarlett (and Melly)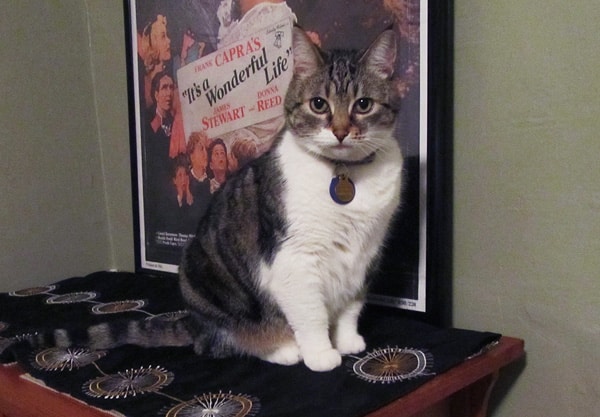 Natalie Laszewski's cats are nothing like their Gone With the Wind namesakes, although from the photos on her blog, The Adventures of Scarlett and Melly, you would think that Scarlett does share Miss O'Hara's gritty determination and strong opinions. In reality, says Natalie, "Although Scarlett has a grumpy-looking face, she isn't usually too peevish." In fact, her affection utterly belies her bitchy resting face: "If I so much as walk by Scarlett, she starts to purr, and often reaches out a paw to grab my hand and guide it toward her for scritches." Scarlett does know how to use her feline wiles! I take that back about her personality not resembling her namesake.
Melly, on the other hand, resembles the fragile flower of the book not one bit. Melly does not have a bitchy resting cat face — mainly because Melly's face never rests!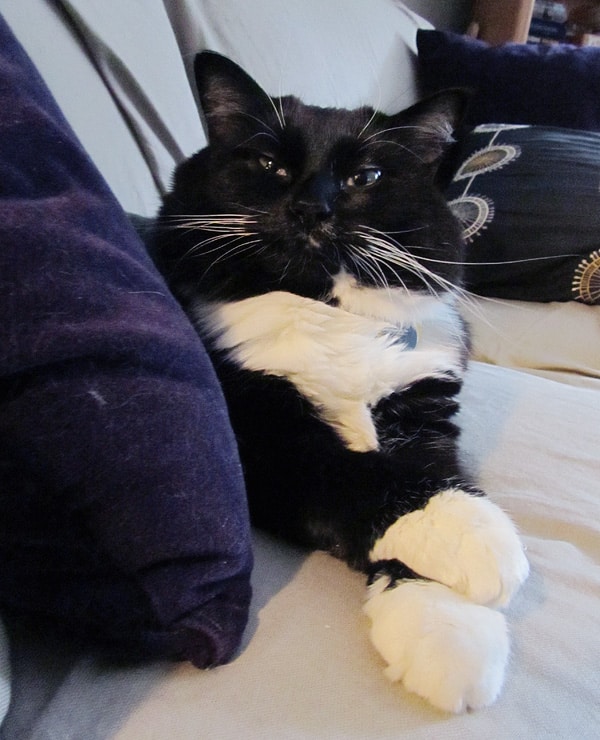 Spitty
Don't think that bitchy resting faces only happen to female kitties. Spitty is a fluffy male cat with a handsome, but wholly unapproachable face.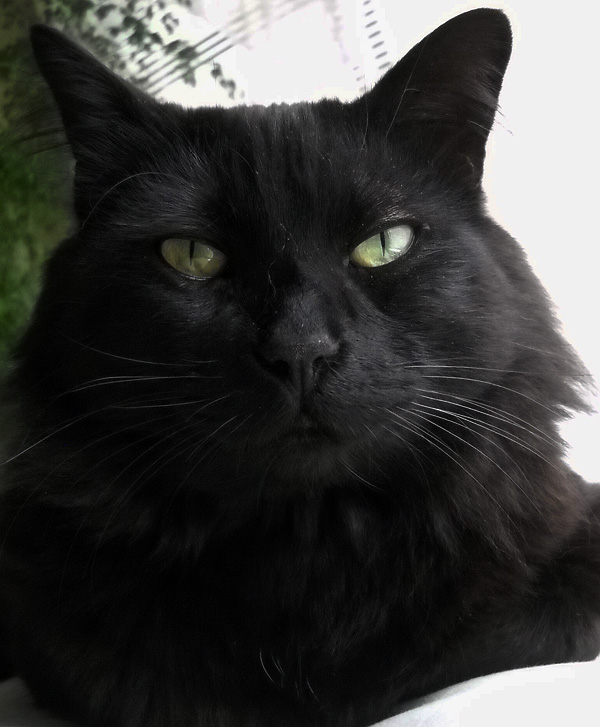 Although his owner, Mary Cerutti, plays this up in his blog, Spitty Speaks, he is not necessarily as aloof as he appears. When she first got him, "he was aloof all right, because he was a terrified feral kitten, and he stayed pretty terrified for years after I got him." Now nine years old, Spitty has settled down, although he is "still more skittish than most kitties. But despite his regal poses, he will come and seek out petting, brushing, playtime, and attention and affection." So sweet — and so not-bitchy.
Amelia
Bitchy resting cat faces can start young — Amelia wasn't even close to being old enough to be adopted and look at her: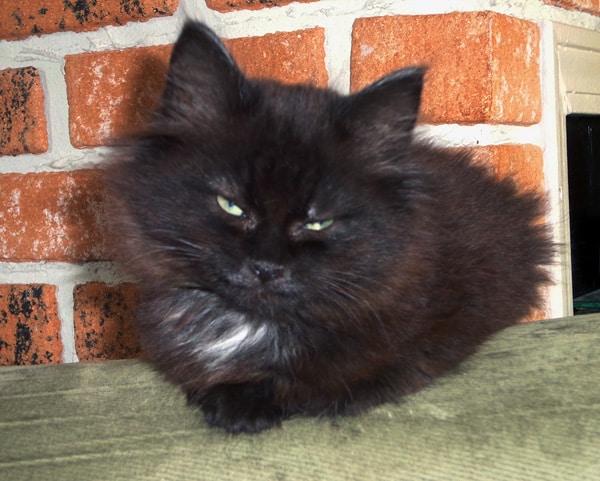 Her foster mom, Jeanne Kudich, who writes about her charges on the Random Felines blog, even nicknamed her Angry Dust Bunny. That was because when she was new to her foster home, "I flipped her on her back and she laid her ears back and growled at me."
Now that she's growing up, Amelia's attitude is not so much bitchy as gutsy. "She has no fear of holding her own against the adults here," says Jeanne. But she has a lot of quiet, cuddly moments too: "She loves to curl up with the other kittens and has spent a couple of Saturdays snoozing on me." If you think you might be interested in Amelia, bitchy resting kitten face and all, she will be available for adoption from Colony Cats and Dogs in Dublin, Ohio.
While Amelia is all fluffy cuteness and attitude and will probably get adopted out quickly, having a bitchy resting face might not work for a grown-up cat. Adult rescue cats might do better adopting an expression similar to this guy, whose photo I took at Kitten Rescue in Los Angeles a few years ago. I am sure his sad-sack expression worked its way into somebody's heart.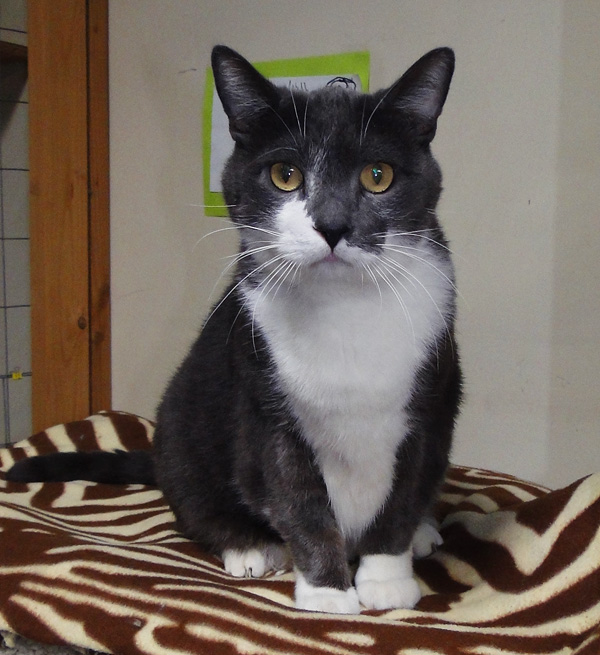 I do have to admit, though, cats with bitchy resting faces have their advantages. With the right angle and lighting, they can be positively stunning.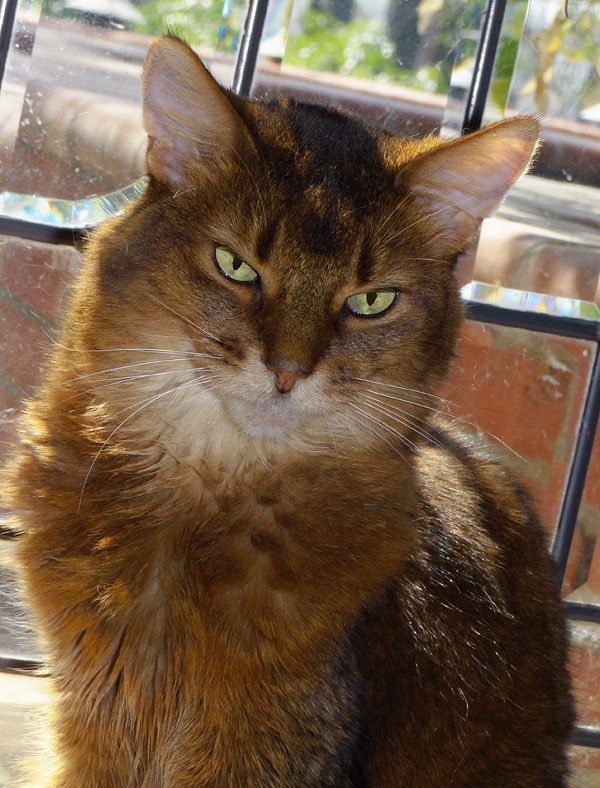 Does your cat have a bitchy resting face? And does it match his or her personality? Let us know in the comments!
About the author: How does someone go from a respected rock journalist to a blogging cat's underling? Don't ask Janiss Garza — she's been there and done that and is as confused as you. All she knows is that one day she was helping Lemmy Kilmister of Mot├Ârhead pen his autobiography and the next she was assisting her feisty Somali feline, Sparkle the Designer Cat, on her books and her blog at www.sparklecat.com — and without any credit! Fortunately she still sometimes manages to write under her own byline. She also has her own indie publishing company, FitCat, in which she nurtures other writers' talent.