In the past week or so, I've had two major changes in my life: I moved house, and I got promoted into a new position at work. I'm still getting used to my updated and improved routine, so there are still times when I realize I'd better get out the door in a hurry or I'm going to be late to the office.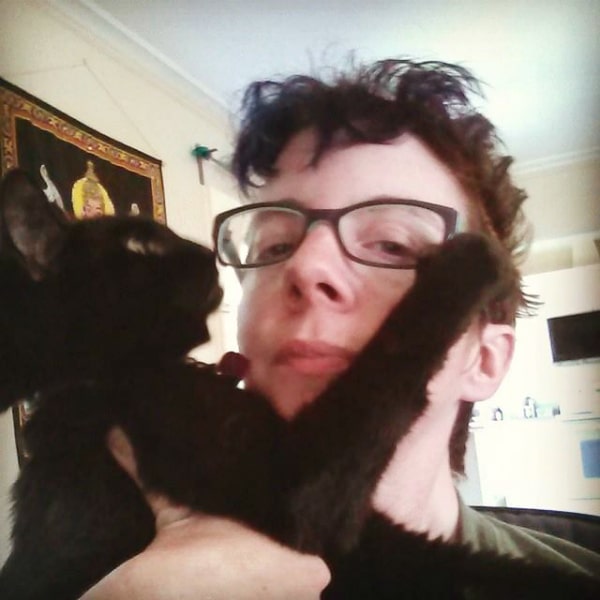 One such time was last Wednesday. Little did I know it would become "one of those days." I didn't even have time to dry my hair after my shower, and just as I was on my way out I realized I hadn't shut down my computer. I jogged to my desk and plunked my butt down in my chair.
Or, I should say I almost plunked my butt down on my chair, when two things happened simultaneously.
First, I realized that my chair had gotten unusually lumpy and warm.
Second, I heard the sound of Siouxsie's frightened cry.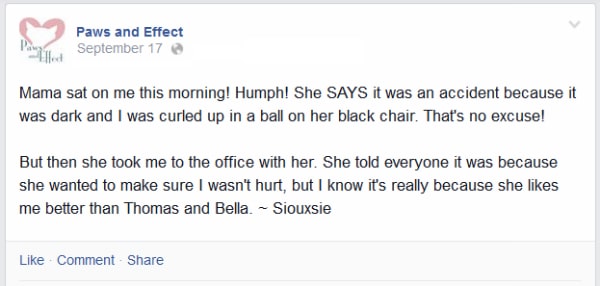 Needless to say, I jumped up and turned around to look at Siouxsie. She gave me a very offended look and hopped off the chair with an extra kitty curse word, just to make sure I was fully aware of how upset she was.
She was walking okay, but I still wasn't sure how much of my weight landed on her body before I stood up. She's so old that I was really scared I'd hurt her badly. I thought of leaving and letting Siouxsie just sleep it off, but I know enough about injuries to know that the full effects might not set in immediately because of adrenalin and cats' natural instinct to hide their pain. I also knew I'd never forgive myself if I left her at home and she had some kind of undetected internal injury and I arrived home at the end of the day to find her dead.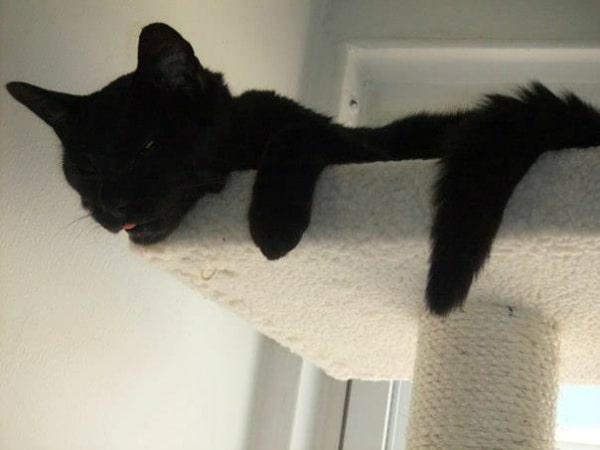 I got Siouxsie's carrier out of the closet, only to realize that her lead and harness weren't in it. So I frantically dug through the box that contained the contents of my junk drawer, which I had not gotten around to dealing with after the move. At the very bottom of the box I found the leash and harness, snapped it on, and stuffed Siouxsie into her carrier. She was definitely Not Impressed, and she made sure I knew it.
Twenty minutes later, Siouxsie and I were at the office. Not the vet office. My work office.
So, here I was on the third day of my training, with my cat at my desk — which can be a distraction even under the best of circumstances — but worse yet, the person training me is highly allergic to cats.
When K, my trainer, arrived, I apologized in advance. "I had no intention of bringing Siouxsie so early in my training, especially because I know you're really allergic to cats," I said. "But we had a little accident this morning and I want to keep an eye on her, just in case."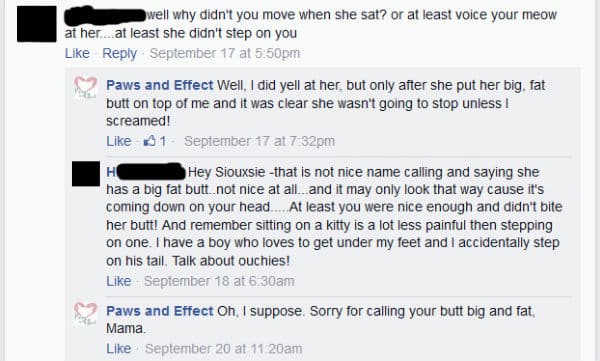 K was very understanding, but every time she sneezed or blew her nose, I felt bad.
I also felt bad for poor Siouxsie, because she ended up spending most of the day in her carrier. I did take her out for a stroll around the parking lot during my morning break, and during my lunch hour she got to meet and greet lots of adoring fans when she took me for a walk around the office.
By the end of the day, I was exhausted. Between the massive mental labor involved in assimilating new knowledge and processes, and my concerns about Siouxsie's health, all I could do when I got home was melt into my chair and binge-watch The Appalling Incredible Dr. Pol.
Thankfully, Siouxsie is fine. Although her dignity was profoundly injured, nothing in her body was hurt. And she won't be coming back to the office with me until my training is done, and even then I'll probably stick to bringing her on days when K isn't in so she doesn't have to be miserable all day.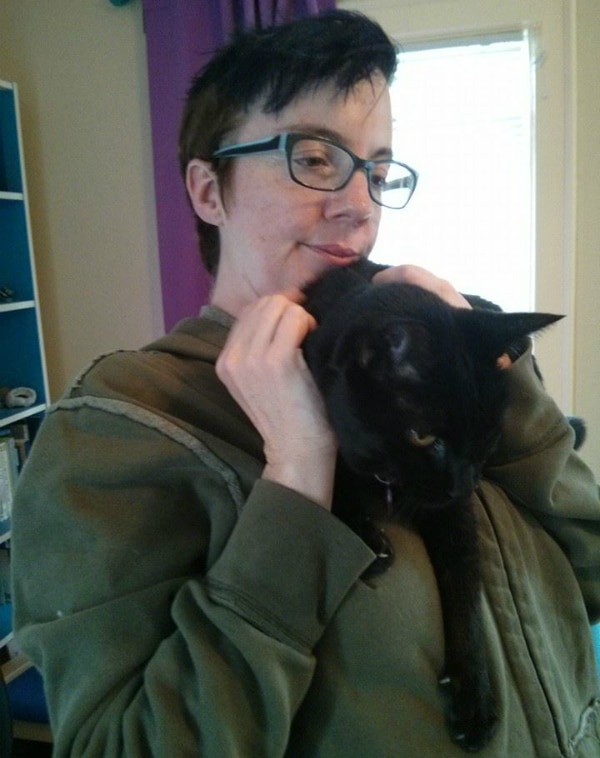 Have you ever had a stupid cat accident? Did everything turn out OK? Share your stories in the comments so I don't feel like such a schmuck.
Read more by JaneA:
About JaneA Kelley: Punk-rock cat mom, science nerd, animal shelter volunteer and all-around geek with a passion for bad puns, intelligent conversation, and role-play adventure games. She gratefully and gracefully accepts her status as chief cat slave for her family of feline bloggers, who have been writing their award-winning cat advice blog, Paws and Effect, since 2003.