It was every pet owner's worst nightmare when my big bruiser of a black cat did not come home after his nocturnal carousing. I had let him out around 10 p.m. on May 21, 2013. It was raining and I was surprised he insisted on going out, as he doesn't especially love the rain. But since I adopted him in 2008, he'd always been his own boss.
The first three years of his life were a mystery, and he'd spent the previous two years on a farm, scrapping with the barn cats and who knows what else. And even though he was very affectionate, he carried himself with the nobility of a Big Cat; he was a 16-pound panther and he loved to prowl. I couldn't keep him inside when he didn't want to be.
He had stayed away before, but when I arrived home from work and Se├▒or still wasn't there, I felt a dread come over me. And thus began a campaign to find Se├▒or, which would last for almost five weeks.
I did Craigslist. I posted neon signs in the windows of my apartment and in my car. With the help of friends, I passed out and hung up about 250 flyers in the neighborhood and beyond. Over several weeks, I received more than a dozen calls, but none of the cats were Se├▒or.
"If he wants to come home and he can, he will," I repeated to myself for three weeks.
And Se├▒or did come to me in my dreams, almost every night. But on Sunday, June 23, and with week five looming, I started to lose hope. I couldn't think what else to do, and the false alarms were starting to wear me down. I spent most of the day crying and went to bed early in a mournful funk. Then around 10:15, my phone rang, and a woman said chirpily that Se├▒or Julio had just appeared in their backyard a couple of blocks away, and she'd bring him over.
As soon I saw the figures emerging into the light of my front porch, I recognized Se├▒or. But he looked more like a kitten, and his collar hung around his neck like an embroidery hoop. As soon as he saw me he started meowing furiously and I scooped him up with one hand; later we would find out that he weighed a mere eight-and-a-half pounds. He jumped down and dragged himself over to where his food used to be; his left legs were completely broken and misshapen and the front paw was bloody and mangled.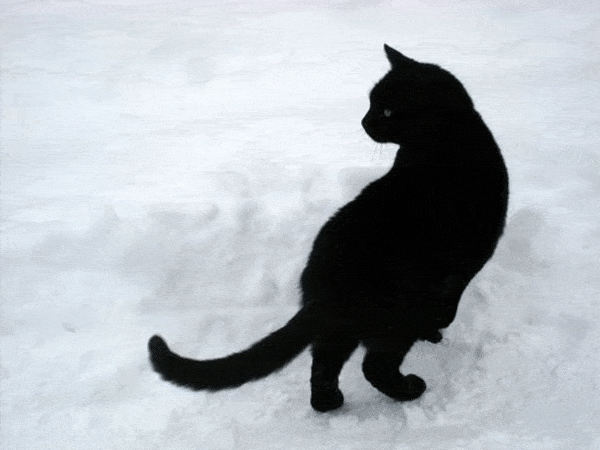 I called a friend to take us to the emergency animal hospital. Amazingly, he was stable enough that I could take him home, and then go to his regular vet in the morning. When we got back home, I finally collapsed into tears on the floor next to him, where he lay diligently cleaning himself. I kissed him all over, saying how so sorry I was I couldn't find him. He just purred and gazed into my eyes and gently caressed my cheek with his. And that's when I knew that he had been trying to get home to me just as hard as I'd been searching for him.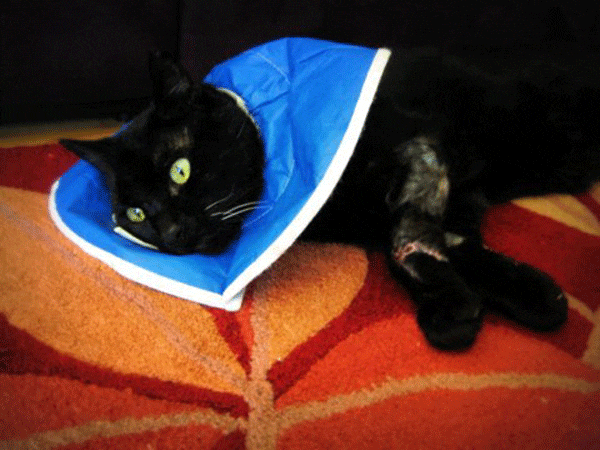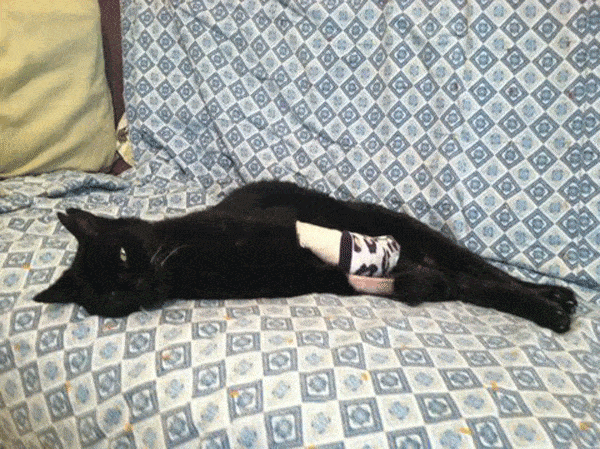 So began the second leg of our journey. There were many visits to the vet in the coming days and weeks. My worst fears come true: Se├▒or had been hit by a car and all this time had lain who knows where, severely injured and in pain. He was starved and dehydrated. His left legs were a road map of fractures, and had healed improperly. He had a nasty, stubborn wound on his front left paw that was not healing after several rounds of antibiotics. He had no neurological or organ damage, but he might have a bone infection, and surgical interventions or even testing were out of the question in his current condition. For several nail-biting weeks it was touch and go if he would recover. But luckily Se├▒or had another life to give.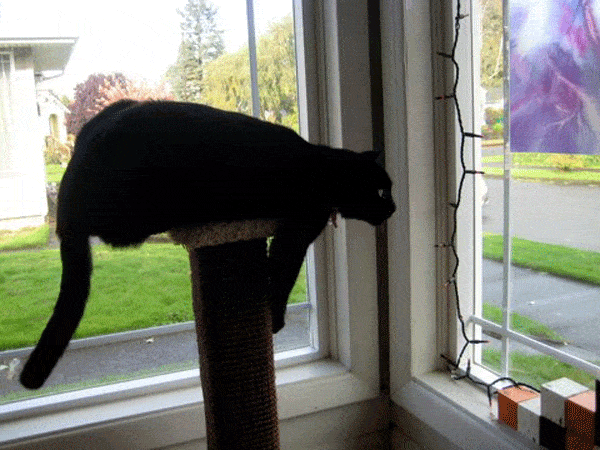 He spent the first month mostly sleeping under the bed. He was terrified of the outside world and car noises. I had to keep the blinds closed or he wouldn't even venture into the front of the house. I had a roster of friends check on him daily while I was at work. It took another month before he would look out the window or stand near the open door. Little by little his curiosity got the better of him and as he got stronger he got bolder. He could finally shed the bandage on his leg and the Elizabethan collar in early August, and he limped back to the front of the house.
And on September 6, he went outside of his own volition. It was a moment I had both hoped for and dreaded. But I hadn't nursed him back to health just to keep him indoors; having lost and recovered him, I was not about to start confining him now.
Today, Se├▒or's back up to a fighting weight of around 14 pounds. His leg is a bit crooked, his toes are on upside down, and his club paw makes a thunking noise not unlike a human walking with a cane. But he gets around amazingly well.
Having dreamed of each other all those weeks, we are much more inseparable than before. I now know firsthand how devastating it will be when his lives finally run out. But what a miraculous gift that knowledge is. I have not taken him for granted for one minute since he came back, and will continue to love the hell out of him for as long as I can.
I'm selling T-shirts as a fundraiser for his vet bills. We would be grateful for any support!
Read stories of rescue on Catster:
Got a Cathouse Confessional to share?
We're looking for purrsonal stories from our readers about life with their cats. E-mail confess@catster.com — we want to hear from you!
About the author: Sonia Molinar has a fulfilling day job as a bilingual immigration law paralegal, but if left to her own devices would spend most of her time cooking for friends, doing the NYT crossword puzzle and loving on Se├▒or Julio. She was deathly allergic to cats as a girl and although still mildly so, she finds the runny nose, sneezing and occasional hives utterly worth it.