Like many of us, I have always assumed that cats don't handle change well. This seems to be common knowledge in cat-care circles. But with my recent big move, I was amazed at how coolly and calmly the cats made the change. Where was the cowering and hiding I was expecting once we got to the new place? Where were the accidents and howling I expected to experience during the long drive to our new place? My cats traversed the move very well. I'm not sure why.
It made me wonder — do cats navigate change better than we give them credit for? Why do cats sometimes seem to take change so well?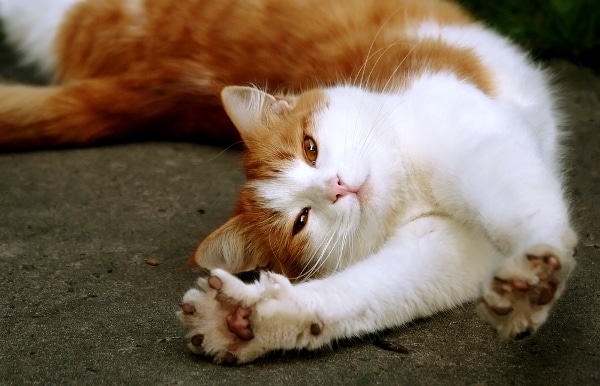 I am well aware, though, that cats may be stressed even if they're not showing obvious signs of stress. The Humane Society, for example, lists these signs that your cat is stressed. Many of us will be familiar with these: Change in litter box habits, over-grooming, hiding and change in eating habits.
Here are some questions I've been thinking about when it comes to change and stress with cats.
1. Do we do things (knowingly or not) that help cats through change?
Do some cats breeze through change while others struggle? When we moved, I was sure that Chester would have the worst time with the move. After all, he was the one that went into a funk when his buddy died in November. How could he possibly handle a move on top of that? I felt guilty putting this on him. But Chester breezed through the move. The cat who I've actually ended up keeping the closest eye on was Kieran. There were no outward and obvious behaviors that showed that Kieran was stressed. He just seemed slightly withdrawn. I have made sure to give him treats and lots of special attention, which seems to help greatly.
2. How does stress affect a cat's immune system?
Stress is not good for any immune system. I've been careful to try and support my cats' immune systems during this time of big change. Perhaps this is one reason why they seem to be doing so well. I do this with a product recommended by my vet, called Vetri DMG. A probiotic would also be a possibility. When Zorro recently seemed to be displaying a little stress (he's been through a lot!), I added Forti Flora by Purina to his canned food. The episodes of him throwing up bile ceased, and he seems happier.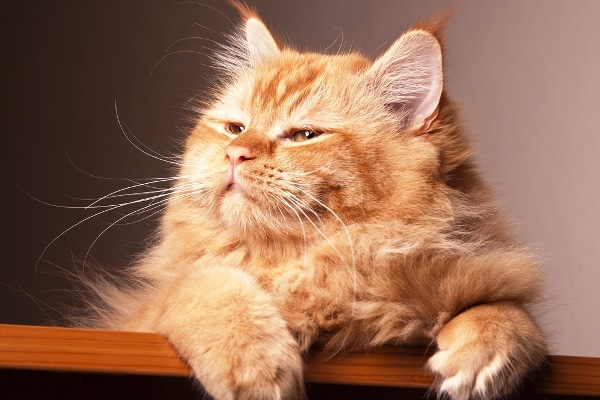 3. Does my woo-woo attitude really work?
A friend of mine says I'm "full-on woo woo." This does not bother me in the least! It's how I'm comfortable being. So part of my woo-woo beliefs include the fact that thoughts are "things." I believe that my cats pick up on how I am. If I'm stressed, my cats are going to pick up on my stress.
This actually isn't such a radical idea. To help have a calm household, and hopefully facilitate the health of animals and humans in the house, I practice trying to be calm, stress-less and non-violent. I'm not perfect, of course, but I believe we can do a lot to help our cats be stress-free, even with simple and intentional actions.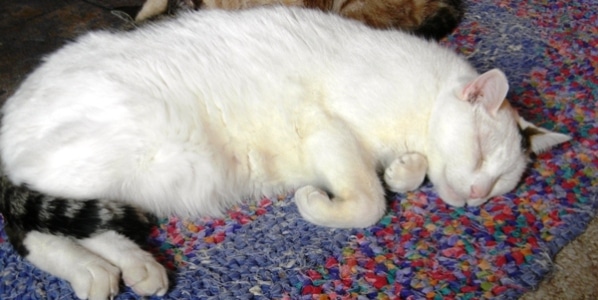 4. Do cats hide their stress like they hide their illnesses?
This study found that change and stress do make cats sick. According to the study, even healthy cats demonstrated the behavior of sick cats (not using the litter box, or vomiting) if these healthy cats were stressed by some change in their environment.
So, what do you think? Do cats handle change well or not? How does your cat show you she's upset by change? Tell us in the comments!
More on cats and change:
More by Catherine Holm:
About Catherine Holm: Told that she is funny but doesn't know it, accused of being an unintentional con artist by her husband, quiet, with frequent unannounced bursts into dancing liveliness, Cat Holm loves writing about, working for, and living with cats. She is the author of The Great Purr (cat fantasy novel out June 1), the cat-themed memoir Driving with Cats: Ours for a Short Time, the creator of Ann Catanzaro cat fantasy story gift books, and the author of two short story collections. She loves to dance, be outside whenever possible, read, play with cats, make music, do and teach yoga, and write. Cat lives in the woods, which she loves as much as really dark chocolate, and gets regular inspiration shots along with her double espresso shots from the city.