It's much easier for me to spend money on my cats than on myself. This doesn't bother me in the least. What's more surprising is how varied the spending is. Through lots of remedies and medicines (I suspect veterinary practices LOVE to see me come through the door) as well as new cat toys and tools, my world has been expanded. I never knew about all the cool cat stuff out there — and with cats, I only become more aware.
Here are some of the things I spend money on for my cats:
1. Furminators
When longhaired Ragdoll Zorro entered the mix here, it was time for a Furminator. I had never heard of such a thing until it was mentioned in the comments of a Catster article. I plopped down the $20 or so for one, and I couldn't be happier. That tool really works, and lucky for me, Zorro is absolutely in love with being brushed. He looks terrific after a session with the Furminator.
Lately I've seen Furminators for up to $50, so I guess I got lucky, even though I hesitated to initially spend $20.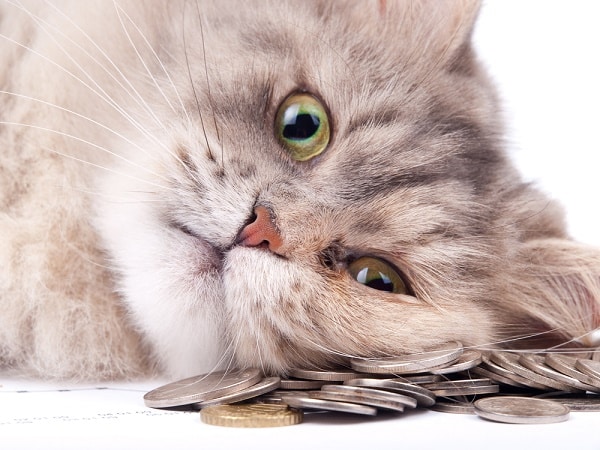 Cat and heap of coins against white by Shutterstock.com'>
Cat and heap of coins against white by Shutterstock.com
2. Many remedies, medicines, and medical apparatus
My cat medical cabinet is packed with stuff, even after I'd recently parsed it. I spend a lot of money on remedies, medicines, and medical supplies. Over time, I'm not sure I'd really want to know the sum total of all I've spent on this stuff. What I do try to think about instead is that I believe I'm doing the best I can to enhance the cats' health.
For example, we have the (simple) apparatus for giving cats subcutaneous fluids. We have more supplements and remedies (both traditional and holistic) than you could name. We've had bags of Lactated Ringer's solution here when a cat is regularly needing those fluids. I have syringes, a mortar and pestle for grinding pills, the plastic Cone of Shame, glucosamine chews, cat treats, you name it.
The nice thing about having all this stuff around is that I'm prepared if another cat has a need for something in the cabinet. Often, I donate stuff that is still good back to the vet (for customers who may have a need but not the means). It's a good way to parse out stuff before the supply cache becomes totally unmanageable.
3. Endless cans of one particular flavor of food
I have one particularly fussy boy cat who loves one particular flavor of Fancy Feast. Naturally, the fresher, the better. Since Fancy Feast seems only to come in very small cans, Chester is in his glory. The sound of a can opening sends him running to me. I have just figured out a way to order a case of the small cans at a pretty decent price per can. I'm hoping fervently that Chester doesn't someday get sick of this flavor. For some reason, it's really hard to get him interested in any other canned food. Fortunately, he's a lot less fussy about the dry stuff.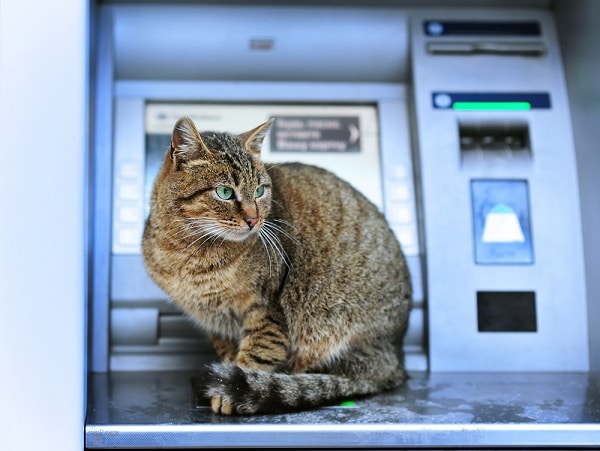 Nice big cat sits on bank ATM by Shutterstock.com
'>

Nice big cat sits on bank ATM by Shutterstock.com
4. Cat toys, furniture, and beds
We have a cat jungle gym, several cat beds, a (very small) cat tree that I nabbed at a garage sale, and an arsenal of cat toys. The toys were small and cheap. The jungle gym and the beds, less so. I learned from some trial and error to spend more money for a better quality cat bed. I like to wash the beds a lot and the cheap ones don't hold up well under repeated washings.
The jungle gym is probably the most expensive thing in this category. But I'm going to need to train the cats to use it. They would rather run on the ceiling beams or play with a yoga mat. At least those things didn't cost money. Cats are more creative than I give them credit for — they will often find their own fun ways to play. Give them a big paper bag, a yoga mat, a log beam across the ceiling, and they'll have a great time.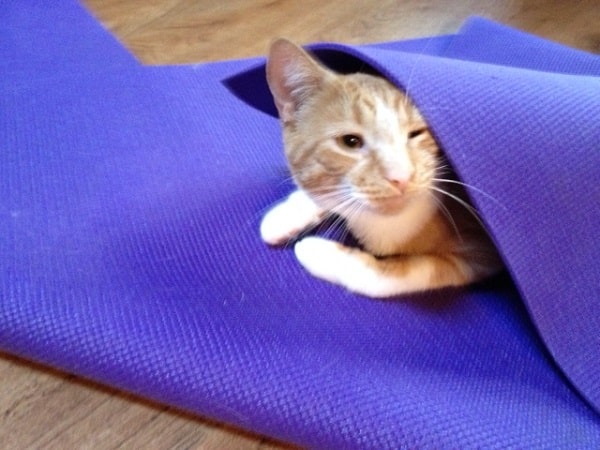 I love playing in a yoga mat.
Ceiling beams are fun to play on, too!
5. Cat dishes
When I discovered that Chester preferred his Fancy Feast in a dish rather than a bowl, I started borrowing a small dish from our dish set to feed him. I suspect this bothered my partner, who ordered six very nice cat dishes, which are the size of small plates. These are stainless, with rims, and rubber backing on the bottom. I'm not sure I want to know what they cost.
Many may be a lot more extravagant than I am — there's a lot of stuff out there for cats! What do you spend money on for your cats? Does it surprise you? Tell me in the comments!
More by Catherine Holm:
About Catherine Holm: Told that she is funny but doesn't know it, accused of being an unintentional con artist by her husband, quiet, with frequent unannounced bursts into dancing liveliness, Cat Holm loves writing about, working for, and living with cats. She is the author of The Great Purr, the cat-themed memoir Driving with Cats: Ours for a Short Time, the creator of Ann Catanzaro cat fantasy story gift books, and the author of two short story collections. She loves to dance, be outside whenever possible, read, play with cats, make music, do and teach yoga, and write. Cat lives in the woods, which she loves as much as really dark chocolate, and gets regular inspiration shots along with her double espresso shots from the city.