They sit in the window, looking out at the winter wonderland our neighborhood has become, and then they meow longingly at the sealed cat door leading to our (uninsulated) sunroom. I swear, my two indoor cats just do not understand how cold it is outside, and how dangerous a Canadian winter can be for a cat whose paws have never touched snow. They act like they have cabin fever, but I know the cure would be more dangerous than the disease.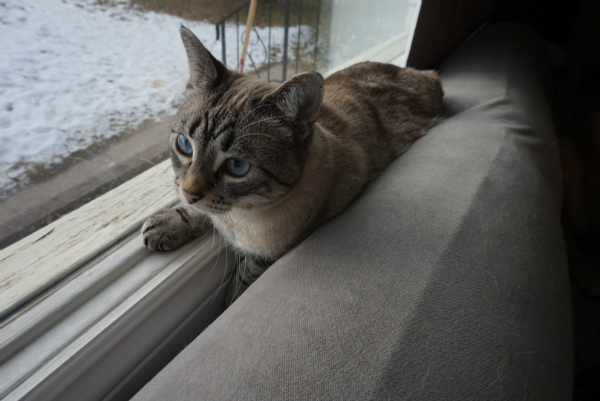 It's not even like my cats are used to coming and going outside as they please — no, my girls, Ghost Cat and Specter, are indoor cats all year long. Ghosty was a stray at one point in her life, so she's known the streets, but my fluffy black and orange beauty, Specter, has lived in this house since she was a tiny kitten. She's only known the outdoors while on a leash or within the protective walls of our screened-in sunroom.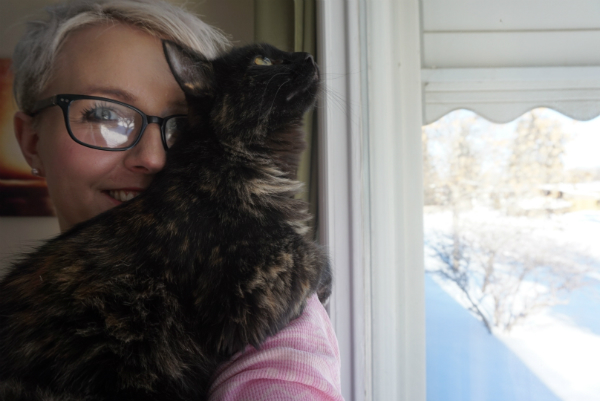 That sunroom is a special place for my kitties during spring, summer, and fall. They're used to being able to take in the fresh air out there, watch the birds and keep an eye on the neighborhood. It's a nice space in good weather, but in winter it turns into a freezer, so we sealed up the cat door for the season. Now, like rebellious teenagers, the kitties are trying to sneak out of the warm house and into the sunroom every chance they get — but they can't take the cold.
My fluffy little black adolescent, Specter, just now demonstrated how quickly wanting to be in the sunroom turns into wanting to come back in. A few minutes ago I took our dogs outside to pee. We have to go through the sunroom to get to the backyard. I must've left the door from the house to the sunroom open a crack, because as my dogs evacuated their bladders, I looked up and saw Ghosty chillin' on a window sill in that freezing room.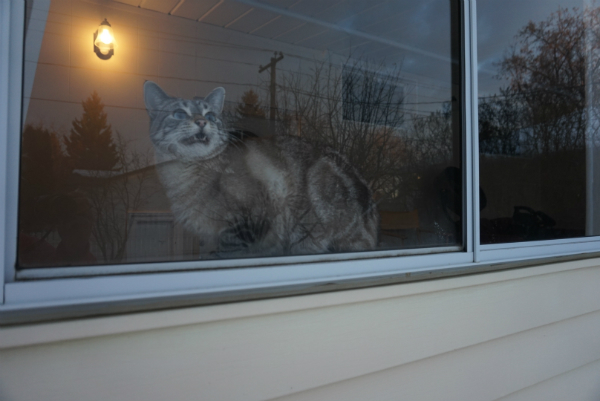 I brought the dogs back in and shooed Ghost Cat into the warm house. I made a coffee, and was checking emails when I heard some emergency meowing coming from the back door. I looked down at my feet, where Ghost Cat and Marshmallow the dog were resting, and realized Specter was missing — and the wailing meows must be coming from the frigid sunroom.
I rushed to let Speck back in and sure enough, she bolted inside the moment I opened the door. I picked her up and petted her chilly fur, and she purred in my arms for a while. I fed her some special treats of rotisserie chicken to cheer her up and she eventually joined Ghost Cat and Marshmallow for some warm cuddles.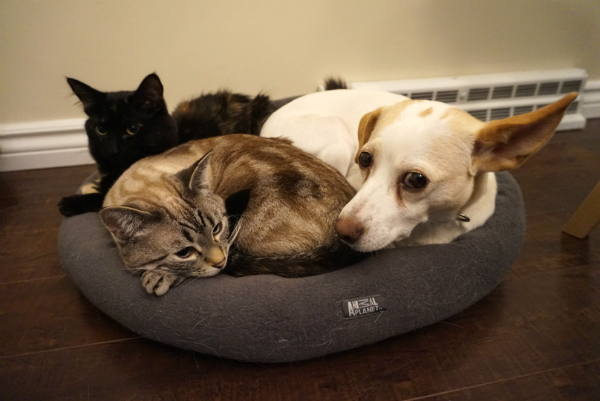 As if sneaking into the frigid sunroom was not enough, my beloved Ghost Cat recently decided that she wanted to experience the actual outdoors, in all its frostbite-inducing glory. It happened when I was coming home from a walk with our two dogs. As I opened the front door and stepped into our living room, Ghost Cat suddenly made a dash for it. I swung around to try to stop her, but found myself tangled in dog leashes as I watched Ghost Cat's pretty little tail flick out of sight.
Immediately, I turned into a screeching, panicking mad woman. My anxiety level went from zero to a million in less than a second.
"Ghost Cat!" I screamed, while trying desperately to untangle myself from the dog leashes so I could go after her. My screaming and quick, panicked movements only served to excite my dogs, who rushed around me in circles, their leashes tying me up.
"Ghost Cat's outside!" I shouted at my husband, who had been sitting on the couch, peacefully binge watching Rockford Files.
"Ghost Cat's outside," I shrieked as I thrashed against the leashes, tears spilling down my face. "She's not wearing her collar! She'll die, oh my God, she'll die!"
Cool as a cucumber, my husband leap to his feet, eager to retrieve Ghosty but super unimpressed by my panicked state.
"Oh, calm down," he said as he pushed past the jumbled mass that was me and the dogs. In his stocking feet my husband went out the storm door and onto our front stoop. He leaned over into the flower bed and with one hand plucked Ghost Cat out of the snow and brought her back into the house. She'd made it about three feet from the door.
My husband handed Ghost Cat to me and I pushed my tear-soaked face into her fur. I vowed to Ghosty that I would be more careful and promised her that I would take her out on her harness as soon as spring comes. My husband said I need to learn new coping skills and suggested I count to 10 before reacting to stressful moments.
I'll agree with him that perhaps my reaction was a little bit over the top — but my brain immediately imagines the worst-case scenarios.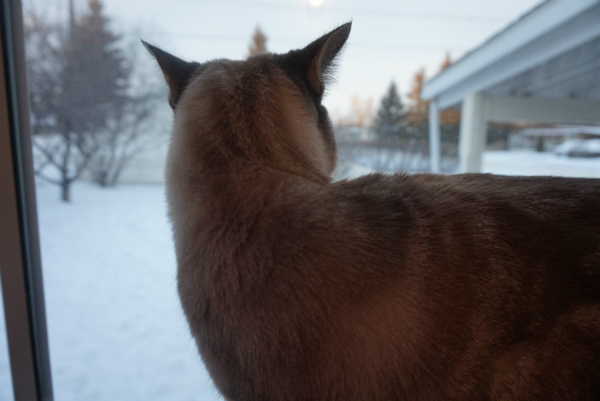 Whenever I think of cats left out in the cold, I remember Blueberry, a shelter cat who had her 15 minutes of fame back when I worked in the TV news business. Every time I saw video of this little black kitty, who had lost the tops of her ears to the elements, my heart ached. Unfortunately, Blueberry's story isn't that uncommon. Every winter many cats lose their ears or their lives after spending too much time unprotected from the harsh elements.
Obviously, not all kitties who spend the winter outside end up dead or disfigured, but my pampered indoor girls just don't have the cold-weather survival skills that outdoor cats do, and so there is just no way I can let them outside — no matter how bad their cabin fever gets.
Do your cats get cabin fever during the winter? Let us know in the comments!
Read more by Heather Marcoux:
About the author: Heather Marcoux is a freelance writer in Alberta, Canada. Her beloved Ghost Cat was once her only animal, but Specter the kitten, GhostBuster the Lab and her newest dog, Marshmallow, make her fur family complete. Heather is also a wife, a bad cook and a former TV journalist. Some of her friends have hidden her feed because of an excess of cat pictures. If you don't mind cat pictures, you can follow her on Twitter; she also posts pet GIFs on Google +.