Editor's note: This story ran originally on our SAY Media Inc. sister site ReadWrite, but we're publishing it again here (with permission) so Catster readers can comment on it.
When I'm at work, my cats — Gamera and Gojira — love to defy me. I know this because my smart home tells me so.
People have all sorts of reasons for connecting their homes. Some people want to monitor the nanny, or keep an eye on things for security or safety reasons. Others just want to see what their pets do when they're not around. I fall into the latter camp.
So when SmartThings asked if I wanted to check out one of its DIY smart home kits, I jumped at the chance. Two weeks into the experiment, it has turned up some disturbing evidence.
The art of surveillance
In 2012, SmartThings tore through its $250,000 Kickstarter goal by raising $1.2 million. Then it attracted another $15 million from other investors. In other words, the company put out a smart home system that people really seemed to want.
I can see why. Its devices — a hub and a collection of sensors and other gadgets — are sleek and attractive, and they're pretty simple to set up. Connecting each device to the network requires nothing more than pulling out a paper tab (similar to those battery pull tabs you sometimes find in watches and other gadgets) and firing up the SmartThings mobile app. I had everything hooked up in less than 15 minutes.
I felt a little silly as I did so, given that I was essentially prepping for a feline stakeout. But one look at my pricey, midcentury-modern sofa hardened my resolve. My living room is full of cat beds, cat grass, and catnip for every feline need — and yet I spend an inordinate amount of time defuzzing my sofa cushions. I wanted hard evidence — and I got it, thanks to the motion sensor.
I also put a multisensor on my bedroom door, which tells me when a cat enters during the day. And because I already had a DropCam Pro Wi-Fi camera, I installed that in the bedroom as well.
The next morning, I got an alert. So I checked the camera feed and saw firsthand what I'd already suspected: Gojira gingerly tiptoed past my husband's pillow to plop down on mine. She must have known I don't breathe well amid big tufts of cat hair, because this was clearly a surgical strike.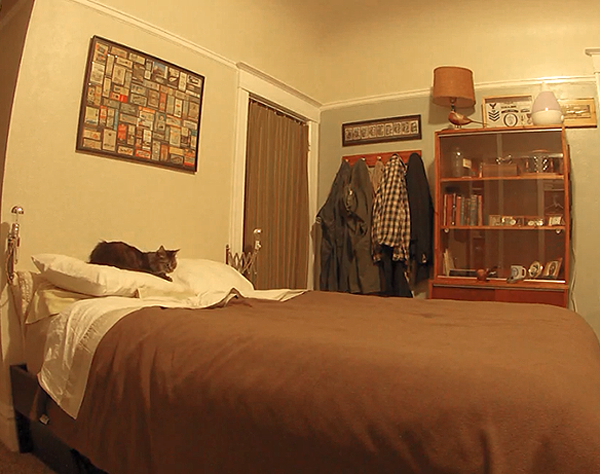 She then looked at the camera and, as if to protest being monitored, coughed up a hairball. On my side of the bed.
Connecting humans to their homes
My smart home played a crucial role in the sting operation on my pets, but it's capable of much more.
The SmartThings bundle — called Know and Control Your Home Kit ($299) — includes a variety of items: a motion sensor, a moisture sensor, a smart outlet, two fobs with "presence" sensors, and two multisensors that can detect movement, vibration, orientation, and temperature. With all this, I could give my apartment some cool powers.
For example, I can turn my dining room lights on via smartphone, and those lights are set to automatically trigger when I arrive at night. I haven't come home to a dark apartment in two weeks. I love this convenience — though I have to admit, it took some trial and error to make it work.
The funky architecture of my home initially daunted SmartThings' wireless connection. SmartThings connects to home routers using ethernet, allowing for access to Wi-Fi products, and support wireless networks including Zigbee and Z-Wave, two home automation standards that require a line-of-sight. But there's a big, thick wall between my Z-Wave smart outlet in the dining room and the hub in my bedroom.
Fortunately, though, Zigbee and Z-Wave are "mesh networks," meaning that compatible devices can talk to each other and act as signal repeaters. So I situated a spare smart outlet to catch the signal from my hub and repeat it to the lights, routing it around the troublesome wall.
The other gadgets don't require a line-of-sight — a good thing because, as sensors, they need to work in different locations. I put a moisture sensor under my sink, another multisensor at my front door, and a presence fob on my husband's keychain.
As I write this, my phone notifications tell me that my husband just came home. I know exactly what's happening because I set it all up, and also because my mobile app is logging the activity. His fob told the hub that he arrived, which turned on the lights. And when he opened the front door, it triggered music to play.
If only we had a robotic cocktail machine, so it could greet him with a fresh martini.
Smart homes get even wiser
SmartThings aspires to do more than just push products. It wants to be an open platform that will work with other devices and brands. The company calls it SmartThings Labs.
I toured SmartThings' demo house in Las Vegas last month during the Consumer Electronics Show. There, the system's "morning mode" lit up Philips Hue lights in the kitchen, started playing NPR on a Sonos speaker, and flipped on a coffee machine. "Now imagine your fitness band telling SmartThings you've woken up in the morning, so all of that happens automatically — without you having to do a thing," Andrew Brooks, COO and co-founder, told me.
Does that sound far-fetched? It shouldn't. SmartThings has already started working on Jawbone UP integration. This is a natural fit for Labs, since the fitness band already knows when you're asleep and awake.
Brooks also showed me something else that made me jump: When a vibration sensor at the back door registered an "unauthorized person" banging on it, the Sonos speaker suddenly started barking. Loudly.
I was experiencing a virtual guard dog in action.
The Internet Of … Pets?
We try to cover the sofa, but Gamera always finds a way.
In my own smart home, watching my cats' behavior has been fascinating. But if I had a child or an elderly parent, or concerns about home security or safety — think, electrical fires or burst pipes — that kind of surveillance might seem a whole lot more important.
Of course, SmartThings isn't the only option in this field. Samsung, Qualcomm, possibly Google, and others are deeply interested in this area of technology — as are existing providers like ADT, Comcast, Time Warner and AT&T. Meanwhile, more companies are jumping into the connected-home market with systems like Belkin WeMo or individual products like Lockitron, Philips Hue, DropCam and many others.
If my experience is any indication, there'll be a lot of demand. Home control, automation and monitoring is downright addicting. After just a couple of weeks, I can't imagine not knowing what's going on in my abode. And since I've forgiven my cats for the mischief they make — it's hard to stay mad at those furry little faces — I'm now wondering what else my smart home can do for them.
I'm thinking about setting up a mechanized litter box and feeder to work with SmartThings. Why not? I've already got the most connected kitties on the block. I may as well take this automation thing as far as it can go.
More cats and tech:
Learn more about your cat with Catster:
Laugh with us: