Did you really think you'd wasted enough time on your cat? Really? Because there's a whole wide world of further hour-eroding feline fun just waiting to be downloaded onto your phone. There's a myriad of apps concerning your cuddly furry friend — some useful, some ridiculous, and many completely insane. Every aspect of your kitty's existence now has an electronic application dedicated to it.
Here's a quick spin though some of the best.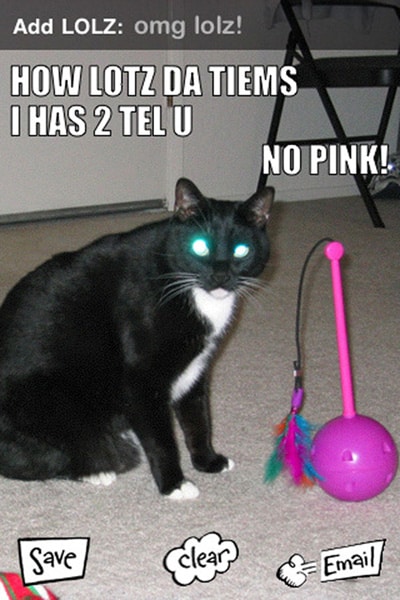 Cats are now the obvious go-to animal for ridiculous Internet memes. If you want your kitty to get a piece of the action, this app allows you to instantly create one of those "weird cat picture with a speech bubble saying something obscure" items you see everywhere these days.
99c, iPhone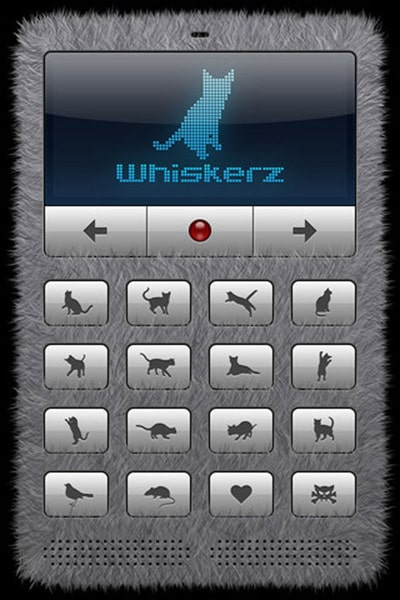 Do you find yourself spending a healthy part of your time standing frustratedly before your mewing cat and pleading "What? What do you want from me?" Then you may find this translating device a useful, sanity-saving tool. Say phrases such as "Hello," "Are you hungry," or "Why do you hate me?" into your smartphone and have them turned into kitty speak. The app actually analyses your voice to make it as receptive as possible to your resident furry wonder.
Free, iPhone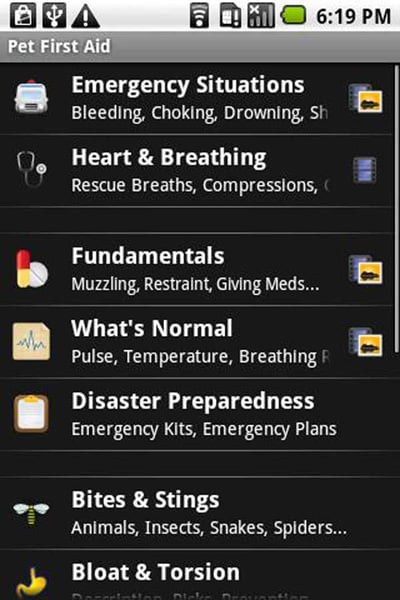 A vital tool for the health and welfare of your cat. Be prepared for any pet problem with this detailed and extensive app that gives information and help for any animal emergency. From minor cuts and scratches to full-scale disasters, there are step-by-step instructional videos, informative articles, and illustrations to get you through any feline health scare.
$3.99, iPhone and Android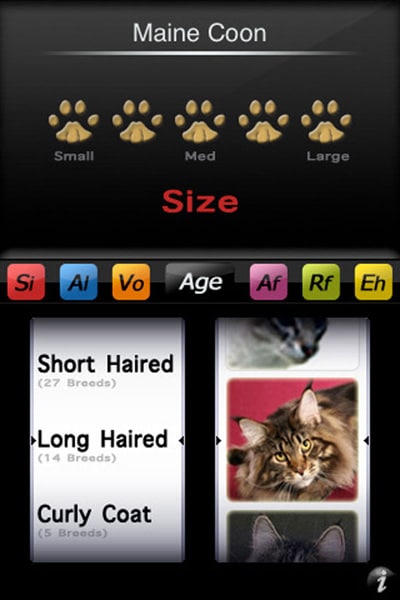 Don't know your Australian Mist from your American Polydactyl? Are you constantly being mocked at your local cattery because you mispronounce Chartreux? This app lists and identifies all the major cat breeds and provides you with their vital statistics, so you can research the perfect pussy. It also has a widget that helps you find the true age of your cat, if they're the sort to lie about such things.
99c, iPhone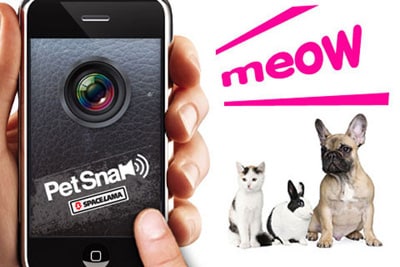 How many photos do you have of your cats? Fourteen thousand? One hundred and twenty-four thousand? The simple answer to that question is NOT ENOUGH. PetSnap is beautiful in its simplicity. Using a variety of noises, calls, and sounds, it attracts your kitty's attention just as you're taking that perfect snap of him shredding your couch or knocking over a family heirloom. It also allows you to style and digitally frame those special memories.
$1.99, iPhone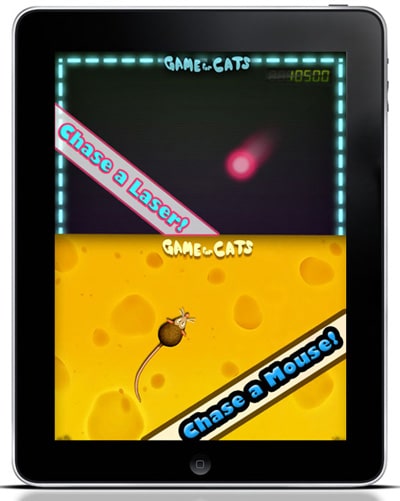 Let's face it: The main reason iPads were invented was to keep kids quiet. The second reason iPads were invented was to keep your cat occupied for a few minutes so you can actually get stuff done or keep him off the couch. With this cat-based timewaster, have kitty chase a virtual laser pointer or stalk a digital mouse. Yes, your pristine electronic device will soon be coated in cat drool ÔÇô but imagine the fun you've given your pet!
Free (laser pointer), $1.99 (digital mouse), iPhone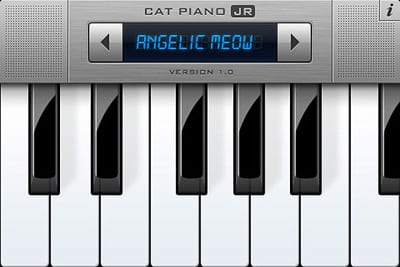 If you're anything like me, then you've probably wondered what a demonic half-cat, half-keyboard hybrid would sound like. This lunatic app provides some of the answers. An entire piano octave is rendered in cat sounds (Angelic Meow, Furball. and House Cat). Just allow your kitty to wander along the piano keys onscreen and see what musical bliss they create. Completely bonkers and strangely addictive.
Free, iPhone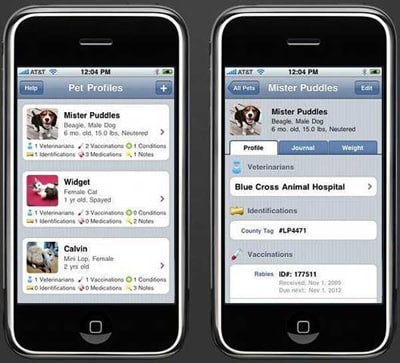 Keep track of fiddly little pieces of feline information such as vaccination times, ID tag numbers, and medical details in one handy place. Paw Card allows you to file away all those pernickety details and even allows you to send the whole lot to new catsitters or medical personnel. And it will even provide reminders when important appointments are due.
Free, iPhone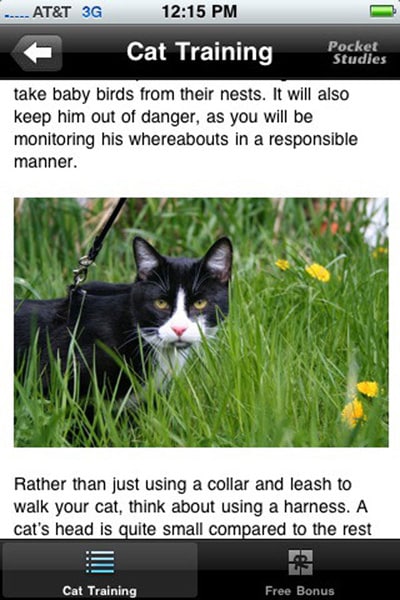 If you wish to embark on the foolhardy and possibly implausible endeavour of trying to get your cat to not do something, this app might be worth a look. Obviously your cat knows who wears the pants in the household, but you can at least try to stop your pet eating unsuitable items, sinking his claws into everything you hold dear, and using the litter box solely as a conversation piece.
99c, iPhone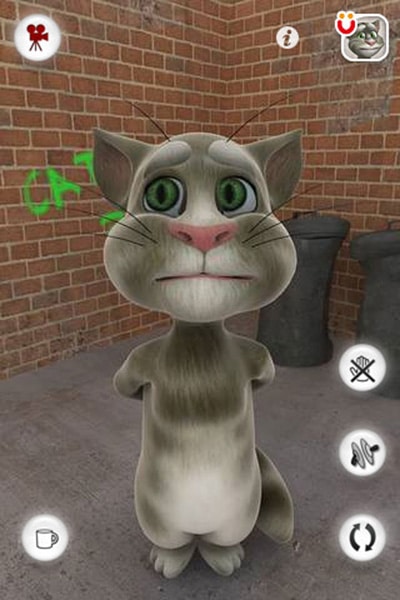 If you need to escape the endless demands of your cat for a few moments, or you're desperately missing him while out of the house and need a furry reminder, this popular timewaster might be for you. As the title suggests, Tom is a talking cartoon cat who you can stroke, prod, hold a conversation with, and allow to purr. He repeats your words in a comical tone. And if you get him to do something truly remarkable, you can share the results with the world on YouTube.
Free, iPhone
Psst. Like dogs? Check out our guide to dog apps over on Dogster.