I'm a proud member of the cat-obsessed club, so people often write me about cute and quirky feline-related happenings. Last week's batch included an email about an event called Kitty City. The blurb billed it as a miniature urban city for cats that was being crafted out of recycled material that would be housed at the Flux Factory gallery in Queens, New York. Wonderfully, the completed meowtropolis would then be flooded with kittens for an adoption drive. So, irresistible stuff!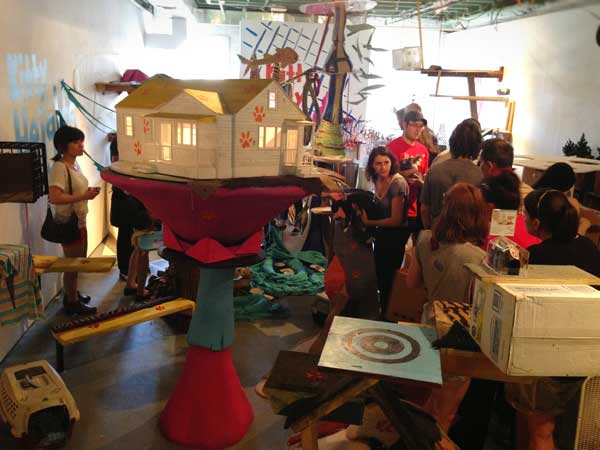 Beyond the draw of getting to spend a Saturday afternoon watching a bunch of playful furballs scamping around their own village, I also hoped that Kitty City might inspire a few ideas on how to fancy up the next cardboard box that arrives at my apartment. My own cat, Mimosa, is afflicted with that curious addiction to cardboard that the feline form seems to consider a virtue.
So after hiking over to Kitty City for the event last Saturday, here's the inside scoop on what happens when a coterie of cats get to take control of their own town. I was not disappointed at the cardboard action.
1. The Kitty City Manifesto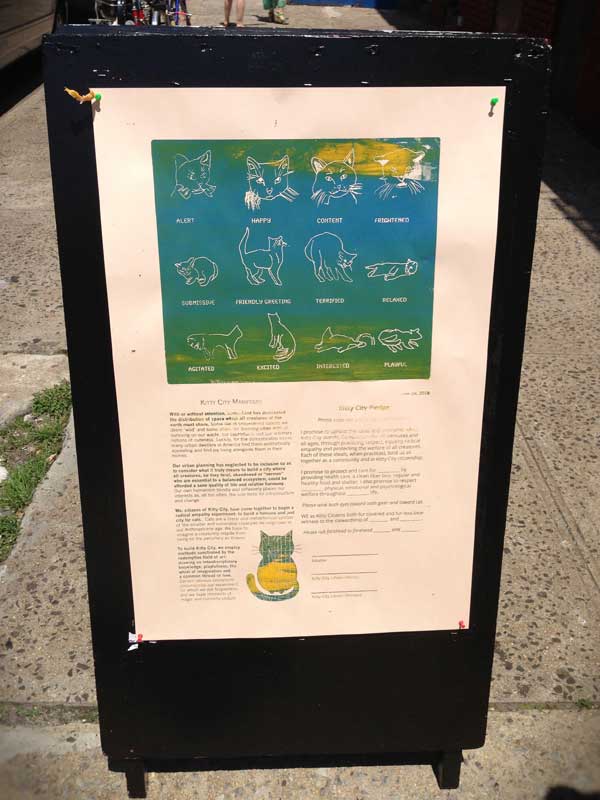 A sign outside the entrance to the Flux Factory set out the Kitty City Manifesto, a statement of intent and guide to good living within the mini-municipality. It included the declaration, "We, citizens of Kitty City, have come together to begin a radical empathy experiment: to build a humane and just city for cats." The manifesto also detailed twelve common cat moods in a handy infographic form.
2. Kitty City construction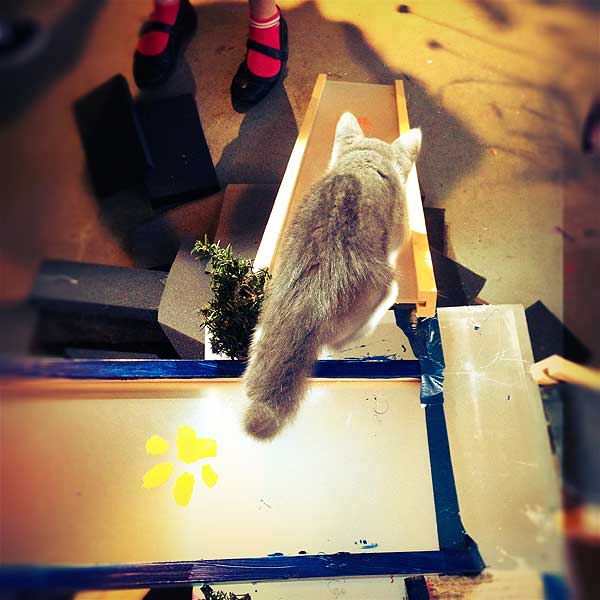 Everything in Kitty City was made out of reused materials found in New York City. Cardboard was predictably prominent. According to the Flux Factory's executive director, Christina Vassallo, before being open to the public the Kitty City buildings and its many ramps were thoroughly tested by Mr. Wilson, an older white and orange cat who lives with one of the builders. Mr. Wilson gave the endeavor a couple of enthusiastic paws up, and, buoyed by his sagely endorsement, the kittens took to merrily sliding around for the afternoon.
3. The Kitty City mansion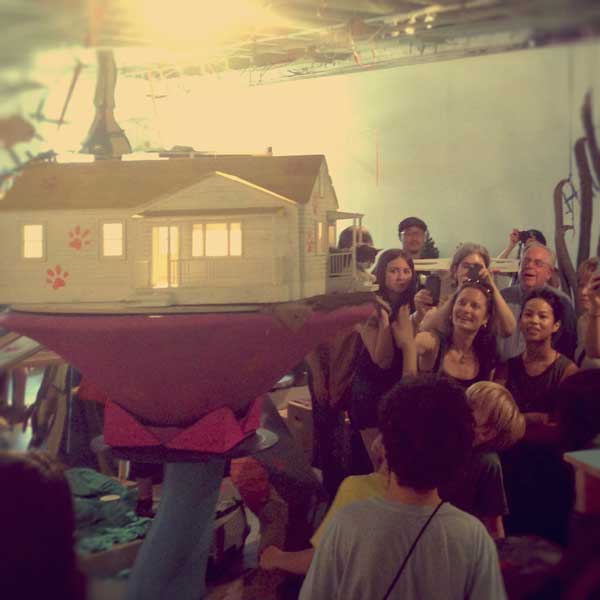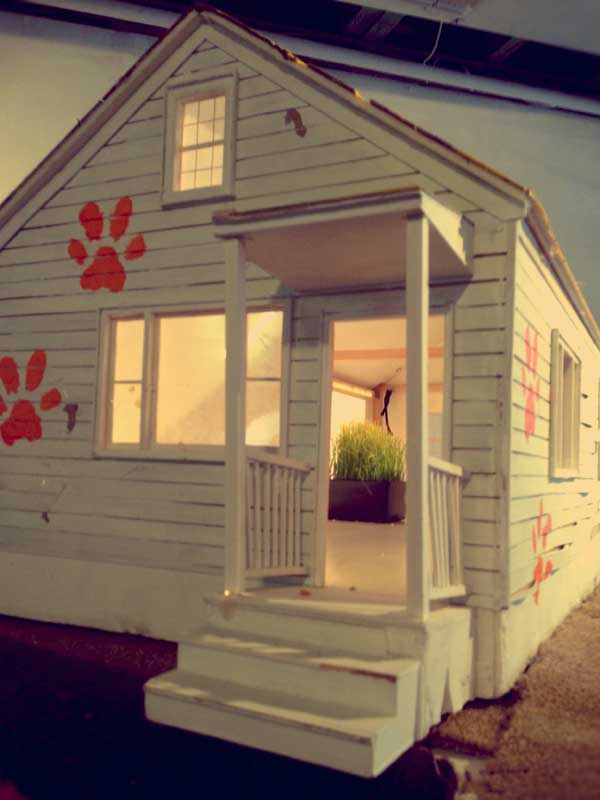 One of the most popular attractions for the kittens was a large white house perched on a colorful pedestal. Inside the house was a container of wheatgrass — which might explain why one little grey-and-white guy decided to camp out on the stoop and make the property his own. Crowds of snap-happy fans flocked.
4. Embellished for play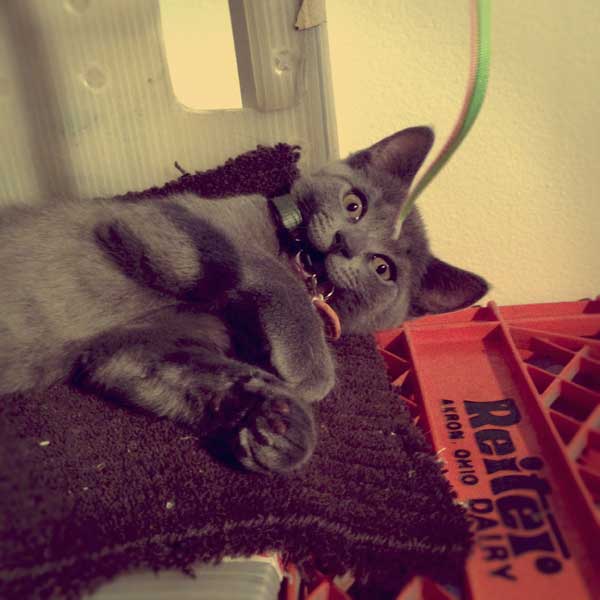 Kitty City's various boxes and buildings were embellished with toys for the cats to play with. One rambunctious kitten was particularly taken by the combination of some USPS boxes attached to a wall and a green ribbon to swat at. A nearby coil of wire also provided another kitten with a solid hour of playtime.
5. Nooks, crannies, and hiding spots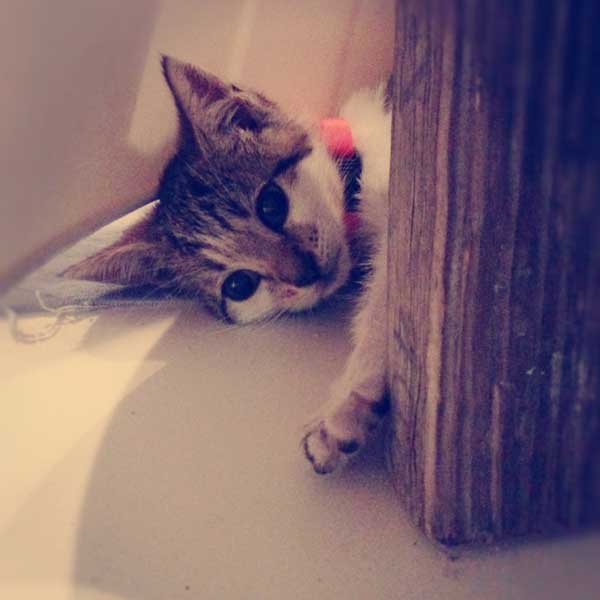 With a steady stream of potential adopters and inquisitive cat enthusiasts lining up to enter Kitty City throughout the day, some of the cats were understandably a little over-awed. Thoughtfully, Kitty City was peppered with snug hiding places where a shy kitten could curl up and secure a little sanctuary from the crowd.
6. Cat in a box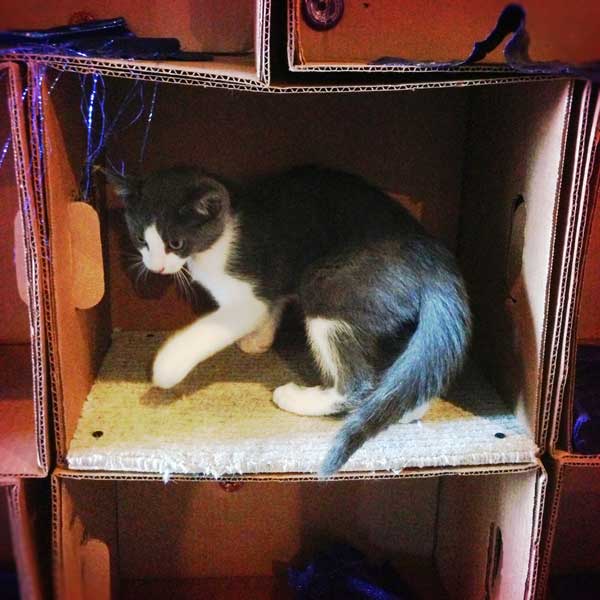 You can craft an extravagant cat-centric city, but sometimes there's nothing more alluring than getting inside of a cardboard box. Smartly, Kitty City featured many corrugated coves for the cats to conquer.
7. Creature comforts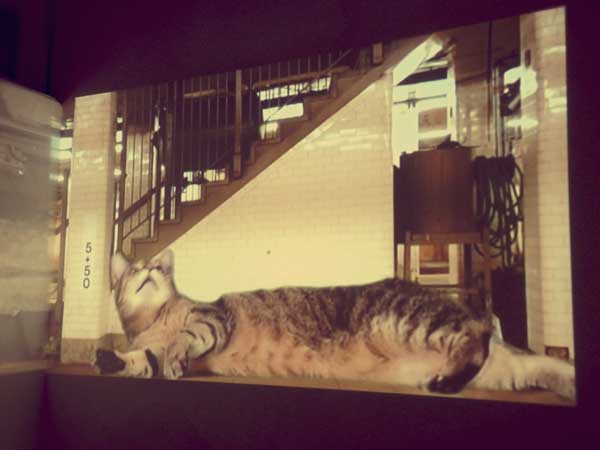 A video montage was projected outside the entrance to Kitty City. Titled Creature Comforts, the project by Jennifer Hsu and James Wang aimed to question "what are the comforts and discomforts of creatures who live in spaces that we have constructed?" This mainly translated to endearingly absurd images of cats lounging around New York City subway platforms.
8. Nap attack!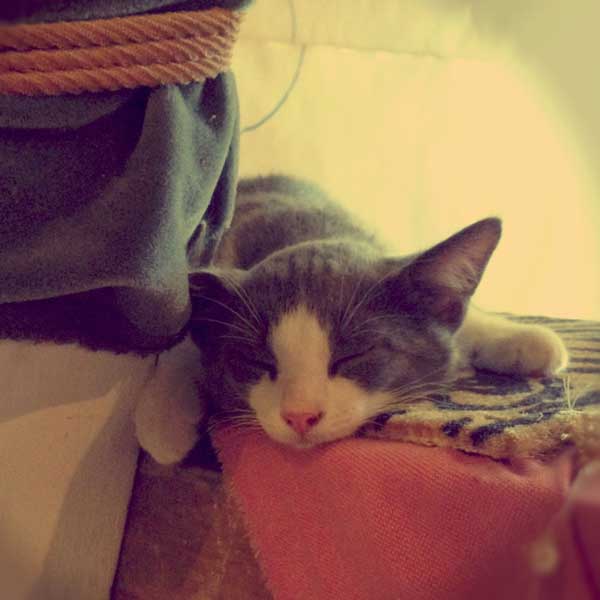 Despite being given the once-in-a-lifetime opportunity to frolic around a fantasy feline world, many of the kittens were content to find a place to perch and snooze off for the afternoon. So predictable!
9. Repurposed kitty carriers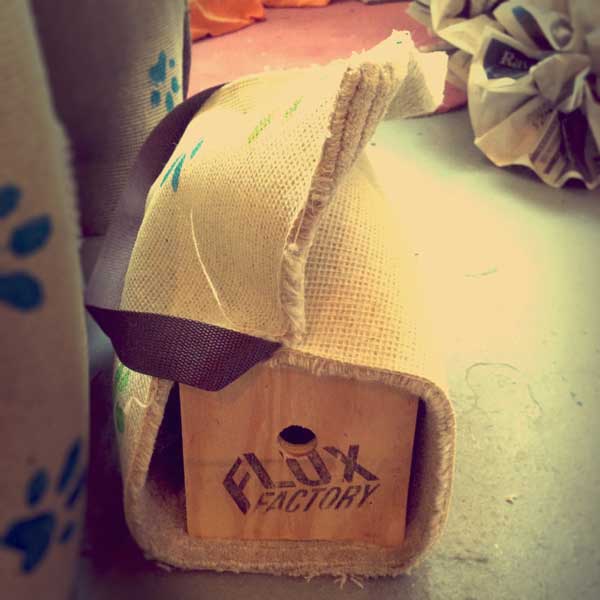 Adopted kittens were transported home in kitty carriers made from thick repurposed fabric wrapped around wooden boxes crafted by the Flux Factory team.
10. The Kitty City Pledge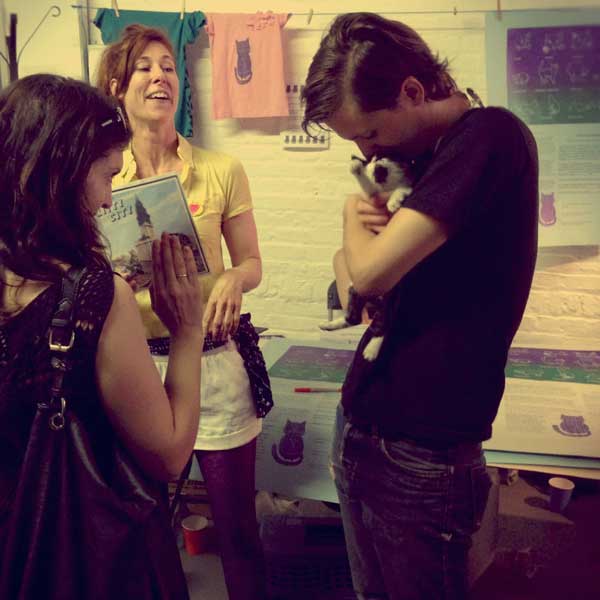 Every adoption was accompanied by a kitten's new owners reciting the official Kitty City Pledge to "uphold the ideals and principles" of the venture. The staples of a clean litter box, healthy food, and shelter were included. The Kitty City pledge was only complete once the new owner had winked both eyes at the oath giver and their adorable new kitten.
11. The cannibalization of Kitty City!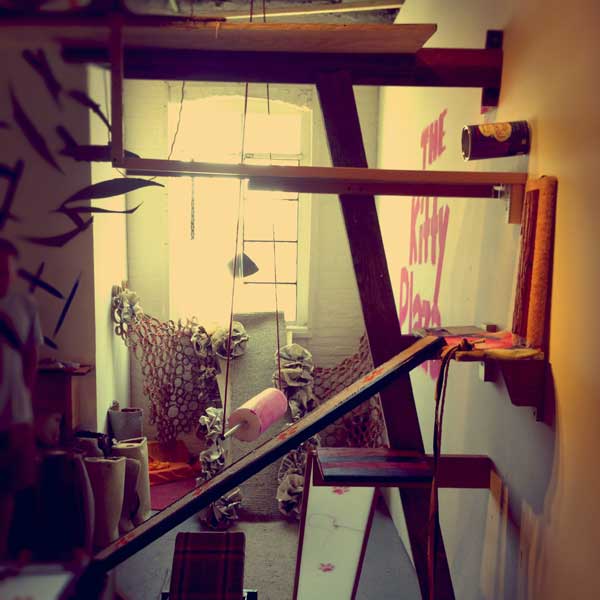 Sadly, after Saturday's adoption festival ended the demolition team moved in on Kitty City. Christina Vassallo says the buildings and structures were "cannibalized so we can make another installation out of the materials." (I'm assured that Vassallo being a dog owner had nothing to do with the decision, although I have my suspicions.)
In remembrance of the cat metropolis in Queens, you can head over to the official Flickr account to see a behind-the-scenes slideshow of the rise and fall of the great Kitty City.
Read more on special cat abodes:
About the Author: Phillip Mlynar is a freelance writer who lives in Brooklyn, New York City with his tiny adopted domestic shorthair cat, Mimosa (who appears to be surprisingly tolerant of the noisy rap music he usually scribes about). When not penning posts for MTV Hive, Spin, and the Redbull Music Academy, he occasionally uploads pics of Brooklyn's finest deli cats over at his Tumblr. He also dreams of training Mimosa to sit in a basket on the front of his bike.