A Lawrence, Kansas family is happy–and relieved–to have their family cat, Beans, back home again after Beans took off on a 1500-mile road trip seeking sun and girls-gone-wild fun in San Diego.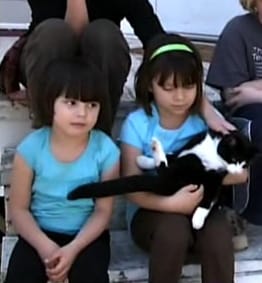 Beans recently went missing, and the Sotomayor family papered their neighborhood with fliers hoping someone had spotted their sweet Tuxie. Their neighbor across the street had seen Beans–in San Diego.

The neighbors had packed up to move to California the day Beans disappeared. When they unpacked in San Diego, they got a little bonus: a black and white cat who just wanted to add a little Spring Break excitement to her life. Beans enjoyed a week or so in Sunny So Cal before being flown back to the heartland–and she brought some sunshine with her.