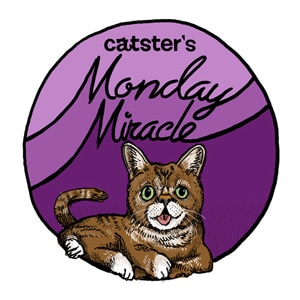 The star of this week's Monday Miracle is a cat named Baloo. He was the victim of a vicious attack. But unlike previous felines we've profiled who have been set upon by beasts like a bobcat, in this case Baloo became embroiled with a piece of string. The results were nasty: After his neck and front leg became tangled up, the cord actually cut through his muscle layers and formed a deep wound. Ick, right?
This incident took place over a year ago, and Baloo's plight at the time was spotted by a warm-hearted passerby. But when she attempted to intervene, the tabby fell back on his feral instincts and quickly ran away.
Then came the winter season. But once the frost had passed, Baloo surprised everyone by popping back up on the scene — still tangled up in the cord. With the help of the Tabby's Place cat sanctuary, a humane trap was set up (pictured below). This time the big boy was successfully scooped up and taken for medical care.
After examination, it was discovered that Baloo's original injury had turned into a six-inch-by-three-inch pressure wound. Thankfully, a course of wound flushes, ointment applications, and bandage changes set him on the road to a full recovery.
Now, as soon as Baloo has been given the all okay by the vet and it's confirmed that he's fully healed, he'll be taking up residence in his new forever home.
Bringing Baloo's story full circle, his adopter will be the woman who first attempted to rescue him. According to Angela Townsend from Tabby's Place, "Baloo is going to be her well-cared-for outdoor cat. We couldn't be happier for him, as he'll be safe and loved while also getting to live the 'wild' life he knows and treasures."
Read about more Monday Miracles on Catster:
About Phillip Mlynar: The self-appointed world's foremost expert on rappers' cats. When not penning posts on rap music, he can be found building DIY cat towers for his adopted domestic shorthair, Mimosa, and collecting Le Creuset cookware (in red). He has also invented cat sushi, but it's not quite what you think it is.