Is your cat terrified of the three Cs — the carrier, the car and the clinic? Or do you prefer not to load your handful of wiggling felines into carriers, navigate through thick traffic and then corral them into an exam room for their annual wellness exams?
A generation ago, you may have sought a veterinarian who made house calls.
This concept began for small-animal veterinarians in the 1980s and was considered revolutionary — and convenient. And, it was definitely cat friendly.
"House call veterinary care was cat friendly even before the term 'cat friendly' was coined," says Dr. Hazel Carney, a veterinarian board certified in feline medicine and past chair of the American Association of Feline Practitioners Guidelines Committee. She practices feline medicine and behavior at the Gem Veterinary Clinic in Emmett, Idaho.
Now, thanks to the emergence of telehealth medicine for people and pets, veterinary care for your feline may be just a computer click, phone call or text away. Think of it as House Call Version 2.0.

Good for kitty?
Telehealth may just be win-win for you and your cat. You don't have to try to mastermind a way to coax your cat out from under your bed to make your veterinary appointment on time. From your cat's perspective, she gets to stay safely at home without detecting even the scent of a veterinary clinic nearby.
"Today, telemedicine has definitely grown during the pandemic, and I think telehealth will steadily increase," Dr. Carney says. "It will fill the needs of cats who don't appreciate coming to the veterinary clinic and of owners who may have a non-emergency situation or who may not feel comfortable coming in to a veterinary clinic."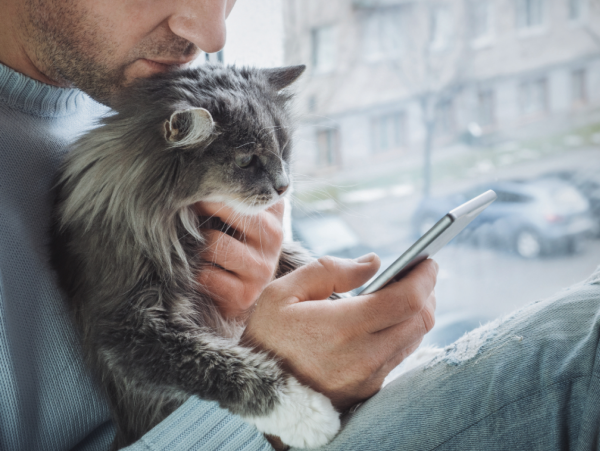 Dr. Carney has taken an active role in the evolution of feline veterinary care during her 40-plus-year career. When done properly, she believes that telemedicine can be beneficial to people of all generations and circumstances who have cats.
"I am in favor of anything that improves access to quality health care for cats," she says. "Telemedicine serves the needs of all ages. I have older clients whose cats are  perfectly calm and accepting in our exam rooms, but their owners can no longer physically drive and bring in their cats. I also have younger clients who grew up with technology and are more comfortable communicating about their cats via a live chat with their veterinarians."
Lowell Ackerman, a board-certified veterinary dermatologist who is Head of Global Veterinary Strategy at Galaxy Vets, agrees that telehealth is rapidly being embraced during this COVID-19 era.
"There is the convenience of speaking to a veterinary team by telephone, text or video at any time," says Dr. Ackerman, an in-demand global expert on pet health care and best-selling author. "It can be used for prescription requests, virtual examinations and post-surgical checkups. And, don't forget that more practices are now offering pet portals for their clients. These are private, secure websites that allow you to store your pet's information online."
Dr. Lisa Radosta, a board-certified veterinary behaviorist and owner of the Florida Veterinary Behavior Service in West Palm Beach, saw the value of adding telemedicine even before COVID-19 surfaced in 2020.
"We do tons of telehealth appointments," Dr. Radosta says. "Scared cats and dogs don't have to ride in the car as often. We can observe them in their home environment, and it is convenient for pet parents so they don't miss their rechecks. That means that their pets get better care."

Companies focused on telehealth
Among the major players in the veterinary telehealth field are AirVet, Dutch and Fuzzy. AirVet was founded in 2018 by Brandon Werber, whose father, Jeff Werber, DVM, serves as chief veterinary officer.
"AirVet has been a game changer in veterinary medicine," Dr. Werber says. "In reality, we have found that about 80% of the visits to ER hospitals are really not emergencies. AirVet offers clients access to affordable veterinary care 24-7. Clients love being able to have access to veterinarians one-on-one any time of the day or night."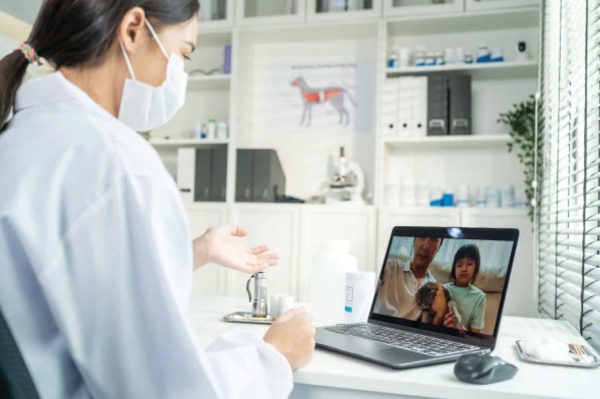 Joe Spector and Brian Evans, DVM, are co-founders of Dutch, which focuses on pets with chronic conditions, such as allergies or anxieties. Members can chat directly with a veterinarian in all 50 states. Prescription medicine that includes free shipping is currently available in 21 states and is expected to be available in more states.
"We chose to launch Dutch with a focus on behavior and dermatology issues to start," Dr. Evans says. "These two diseases are very amenable to telemedicine. Dutch is reaching its goal of providing a modern solution to vet care by allowing pet parents to have a more immediate means of finding comfort for their pets from issues such as anxiety and allergies — issues often left under treated or untreated."
Fuzzy was launched in 2016 by Eric Palm and Zubin Bhettay. Zubin's dog, Mo, was limping severely. He rushed him to an emergency veterinary hospital where he endured "seven stressful hours" and was billed $2,500 only to later discover that his dog's luxated patella could have been treated at home.
"Fuzzy is designed to put pet parenting on autopilot and remove the stress, uncertainty and worry by connecting pet parents with veterinary professionals fast — rather than relying on expensive, in-person emergency visits or diagnosis via Dr. Google," says Harley Butler, chief marketing officer. "Fuzzy's 24/7 Live Vet Chat and video consults give pet parents immediate access day or night for any pet health questions they may have or guidance they may need."
No type of medical practice comes without risks, and telemedicine is certainly no exception. There can be missed diagnoses due to poor imaging transmissions or adverse drug interactions. Still, more pet parents are welcoming veterinary telemedicine.
Among them is Amy Shever, founder of 2nd Chance 4 Pets.
Says Amy: "There are so many reasons telemedicine makes sense for pet owners who don't have access to local vet care or specialists and to offer phone consults to determine if a pet needs to be seen by a veterinarian or a specialist and for pet owners who have mobility issues and need virtual pet care support."

Legal Aspects of Veterinary Telemedicine
Depending on your state laws, telemedicine providers can evaluate, diagnose, consult and provide treatment for pets. But they must establish what is known as VCPR. That stands for veterinarian-client-patient-relationship. Some states allow veterinarians to form these VCPR relationships remotely and some do not.
To find out what the legal status for telemedicine is in your state, visit the Veterinary Virtual Care Association website. The site features a veterinary telemedicine regulatory map of current VCPR laws in every state: vvca.org/the-basics-about-telemedicine-and-the-vcpr/.