There are excellent, lifesaving, state-of-the-art veterinary services available for cats that really make a difference in your feline's well-being and even save her life. But, it can be very expensive, even if you have pet insurance. Thankfully, there are some wonderful pet funds, designated pet crowd-sourcing financial platforms and veterinary payment plans available to help pet parents so that no feline family member needs to be deprived of necessary medical treatment.
Sometimes, when your cat is ill and you need urgent financial assistance with veterinary bills, it can be difficult to know where to begin. Here is a selection of the kind of financial help that is available nationwide.
The Pet Fund
The Pet Fund is a nonprofit organization that provides financial assistance to people whose pets require non- basic, non-urgent care treatments.
"Typically, we provide grants in an amount of $500 to cover treatments for cancer, such as chemotherapy and immunotherapies," explains Karen Leslie, the organization's executive director. "We are also approached for veterinary care with regard to heart disease, diabetes, kidney disease and other chronic conditions, endocrine diseases and eye diseases."
The fund receives over 200 calls and emails daily, and there is a wait list for assistance. Only pet parents residing in the United States can apply, and the fund will only consider already adopted cats. Learn more at thepetfund.com.
RedRover Relief Urgent Care Grant Program
This program has helped thousands of animals since its inception in 1999. Requests for assistance are also in high demand.
#pawsforthiscause: So what can YOU do?
If you have a little extra money or time, donate or help fundraise for one of these organizations. Keeping cats healthy and in their loving homes is a great cause! Some vet offices allow you to help out other clients. You can pay it forward by asking your vet if someone needs help.
"We provide 'gap' grants that can bridge the gap between a pet receiving emergency veterinary care or not," explains RedRover's Public Relations Specialist, Sheri Madsen. "The grants are usually around $200, and the most common asks cover urinary catheterization, dental issues and automobile accidents. Our grants don't cover routine or preventative veterinary care." Find more information at redrover.org/relief/urgent-care-grants.
Waggle
Waggle is a pet-designated crowdfunding platform that guarantees that all the funds raised go directly to the veterinary clinic involved in the pet's care. The platform is designed to help pet parents plan and promote a professional campaign to raise the funds they need to cover the costs, and often the amounts raised are matched with funds from the organization's corporate sponsors.
In planning the campaign, pet parents list their own veterinary hospital on the form and provide an estimate of the costs of the care. Waggle then steps in to verify and ultimately pays over the funds directly to the hospital concerned on behalf of the pet parent.
Recently, The Waggle Foundation, the philanthropic arm of Waggle.org, launched a special fundraising initiative with the late Lil BUB, the Internet's most famous special-needs kitty. With the introduction of the Pet of the Month program, the Lil BUB team selects a cat who needs financial aid for veterinary care. The funds are raised through the Waggle crowdfunding platform, and excess funds raised beyond those needed for the pet's care are diverted to the Lil BUB Fund held at the Waggle Foundation. These funds are then provided in the form of matching-donations to still more pets in need.
"In this way, the initial donors to the Pet of the Month Campaign become the champions of the 100% match that we are able to promote to even more donors," explains Steven Mornelli, Waggle's CEO and founder.
Lil BUB's Pet of the Month initiative has helped many pets — both cats and dogs — to fully fund their campaigns.
Lil BUB's "dude," Mike Bridavsky, says that joining forces with Waggle aligns perfectly with BUB's mission to help as many pets as possible.
"Waggle addresses a sorely needed service which provides a fully transparent and legitimate crowdfunding platform to assist anxious pet guardians cover the cost of their veterinary bills."
Apart from grants and crowdfunding initiatives, there is also the option of taking out a special veterinary-related loan to cover the costs and remove the worry out of waiting to learn if your request for a grant has been granted. Learn more at waggle.org.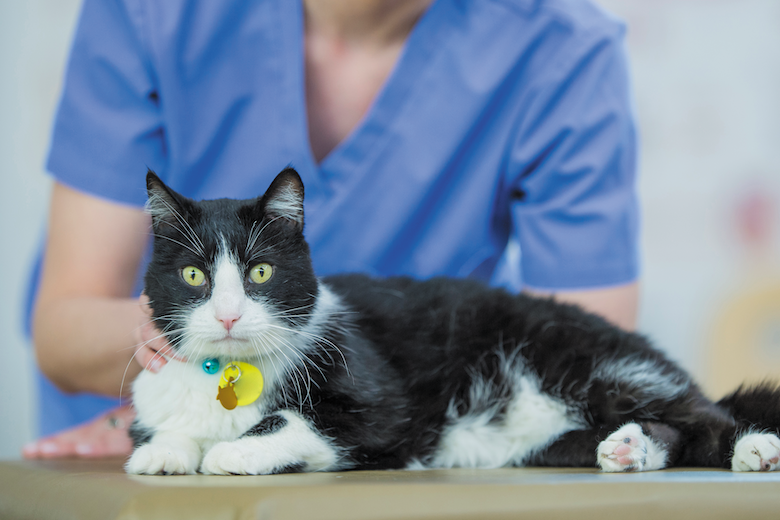 Scratchpay
Scratch Financial, Inc. (also known as Scratchpay) offers loans to pet parents up to $10,000 with a choice of three payment plans including an interest-free (not a deferred interest) option. The payment plans offer individualized pricing, and all applications are done online. Once approved, the amount requested is immediately paid to the veterinary office designated by the pet parent. Loans can be paid off over 12 or 24 months.
Scratchpay works with veterinarians across the United States and Canada (except Quebec) and also donates 1% of the company's net revenue to pets in need. For more information, visit scratchpay.com.
Care Credit
A Care Credit card is a credit card payment option to cover health care expenses for both people and pets. You get billed monthly to pay off the amount and the card can be used for all kinds of veterinary procedures and general care. Visit carecredit.com.
Lucy Pet Foundation
Numerous small foundations nationwide, such as the Lucy Pet Foundation, help pet parents with low-cost spay and neuter surgeries, cheaper flea and tick medications, nail trims and reduced consultancy fees for those who use their services in the Los Angeles County area.
"But we won't turn anyone away if they are prepared to come to one of our mobile clinics," says veterinarian Karen Halligan, who runs the foundation's wellness program. Visit lucypetfoundation.org.
Alley Cat Rescue
Check out rescue groups in your area, too. For example, Alley Cat Rescue runs free spay and neuter clinics in Los Angeles and various cities in Maryland. Check saveacat.org for details.
Alternatively, if you have a long-standing relationship with a veterinary practice and want to cut out third parties, it's worth reaching out to the office manager directly to ask if they would be prepared to allow you to pay off a large bill in a number of installments. Most likely, they will ask for your credit card to keep on file and charge it directly when an installation is due. It never hurts to ask!