One of the toughest things about loving and rescuing cats is coping with the specter of Feline Leukemia and Feline Immunodeficiency Virus (FIV). In all my years of cat rescue, it would often turn out that some of the sweetest cats were the ones whose lives were drastically shortened by one or both of these dreaded retroviruses.
Like HIV/AIDS in humans, FeLV and FIV suppress the immune system and are easily transmitted from one cat to another. Once infected, a cat usually dies within about three years. However, some cats can beat the odds and live much longer. My beloved Major Tom was one such exceptional cat.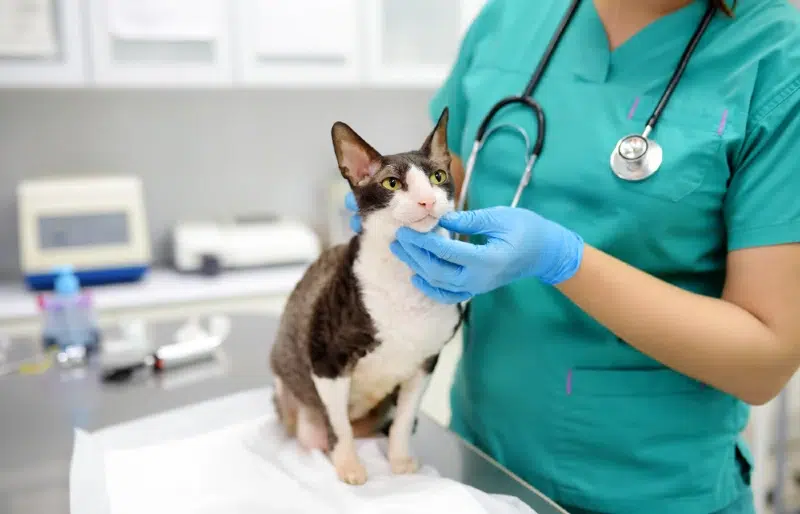 A handsome, affectionate gray tabby with a pink nose, pink toes and white legs, he had the build and swagger of a football champ, complete with a huge head and impressively wide, muscular neck. I dubbed him the Larry Csonka of cats. Despite his imposing physique, or perhaps because of it, he was the sweetest, most adorable thing on four legs, with dark eye markings like a cheetah, and a hefty appetite for anything I happened to be eating, especially scrambled eggs and smoked salmon.
A super-sociable guy, Tom loved meeting new people. He behaved more like a dog than a cat, coming when called and leaping gently into any nearby lap for a cuddle. He even held hands, sweetly pressing his toes into a favorite person's palm. I nicknamed him Puss in Boots long before a fictitious ogre named Shrek befriended a now-famous feline with the same handle.
I adopted Tom – or rather, he adopted me – in the late 90s at an animal shelter, and he was already an adult cat, so who knew how old he really was? He could've been 5, 10, even 12. But regardless of chronological age, he was the most gorgeous guy. And he tested negative for FeLV, which was very important, as I already had several cats in residence when Tom joined the family.
Around 2001, a vet diagnosed an autoimmune disorder in Tom that necessitated surgically extracting his top two eye teeth. I hated doing this to him, but he got through the recovery period bravely, as I expected he would. Once healed, he managed to enjoy his favorite high-protein snacks, especially turkey, which was shredded to make it easier for him to eat.
Cats are stoic creatures, hard-wired not to reveal signs of pain or discomfort, so illnesses often go undetected because owners don't notice anything wrong. When a cat actually does show signs of discomfort, it means something must be causing him serious, wrenching pain. Around 2006, Tom began licking himself so diligently that pretty soon his forearms were almost hairless, and red, irritated patches appeared on his skin. This was diagnosed as allergies, and he was put on a course of antibiotics that seemed to make him better; his hair eventually grew back and he seemed OK.
But by early 2009, Tom was literally a shadow of his former self: shockingly skinny yet voraciously hungry, he'd inhale every meal as if it were the first time he'd seen food in weeks – even if he'd just been fed two hours before. None of that food seemed to stick to him, and he stayed rail-thin. Getting me up at dawn to serve him breakfast became a matter of life and death. If I happened to oversleep his urgent wake-up calls, he'd get my attention by leaping on me from a high shelf.
None of the vets Tom saw over the years thought to re-test him for FeLV because his record indicated he was negative for the disease. Until, that is, I took him to the Humane Society of New York Clinic to explore what could be causing his dramatic appetite spike and weight loss. Upon seeing my poor emaciated guy and hearing of his symptoms, they re-tested him and gave me the bad news. Tom had been FeLV-positive all along, despite having tested (falsely) negative when I adopted him 10 years before. I let the doctor put my sweet old friend to sleep. I miss him terribly to this day.
No one knows how or why Tom managed to survive so long with FeLV. But the good news for infected cats like him – and sadly, according to the Winn Feline Foundation, that's 3 percent of cats in single-cat households and as many as 70 percent in homes with multiple cats – is that now FeLV/FIV doesn't have to be an early death sentence. There's a new treatment called LTCI, which stands for lymphocyte T-cell immunomodulator. It's the first such therapy to receive a conditional license by the USDA, and it has no side effects.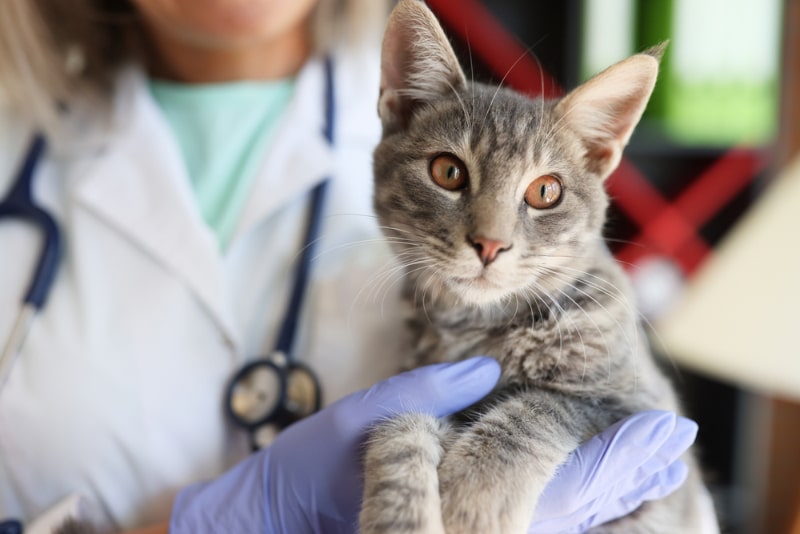 Here's how it works: LTCI uses molecules originally derived from the thymus glands of a cow to restore a cat's natural ability to fight disease by killing off virus-carrying blood cells. "Reports prove that 75 to 80 percent of cats treated are showing improvement, and several positive cats have gone negative," says veterinarian Dr. Joel Ehrenzweig of Missouri-based ProLabs, which markets LTCI.
Your vet administers the treatment by injection; the typical charge is $75 to $100 per treatment, and the regimen is usually once a week for a month, then once every other week for a month, then monthly or every six weeks to twice a year.
The Humane Society of New York tried out LTCI on two of its resident cats who are FeLV positive: Snowa, a three-and-a-half-year-old tuxedo cat, and Violet (pictured above), a four-month old white kitten with black spots. Snowa the tuxedo kitty is asymptomatic, so it's hard to tell whether the treatment is helping her – but one beauty of LTCI is that it can't hurt. Tiny Violet, on the other hand, is "blossoming," reports Dr. Elizabeth Higgins, a staff vet at the Society.
"Violet had a chronic respiratory infection that wasn't responding to antibiotics, and she was having trouble putting on weight," Dr. Higgins explains, "so we've been giving her LTCI injections twice a week for a few weeks. She gained half a pound the first week, a quarter pound the second week, then another quarter pound the third week. Now she weighs two pounds, 14 ounces. Her eyes used to drip a lot; now they're clear, and the URI is gone. Her quality of life is better already – you can definitely see a change. We're thrilled with how she's doing."
That was August; by last month, Violet was finally adopted into a forever home! To inquire about adopting her friend Snowa, visit this page.
I wish I'd known about LTCI in time to help my beloved Tom. But in his sweet memory, let's hope reading this article will inspire owners of FeLV-positive felines to investigate this promising therapy – and vets whose patients present with mystery ailments to re-test, so they might benefit from LTCI too. And, of course, I hope potential adopters won't hesitate to bring home a sweet FeLV-positive cat like Violet.
---
Feature Image Credit: lev.studio, Shutterstock