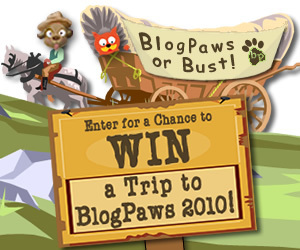 Have you heard of BlogPaws? It's a Pet Blogging Conference being held in Columbus, OH on April 9-10, and it will be full of networking opps, learning, and FUN! I'll be one of the speakers, so let me know if you're going; Skeezix and I would love to meet up with you.
Now here's the exciting part. You can enter to win an all-expense-paid trip to BlogPaws. That covers RT airfare, 2 nights at the conference hotel, and a pass to the conference. TWO lucky winners will snag this travel/conference package.
In addition, THREE lucky second place winners will win free passes to the conference.
Deadline to enter the sweepstakes is 19 MARCH.
And, if you're interested in going and would like a discount on the conference, email me (karen AT catster DOT com) for details.