---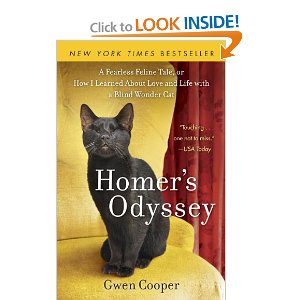 The paperback edition of Homer's Odyssey: A Fearless Feline Tale
was released today. To celebrate, author Gwen Cooper is giving an autographed copy to 3 lucky Cat's Meow readers!
Drawn at random via random.org, the winners are:
Max
Gabby da Tabby and
Riley
Each described what they would do if they had superpowers like Homer does:
Max the Psycho Kitty said, "OK, Ill be honest. If I had superpowers I would use them to open any can of stinky goodness that I wanted, and to grab onto all the real live fresh dead shrimp I could. But to be fair, I would also share it with my kitty friends, because Im just awesome like that"
Gabby da Tabby said, "If I had superpowers, Id share a lil bit wif efurrybody so all da skeerdycats would poof. Den I would fly all over da world to say be pawsitive, be strong, be all u can be, & do what u can to help others less fortunate in yr lil piece of da purrth. Let der be peas on Purrth!"
Riley said, "If I had superpowers, Id make sure no kitties would ever be homeless. Id give them good food and a warm bed."
Concatulations to all the winners!
Click here to buy Homer's Odyssey: A Fearless Feline Tale
.