Happy FURday, my furriends!! OMG guys I have sooo many cool stuffs to tell you, MAJOR! Guess who is going to CaliFURnia?? Oh yeah, this blondie is! My daddy is going for work and we are tagging along because it's a free trip YEII!
I really hope the Kardashians are not there because I'm super allergic to stupid bitches LOL. Since I'm not having a shopping budget, expect me on Rodeo Drive charging everyPAWdy to take my picture. Hahaha — I'm kidding! Hello? I'm not Taylor Armstrong (of Real Housewives of Beverly Hills). Joan Rivers, I'm sooo ready fur you to ask me, "Who are you wearing?"
A few weeks ago I got a PAWsome message from Carrie Kenady, a fabulous pet psychic, saying that she wanted to talk to me! Let's face it, who doesn't want that?? Anyways, we have never done this before and I know many purrsons don't even believe in psychics, but let me tell you this: Washington, Roosevelt, Lincoln, and Kyle Richards can't be wrong!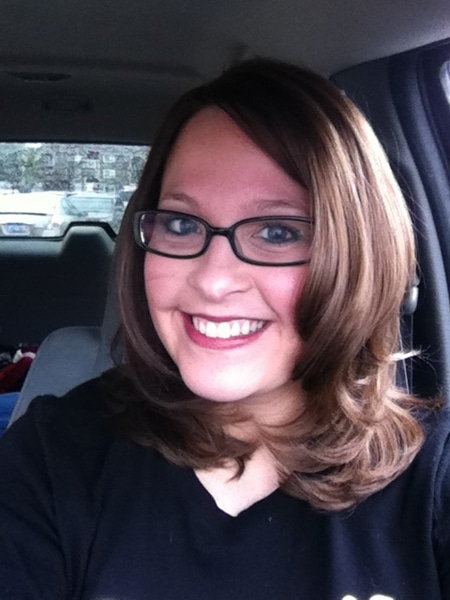 Beautiful Carrie says that she thinks she purrbably has been able to communicate with animals her whole life and not known it, although she has been doing professional pet psychic readings for a couple of years.
"I actually didn't freak out!" she told me. "I was delighted to discover my ability to communicate with fur children. I'm a huge animal lover and always have been, so it seems natural that my life path involves helping animals and their owners."
Uff, can you imagine if you could talk to your fur-baby? Dang, all the stuffs I talk back to my momma — I would get grounded all the time!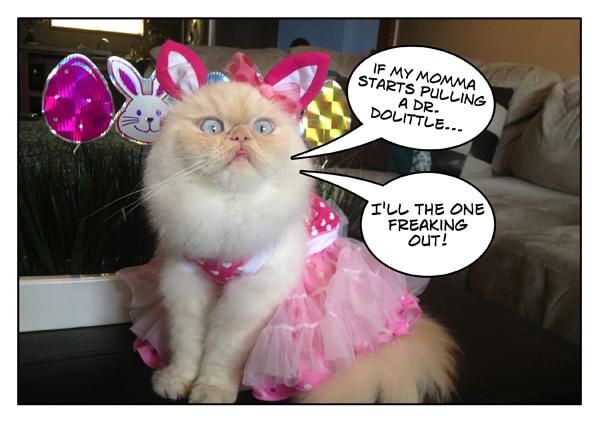 Fur those who are not familiar with what a Pet Psychic is, Carrie explains, "I'm able to telepathically communicate with animals, which means that I have the ability to understand words and images they give me. As soon as I see the animal or his/her picture, I receive a flood of information that I then relay to the owner. Sometimes I receive symbols or concepts that I have to translate into plain language — which makes it tricky at times — but if I don't know what the animal is trying to tell me I say it out loud, and the owner usually knows what I'm talking about."
Many of us have lost a fur child, and I know that we would LOVE to talk with them one more time. Carrie says she can help you with that too "I'm also a psychic medium, so yes! The fur kids who have crossed over are just as loud as live animals sitting right in front of me."
Sometimes we cats stare at the ceiling or the wall and it's because we actually see stuffs, guys! "Animals are extremely sensitive to spirits around the house and in their surrounding environments," Carrie says.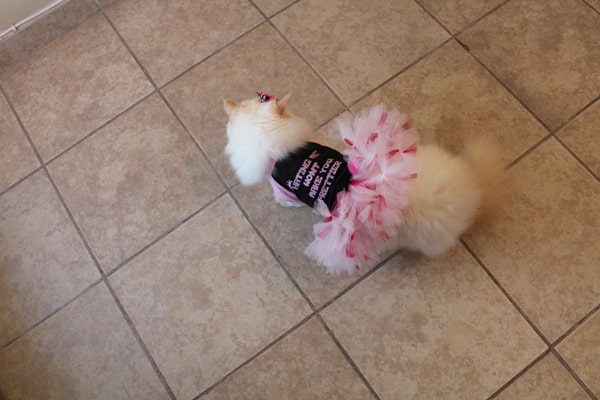 When I was in my reading I told Carrie that my front paw was sore last week. (That made me wonder how PAWsome would be to have a vet psychic, or a vet who works along with a psychic? HEAVEN!) Carrie says that obviously she isn't a vet and can't diagnose anything, but she can psychically scan the animal's body and tell the owner if she is having pain or discomfort.
Do you guys watch Flipping Out on Bravo? I super LOVE Jeff Lewis, and he use a furchild communicator ALL the time. Once his dog Casey was acting weird, and Casey told Star the psychic that she had pain in her back leg! So Jeff took Casey to the vet and SHE NEEDED SURGERY ASAP!
Well, I told Carrie that I didn't like baths, and she told my momma, and guess what?? I got a freaking bath two days later!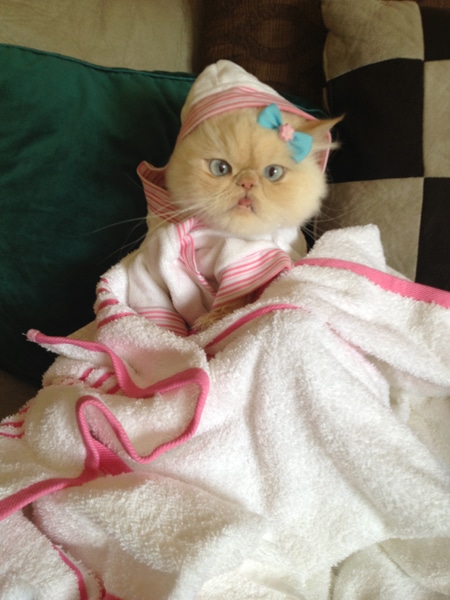 According to Carrie, cats are not good keeping secrets and we spill the beans! She says "Animals will tell me their parents' secrets a lot. They see and have an opinion on everything, trust me! A lot of times I laugh at the favorite foods their parents are feeding them. Most recently I've heard goldfish crackers, pizza, and scrambled eggs!"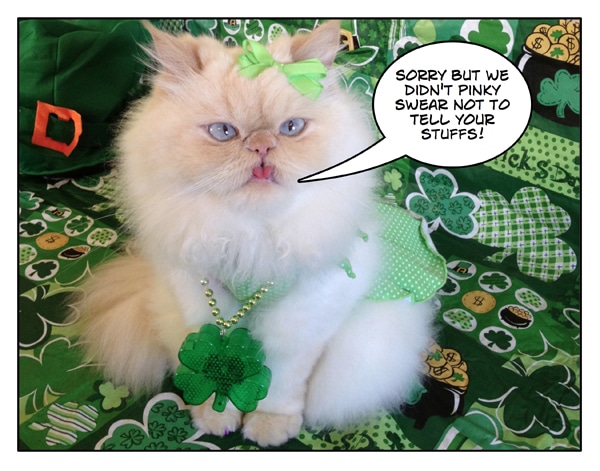 I know that sometimes you guys think that WE DON'T GET IT, but we do — we just sometimes DON'T CARE to pay attention or do what you guys want us to do.
Carrie gives you some pointers fur communicate better with us. She says that cats can learn a whole vocabulary of actual words and can also understand what people mean by the images we form in our heads when we talk. "The more you can show them in your head where you're going and what you're doing, the more content they'll be," she says. "They always like to be in the loop and know when you're coming home!"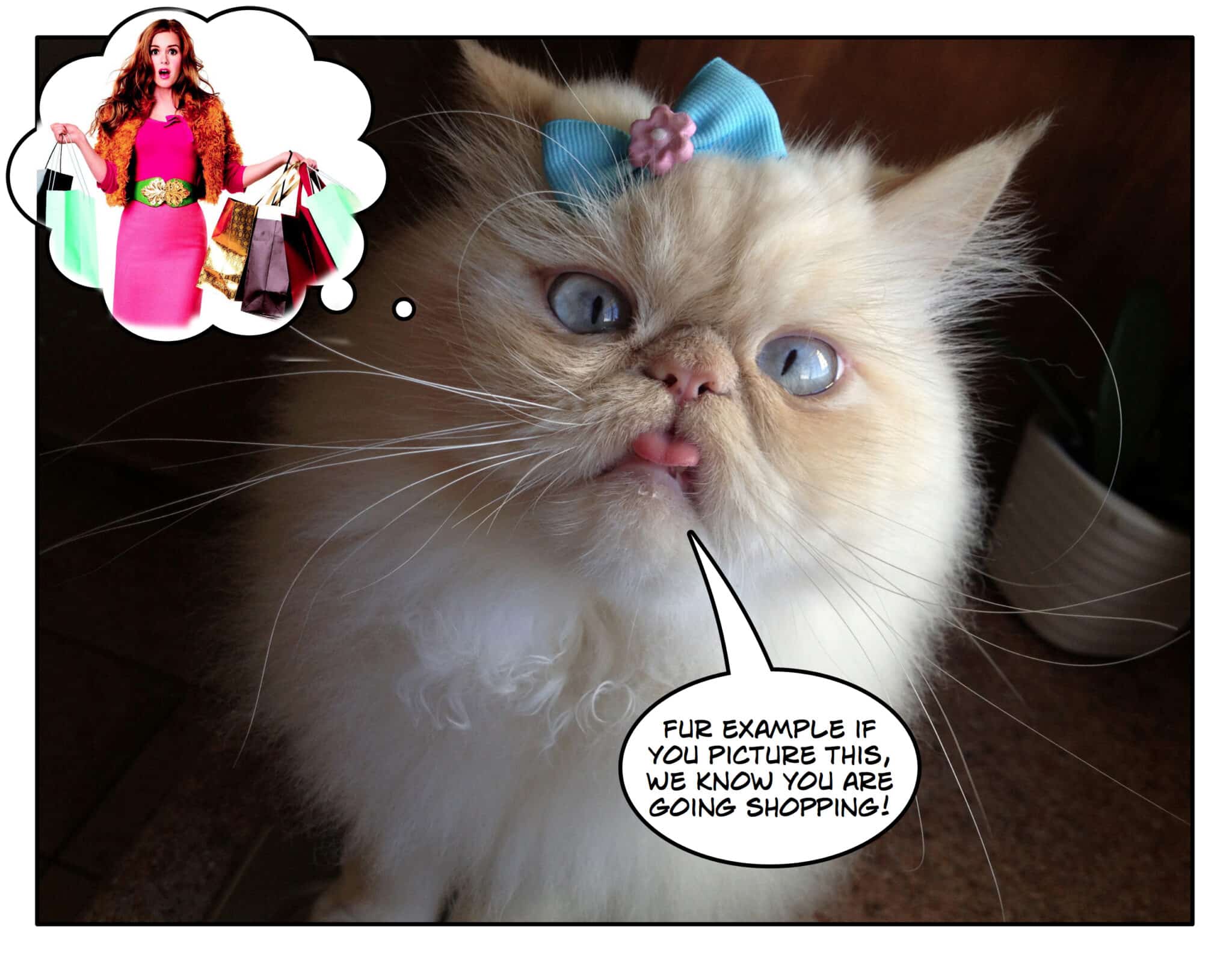 I also asked Carrie the million-dollar question: Do cats talk like babies? You know many on Facebook do! Here is what she said: "I believe cats have all different ranges of voices just like people. A lot of them sound (and behave!) like children to me, but some of them sound like grumpy old men or crazy old ladies, too. It just depends on the animal."
I know you are dying to know what I told Carrie. Well … I told her about a gray kitty I see all the time outside. I told her that I like liver canned food, real chicken, where my FAVE nap spots are, that my daddy smells good, that I get itchy with stuffs in my neck, that I love going out in my bag, love pink, love my clothes, love my momma, I know I'm impurrtant, and much more!
I asked if I should fire my assistant and she said "I think your purrsonality online definitely matches your real purrsonality! You are a total diva and princess and very opinionated about what you like and don't like. But you're also a complete sweetheart, and that comes across online, too. So no need to fire your assistant."
We want to thank Carrie fur the reading –it was truly amazing! If you would like to make an appointment fur a private reading, send Carrie an email to [email protected]. She needs a clear, color picture emailed to her prior to the reading; the pet can be living or passed. You can also visit her Facebook page fur more inFURmation.
Next week I will be traveling so I want to wish you all a Happy Easter. Be good, be you, be PAWsome! Fur daily updates follow me in Facebook or Twitter you can furriend me too here in Catster and don't FURget to check my purrsians in need at my website.