Welcome to another week of FAB fashion! Fur reals, I never have a boring week. Last Furrday my interview at Fashionista was the TOP STORY fur two days … or was it three? The point is, I was on the front page fur a long time. It was such a HUGE boost to my already GIGANTIC ego to see the stories about those tall supermodels underneath me, like they should be if you ask me LOL. Thanks a lot to Dhani Mau fur write such a PAWsome article.
The interview was super fun and I loved that they compared me to Man Repeller and Fashiontoast that are very famous fashion blogs. Fur be honest, furst I was kinda confused because I dont follow any fashion blogs, because hello ÔÇö do I look like I need any help?!? I dont think so! But I Google them and they are very cool.
Also, guess what? I finally have my 2012 calendar out and it's super cute!!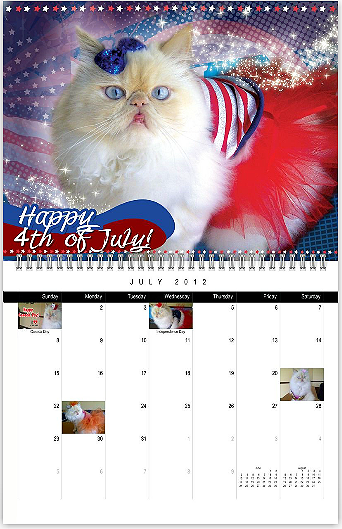 Not only because I look ultramegaHOT, but also the design is PAWsome, and I'm super happy because we will be donating to Seattle Persian and Himalayan Rescue. They do a super good job, helping Purrsians in need. Fur some reason there are A LOT of homeless Purrsians in that area. I have been watching their hard work fur months and I hope we can collect enough money fur help them as I always say, we cant survive long on the streets, we cant join a cat colony and be fine, we need a maid! I mean, a momma or a daddy or both to take care of us.
Now let's start with my week in pics!
Friday, December 2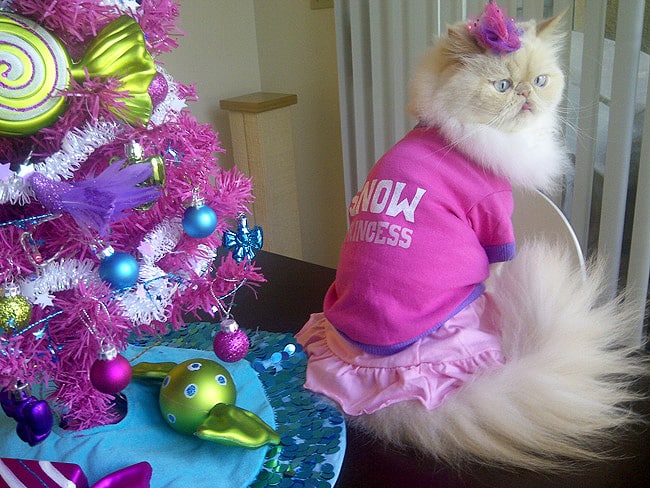 On Furrday I wore a pink mix-and-match outfit with a little touch of purrple. The shirt says "Snow Princess."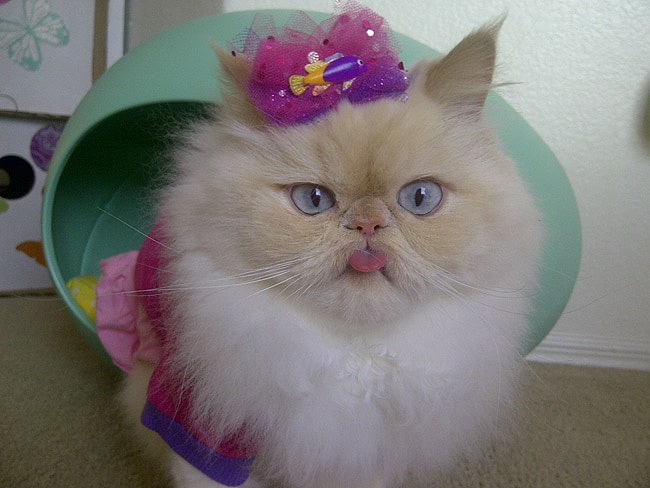 I wore a super cute bow with a girly fish! Only I can rock a fish on the head. Seriously, don't try it!
Saturday, December 3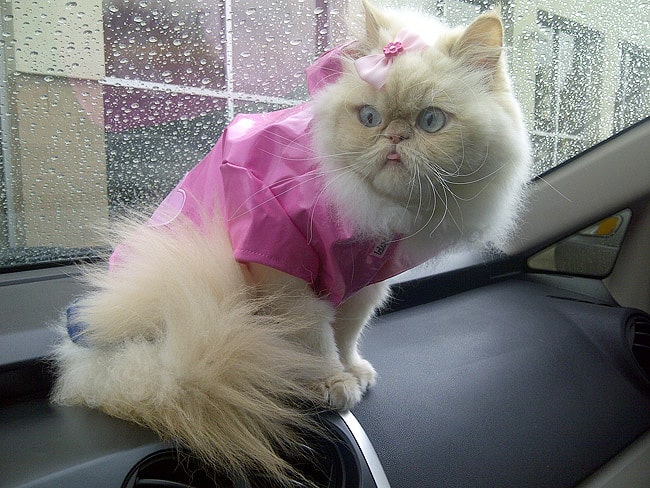 On Caturday I normally go to check my love box and it was raining! Do you know how hard is to see rain here in Arizona? So finally I got to wear one of my raincoats. Tthis one was a purrsent from my furriend Savanah.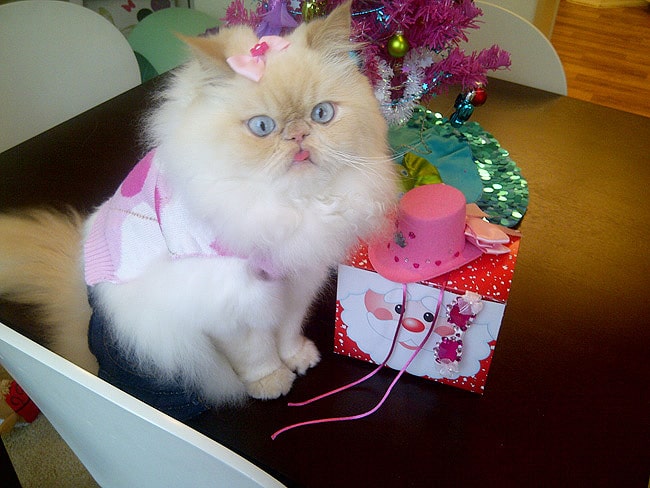 OMG guys I found AMAZING stuffs on my love box. My fanfurriend Laura Steff from Florida sent me a SUPERCUTE hat and a sunglass, all her creations. Isnt she talented? I cant wait to wear them. Then the Kritenbrink family sent me a cool holiday card from Seattle.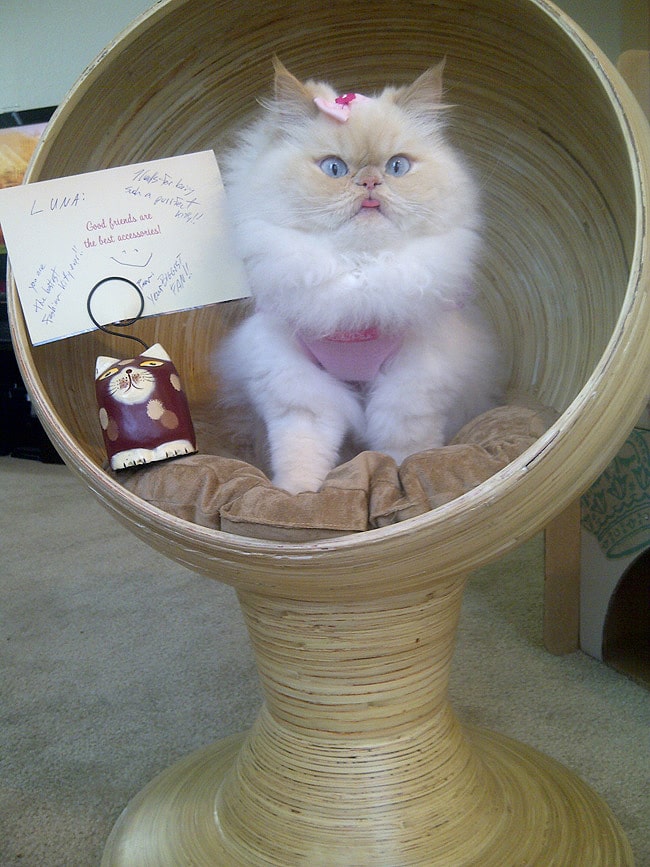 Andddddd I got a Refined Feline bed! Yes, you hear me right! I was MEGA surprised fur reals! My furriend Savanah Garrison from Texas buy it at FAB.com fur me.She said that was suppose to be a secret, but she is the worst Secret Santa ever, I totally recognize her handwriting! Thanks a lot, girl. I cant express how much I LOVE IT!
Sunday, December 4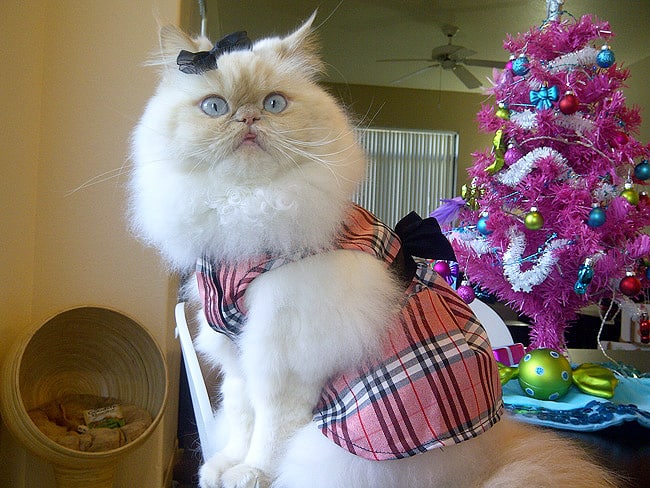 On Sunday I wore a FAB plaid dress, super classic style, with a black bow, purrfect fur Mass.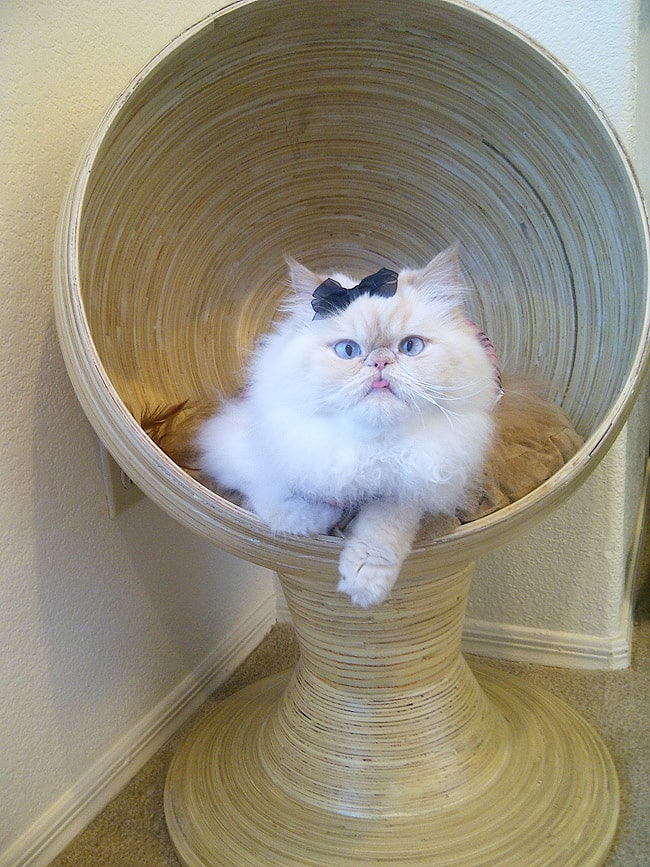 I also spend a lot of time modeling in my new chair, working my angles. OMG I just love my chair!
Monday, December 5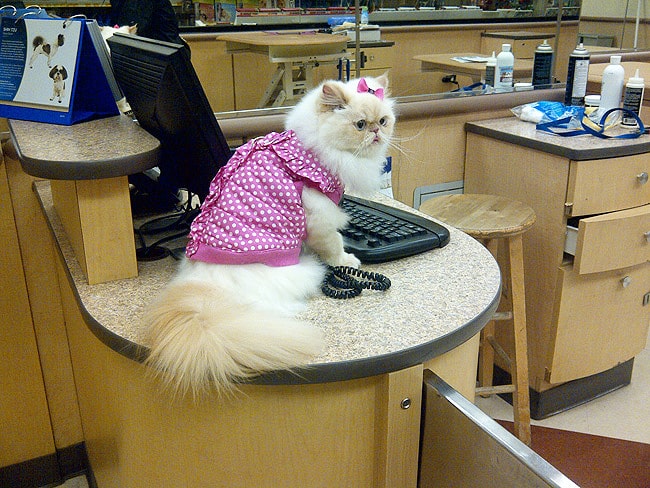 On Monday I had to wake up super early to go to my fur do appointment at Petsmart. Honestly, it should be illegal to wake up at 6 a.m.!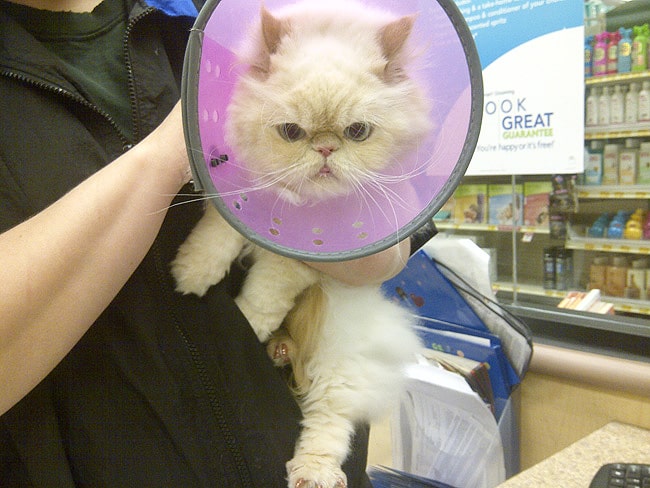 I was super good with Teresa, my furdo stylist ÔÇö she even took off the Cone of Shame! Now that is purrgress.
Tuesday, December 6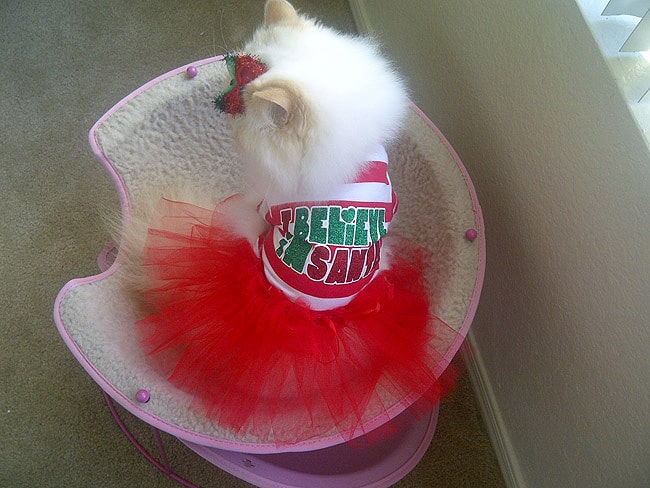 Tutu Tuesday was so much fun. I wore a red tutu and striped shirt that says I believe in Santa and my bow was too cute fur words.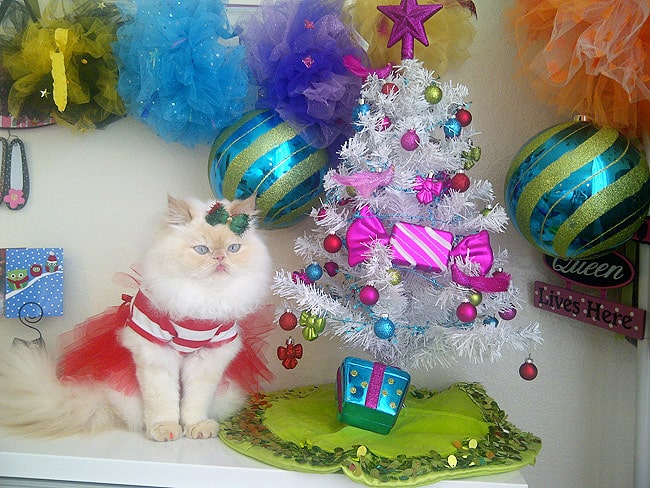 I think I should wear tutus more often, not only on Tuesday ÔÇö what do you guys think?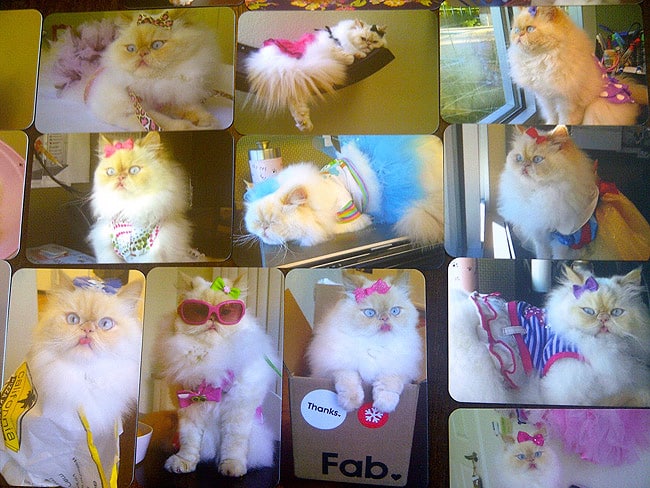 I also got my new business cards. Yeiii, I love them! I give them away when Im shopping and purrsons want to know more about me.
Wednesday, December 7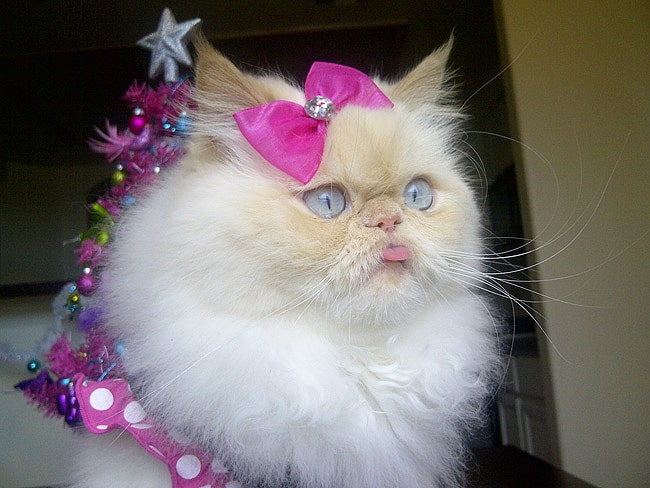 On Wednesday my dress spoke fur me, totally FAB!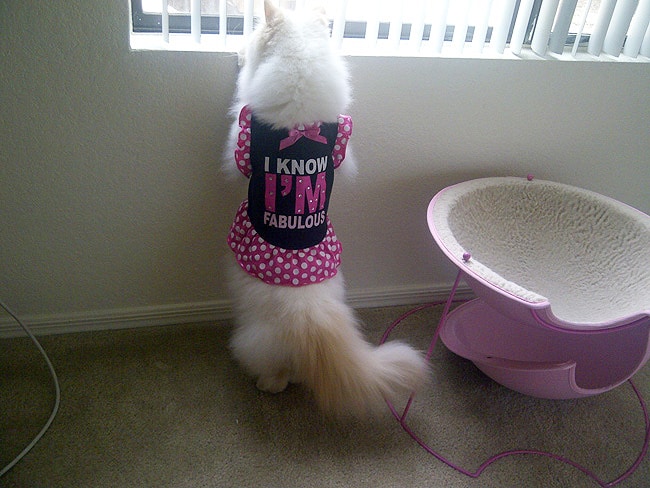 Huge pink bow and I looked sooo cute that I wanted to do only close-ups.
Thursday, December 8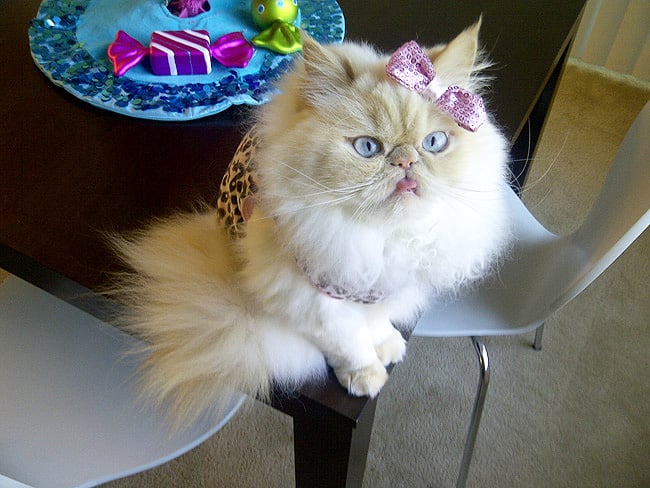 On Thursday I wore a very cute and warm pink animal print top with a sparkly bow.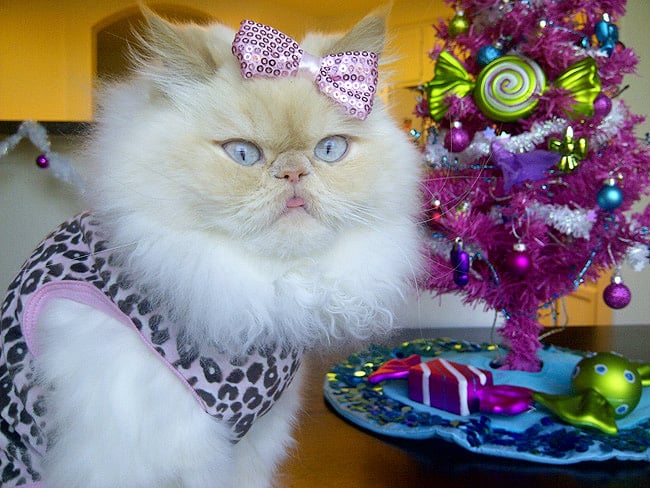 You know how everypawdy is very into sparkly stuff now? I have been wearing them fur a long time. Follow my lead ÔÇö I'm always ahead! lol
Last but not least, I want to share with you some holiday plants that are super dangerous fur us!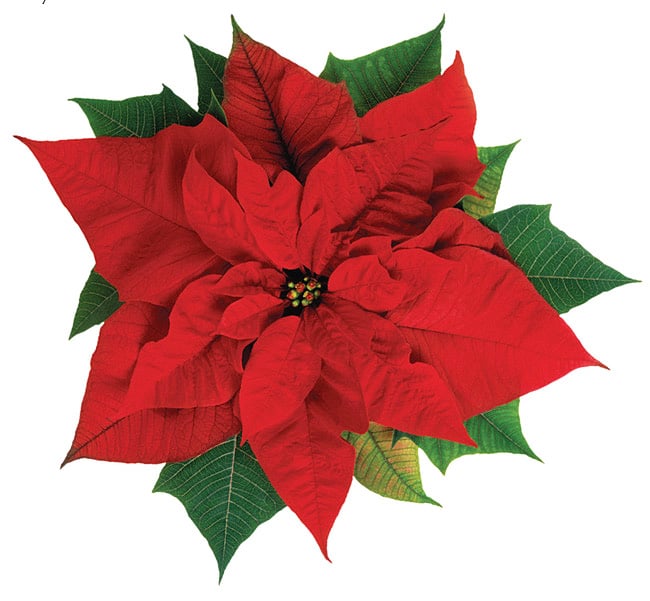 Poinsettia ÔÇö The sap is considered mildly toxic, and will probably cause nausea or vomiting.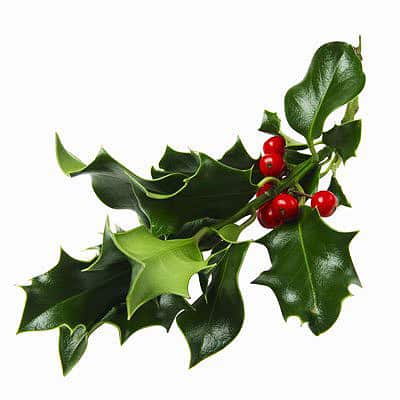 Mistletoe and holly ÔÇö These ones are super bad. They are moderately to severely toxic, so call your vet or poison control center immediately!
Christmas tree ÔÇö Who wants a real one anyway, right? I mean you are killing a tree, PLUS it makes a mess. Fir tree oil can irritate a cat's mouth and stomach, causing excessive drooling or vomiting. We cannot digest the needles and may vomit or get an intestinal blockage or even a puncture!
Thanks fur reading my column, guys, and remember to check out my Catster purrfile and join me in Facebook fur daily updates. Most impurrtant, check out my Purrsians in need at my website!
Xoxo,
Luna
P.S.: Check my new Lunatoon!