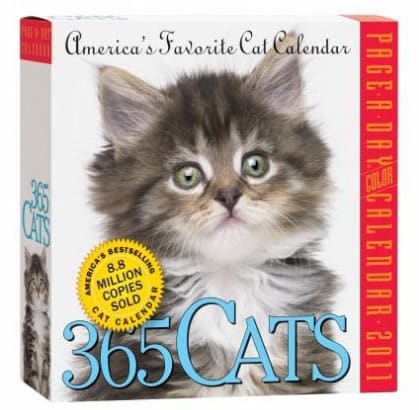 Got cute cat photos?
The 365 Cats Page-a-Day Calendar is a place for Fluffy to shine. This is the best selling cat calendar in the U.S. with over 8.8 million copies sold.
365 CATS PAGE-A-DAY CALENDAR CONTEST
ENTER THE CAT CALENDAR CONTEST for 2012!
Enter a picture of the cat that has won a place in your heart so that he or she may win a place in America's, too. Winning photos will appear in color in the calendar. The only limit to the number of potential winners is the number of days in the year.
Download a PDF of the 2012 rules and entry form .
RULES:
Firmly attach a color photograph of your cat to the entry form. Do not staple. The picture can be standard snapshot size or larger. Do not include humans in photographs. Do not fold photographs.
DIGITAL IMAGES:
Digital photos should be submitted with a color print-out and an accompanying CD-ROM containing the original JPG or TIFF file. This file has to be at least 266 dpi for the format of the calendar (width: 5.25 inches or height: 5.25 inches). For information on images taken with a digital camera, go to www.pageaday.com
Important:
Write the cat's name and your name, address, e-mail, and day and night phone numbers on a label and attach it to the back of each photo. (Do not write directly on the photo.) If you wish to enter more than one cat, please photocopy the blank entry form and fill out a form for each photograph. Please submit all photos in one envelope.
JUDGING:
Special consideration will be given to mood studies, beautiful portraits, action shots, unusual snapshots, and photos that capture the tone of specific holidays.
Judges will include members of the Workman Publishing Company staff. Winners only will be notified by mail no later than September 15, 2011.
Photos are not returnable and become the property of Workman Publishing Company, Inc., which will have the right, without further notice or consideration, to use all photos, and license their use, in future calendars and other publications in any media, and in related promotion.
Principals and employees of Workman Publishing may not enter the contest. The contest is void where prohibited by law.
Must be 18 years of age or older to enter (or if younger, application form must be signed by parent or guardian).
How to Enter
Entries must be postmarked no later than February 1, 2011. Mail entries to:

The Year 2012 Cat Calendar Contest
Workman Publishing
Grand Central Station
PO Box 3927
New York, NY 10163
For more info, go to the Workman Publishing website.