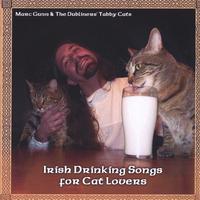 Fair warning: This song will be stuck in your head all day.
Now that we have that disclaimer out of the way, we can continue with today's post. Last night while randomly googling random cat things as I do way more than I'd like to admit, I came across something so different that it just had to get clicked on. To be honest, I'm not even sure how I came to find it, but I'm glad I did.
Someone has actually recorded a CD of Irish drinking songs for cat lovers. Yes, it's true. All the classics (I admit I don't know what "the classics" are, but I did recognize these songs) redone with kitty-themed lyrics.
That someone is a man named Mark Gunn, who thought to himself one day: "I love Celtic music. I love cats. Lets combine the two together."
My favorite that I found? What Shall We Do With a Cat-Nipped Kitty, which I was nice enough to warn you about at the very beginning up there. Enjoy!
And here's another one…