Hello guys! I have supergood news!! Furst my momma got her Tourist Visa, so she will be traveling soon to get our stuffs. Yeiii, Im sooo MEGAHappy!
Second, remember Bartolo the kitty that some bad purrsons put firecrackers in his tail? Well, Im happy to report that he got his FURever home with my furriend Juan! His momma is my mommas hairstylist, and Im sure he will be a SUPERPAWSOME daddy!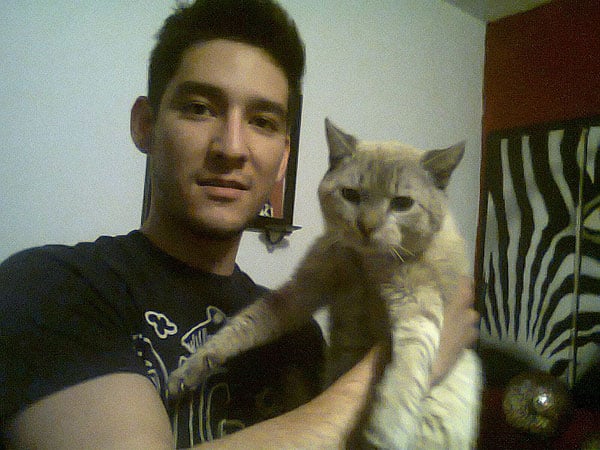 Since all my LunAddicts got crazy with Juan, here is the picture of them again lol. BTW Juan told me that Bartolo is next to him all day long, sooo sweet!
Now let's start with my week in pictures, everypawdy!
Wednesday, February 22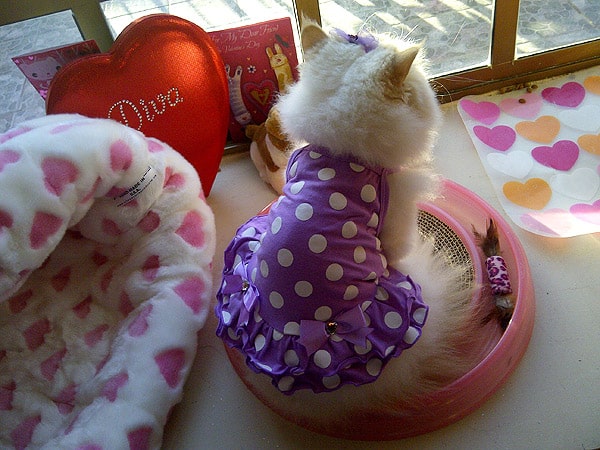 On Wednesday I wore a polka-dot purrple dress, supercute and fresh because it was hot down here.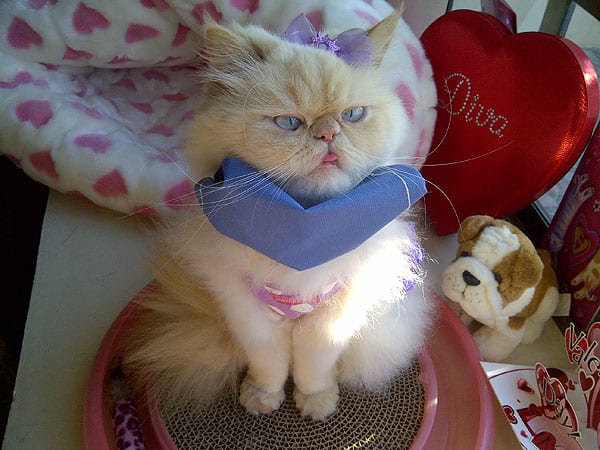 My momma started getting sick too, so Uncle Charlys brought me a mask fur purrtect me from my momma's virus!
Thursday, February 23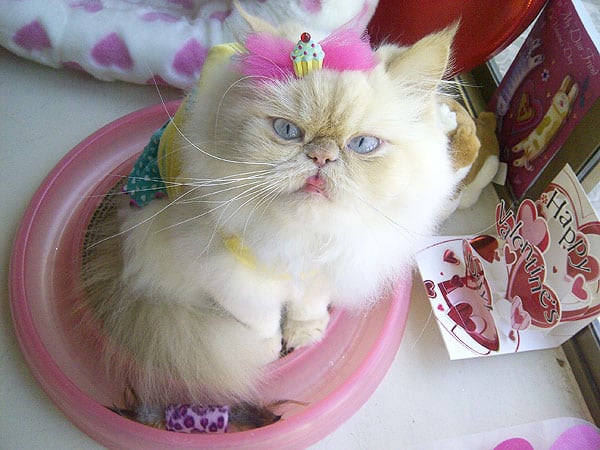 On Thursday the weather got crazy and it was supercold! So I wore a supercute and warm yellow and aqua green outfit accessorized with a cupcake bow to die fur!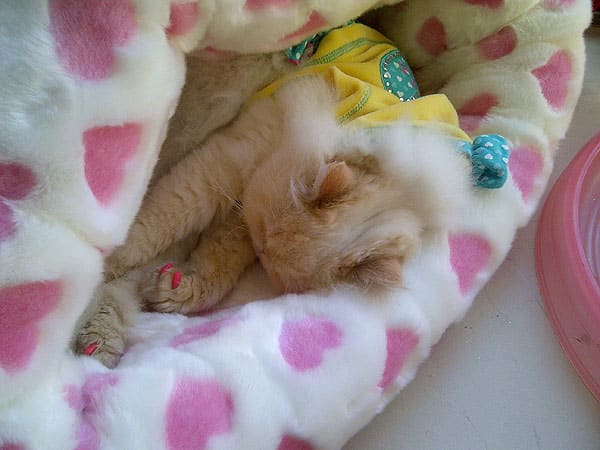 I had to curl up and stay cozy because it was soooooo cold.
Furrday, February 24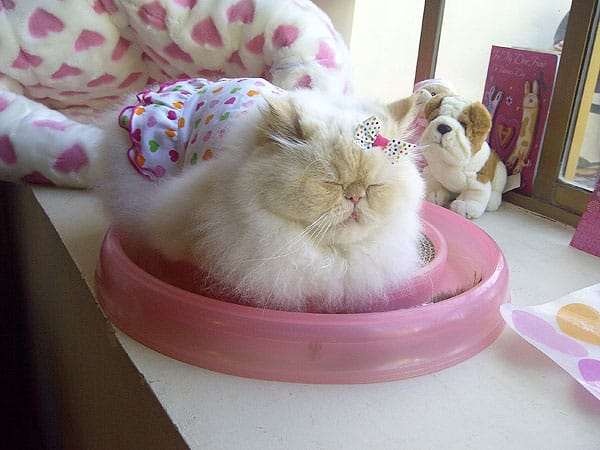 On Furrday, the weather changed back to hot! Uggghh! I hate February weather ÔÇö is so unpredictable! How a girl can plan her wardrobe ahead fur the week? Sooo annoys fur reals!
Saturday, February 25, and Sunday, February 26
My momma was passed out on the weekend, trying to get well, so I didnt have my photo shoot. This is HUGELY inconvenient when your whole staffs is your momma! I bet Selena Gomez dont have this purrblem!
Oh well … since I was bored I decided to take a look at the Oscars fashion on the red carpet. Here are my recommendations fur some of the purrsons there.
1. Anna Faris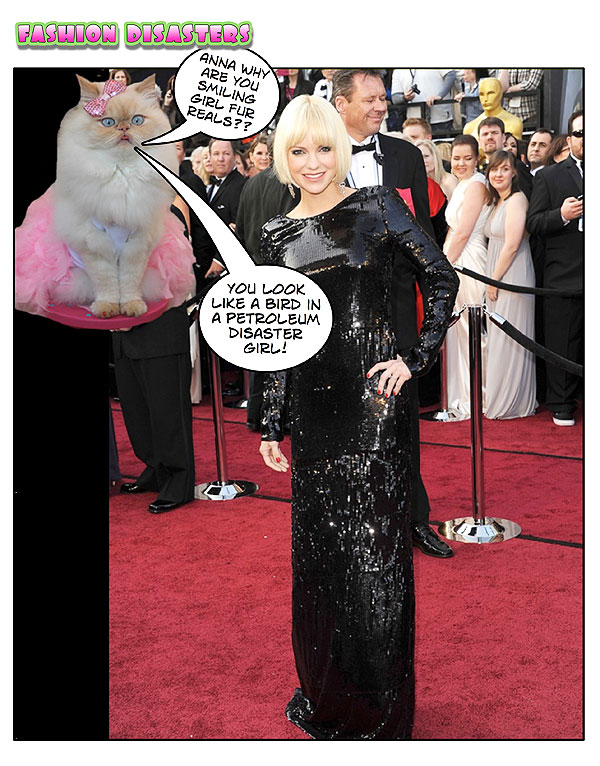 I really feel fur Anna Faris! I like a funny girl, we need more like her, but OH GOD have mercy! I dont know who is her stylist, but he or she needs to get fired PRONTO! I almost screamed "SOMEBODY GET DAWN" (you know it was used fur save all the animals from the oil spill).
Please, Anna, fur the next red carpet take a look in the mirror and ask yourself, Would Luna wear this? If the answer is yes then GO FUR IT!
2. Sandra Bullock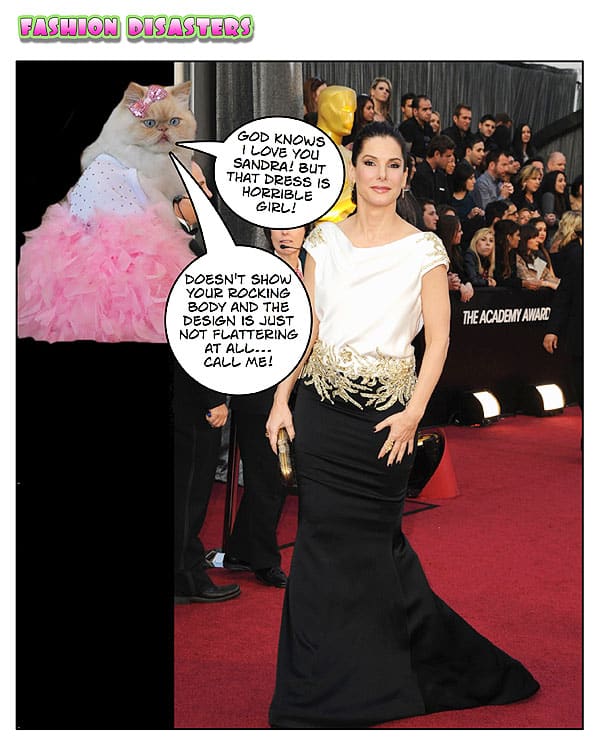 My heart was breaking fur poor Sandra! Girl is superrich, so fur sure she have a stylist &mdash and she should be ASHAMED! C'mon! You have a purrson with a rocking body (well, fur a purrson), who is pretty (fur a purrson), and you put her on that dress? Shame on you!
I'm telling you, Sandra, give me a call befure you go to another event and I will let you know what works fur you ÔÇö and I will tell you fur free!
3. Shailene Woodley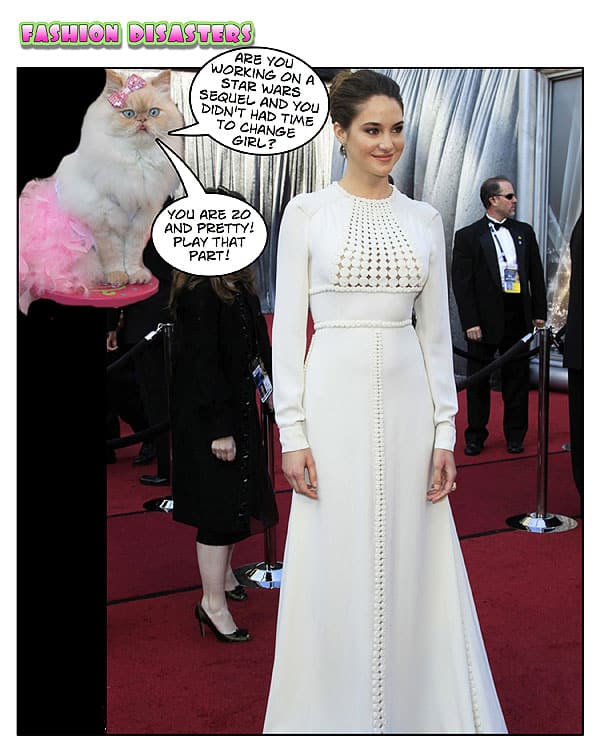 OMG! Its a mystery fur me that a 20-year-old would choose that outfit FUR REALS! Also, I dont think ANYONE would look good in that unless you have zero tatas or zero curves and not even THEN!
Shailene, you desperately need a new stylist. Call Rachel Zoe or follow me on Twitter fur free fashion advice!
4. Angelina Jolie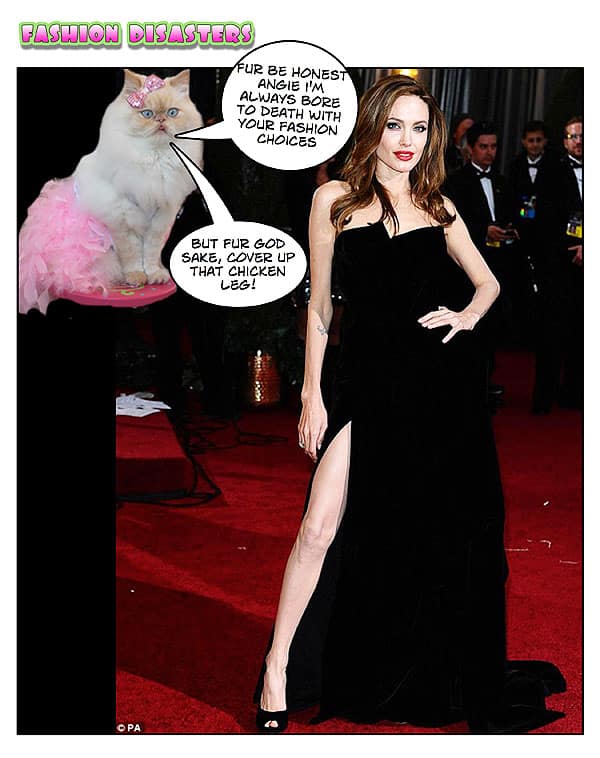 Last but not least, Angelina I know everyPAWdy is obsessed this week with her leg sticking out, but I think it is the least of her purrblems. That leg just makes me want to throw her a treat!
Angie, you are very pretty but you need more fur or more fat ÔÇö PERIOD. Also, you should try more colors, I promises nobody would think that you are not dangerous anymore.
Monday, February 27
On Monday my momma was all better and we went to Zumba classes.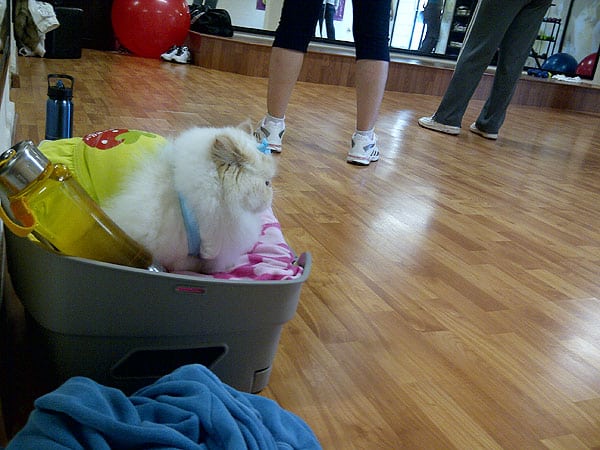 Fur some reason I always end up taking care of her water bottle and I feel that is damaging my cool image!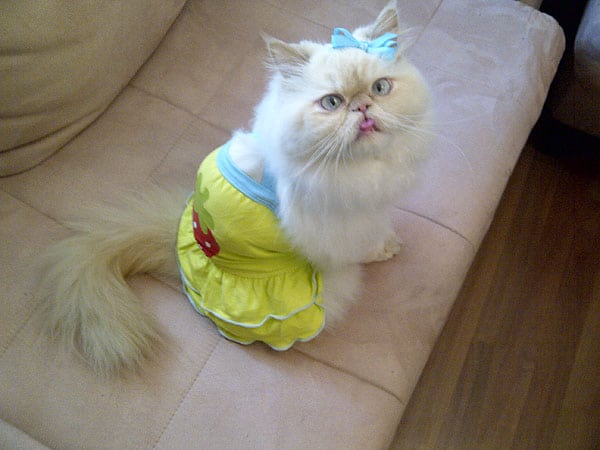 That day I wore a supercolorful dress, crossed straps are sooo sexy! Lime and blue look purrfect on me!
Tuesday, February 28
On Tutu Tuesday I wore a tutu dress that the Brito Delgado Family give me as a gift, supercuteeee!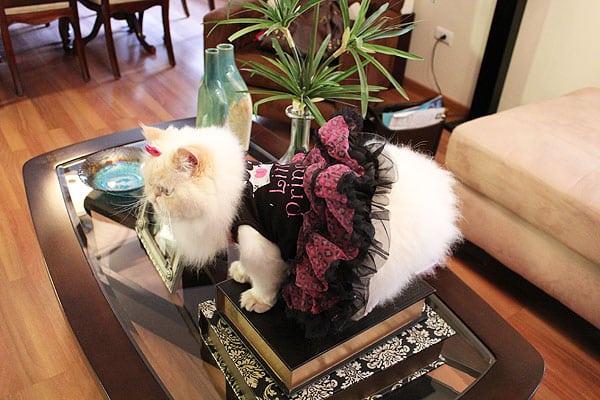 OMG animal print tutu is SOOOO BEYOND fur reals and my heart bow just makes it even more purrfect!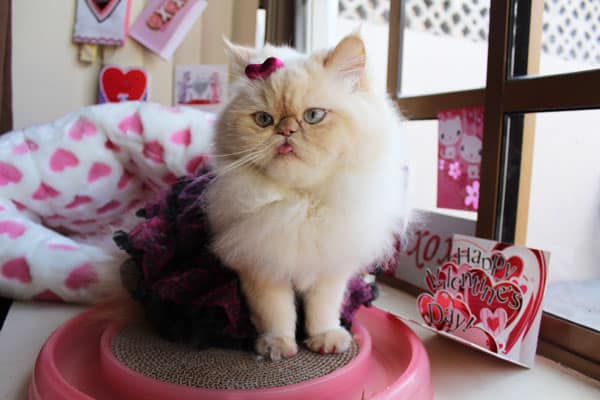 Thanks a lot to Rosalind and kids and furchilds fur the superPAWsome gift!
And that was it, my furriends!
Please dont furget to check out my Catster purrfile!! Fur daily updates and fashion, join me at my Facebook fan page or follow me on Twitter! But most impurrtant please visit my Purrsian Rescue page at my website!
See you next week … conquer the laziness and ALWAYS dress fur impress!
Xoxo, Luna