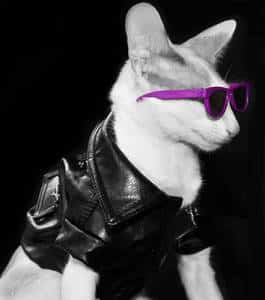 Hey evrybuddy, Skeezix heer. If you have a stroller, the ferst thing you'll want to do is bling it up with yer own purrsonal stile. Just like peepul do by hanging pritty fuzzy dice frum thare reerview mirrors, you'll want to add eye-ketching items to yer stroller to draw attenshun win you stroll by. Today I'll show you sum kyoot stuff you can use to pimp yer stroller.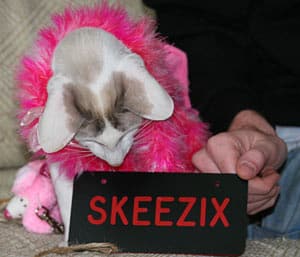 LICENSE PLATES
In most states, vehikuls are reqwired by law to have license plates, and yer stroller is probly no exseption. Forchewnitly, thare are lots of places to git stroller license plates. On the right, yoo can see my purrsunul license plate, wich was a berthday gift frum my frend Rocky Ann. It matches my stroller purrfectly, and it shows peepul how to spell my name — making it funkshunul, fun, stylish AND educational!
Heer are just a few of the places ware you can buy stroller license plates at prices that are MUCH lower than yoo find at the DEE-EM-VEE:
PATCHES
Patches are K-Y-O-O-T: Kyoot! Our faverite vendor for patches is Purple Moon. They have tons of Cat Patches (inklooding Laurel Burch deezines) as well as peese sines, wildlife, butterflies, skulls, fairies and many more.
Rocky Ann has a grate tip for attaching yer patches: "When you put patches on your stroller, use double velcro (cut strips or the squares are easiest) and the patches can be put on and removed very easily. The velcro comes off the stroller with no problem."
STROLLER LITES
How about decorating yer stroller with pritty holiday lites? No, you don't have to drag a power cord along behind you … battery-powered holiday lights are now available, and they're purrfect fur decorating your stroller. I put on orange and purple mini-lites fur Halloween and red and green fur Krissmiss. But thare's no reezin yoo can't have stroller lites all yeer 'round! The lites shown on the right are frum 1000bulbs.com, but yoo can also find them at Michael's and party stores.
If you stroll a lot at night, a flashing stroller lite will make yer stroll a lot safer. The flashing lite is vary festive, and yoo can chooze diffrint blinking effects.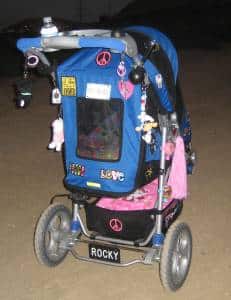 THE ONLY LIMIT IS YER IMAGINATION
When yer done decorating, your stroller should look something like Rocky Ann's on the right. Festive, yet tasteful, dontcha think?
But theeze are just a cuppul of suggestions on how to pimp yer ride. Fur holidays, you can buy decorations at Michael's, Joanne's, or party stores. Think outside the box! Rocky Ann hangs kyoot keychanes frum her stroller. Or maybe you prefer the DIY route. Remember, thare are no rools, and the only limit is yer imagination.
Rocky Ann is a grate inspiration, and the members of the Super Strollers Group on Catster are generous with sharing ideas on how to decorate your stroller to make it the snazziest ride on the block!

Calling all Catsters! The topic of this week's Catster poll is… you guessed it: Strollers! Be sure to vote and leave a comment!