Growing up in the '80s, one of my first feline loves, aside from Hello Kitty, was Garfield. I first became hooked on the lazy, grumpy fat cat by reading him in the funny pages and watching the Saturday morning cartoon series (remember U.S. Acres?), before graduating to Jim Davis' comics compiled in book form. It wasn't soon after before I was collecting every orange and black-striped cat piece of memorabilia I could get my little paws on, including Garfield glasses, plush toys, figurines, and more. I spent most of my childhood through teen years waking up to a Garfield alarm clock (that made the most horrific noise), and even had a set of Garfield sheets.
The lasagna loving feline recently turned 35, and while my old collection is long packed away, I still get a sense of nostalgia whenever I encounter Garfield, Jon, Odie, Nermal and the rest of the gang. The good news is, there's no lack of officially licensed Garfield merch in the world, and there's even an online store where you can find new and classic items to help recapture the days of when the funny feline was the one and only grumpy cat.
Who needs a bright orange bowling ball with a cartoon cat on it? I think the real question is, who doesn't? Even the most pro-bowleriest among us could use a pick me up in the form of a Garfield bowling ball, which is sure to add a little cattitude to your game.
This unforgettable piece of memorabilia from On The Ball Bowling is perfectly random, just like the Garfield roller skates I had when I was little and wore once before the back wheels fell off. Forget the fact that I suck at bowling for a minute and let me imagine hitting the lanes with this head turner as I breeze my way through a series of strikes.
It's fun to look back and see how Garfield has evolved over the years, knowing that he wasn't always the slick digital creature he is today. Predictably, my favorite iteration of the fat cat was the one I grew up knowing and loving in the '80s — when he was cuter, oranger, and rounder after binging on the excess of the Reagan era.
In browsing the Garfield shop, I came across an entire section dedicated to relics of a time gone by, with vintage Garfield designs immortalized on shirts, totes, mugs, and more. One piece that immediately stood out to me was this hilariously true tee, which could easily have been the inspiration for a modern day lolcat.
One of the cooler newfangled Garfield collectibles available for superfans like myself are the custom mugs and posters, which can be personalized with your name on them.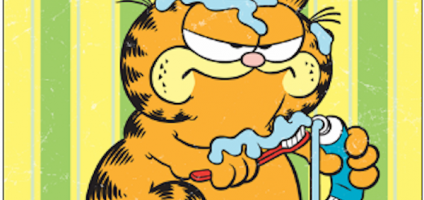 My name isn't Jessica (it's Stephanie), but if it was, how obsessed would I be with this poster? You can also pop a custom moniker on designs like, "Stephanie doesn't do mornings!" and "Just pretend Stephanie is listening," so your friends, family, and new coworkers can know what how wonderfully antisocial you are, without you saying a word.
Remember when I mentioned the vintage '80s designs before? Well, if you are a true old school fan, you might want to travel even further back in time to the OG Garfield, as first drawn by Jim Davis in 1978.
The retro design, which is also available on a multitude of other items, is the perfect way to satisfy your sweet tooth for the good ol' days, while also proclaiming your status as an original fan of the comic strip. Also, at $15.99, it's a decent way to get the vintage look — without paying the vintage price.
I think one of the reasons I have always admired Garfield so much is that we have a lot of things in common. For example, we both share a passion for eating, watching television, and taking naps.
Oftentimes, when celebrities put out cookbooks, it's easy to wonder what they had in mind besides making a little extra cash. Garfield, on the other hand, is a natural fit for the culinary world, and his cookbook features recipes for some of his favorite foods, which also happen to be some of my favorites, too. I really want this book so I can learn how one of my favorite cats makes lasagna, burgers, pie, and more. Well, just as long as I don't find out that the secret ingredient in his famous pizza is cat hair.
Looking for more cat style? Check these out: