Not that long ago, cat-oriented home accessories were downright eyesores. Happily, feline furnishings have come a long way. Still, the biggest challenge facing pet products designers is how to clad the cat litter box in style. Is it even possible?
Crystal Gregory proves that it is. Her company, Modernist Cat of Seattle, proudly produces seriously stylish, heirloom-quality designs that transform the kitty loo into a thing of beauty. Among Modernist Cat's many fans is Ellen DeGeneres, who recently ordered two! "That was very exciting," Crystal recalls.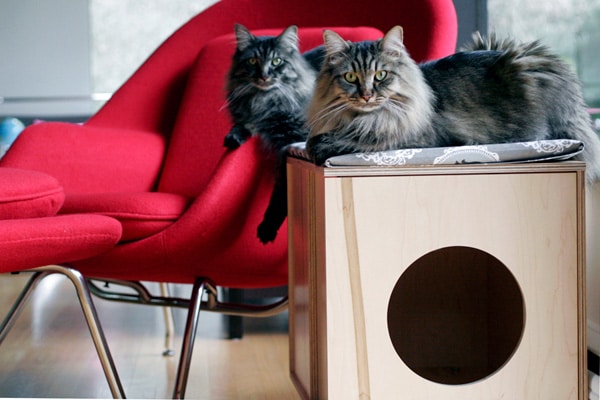 Modernist Cat is reinventing feline design; we sat down with Crystal to learn more about her creations and her inspiration. Read on to learn more about these stylish kitty commodes and we'll tell you how to win a model similar to the one Ellen's cats have!
Catster: Do you have a background in design?
Crystal: I do have a Master of Fine Arts from the University of Washington, and I've been a visual artist since I can remember. I mostly focused on photography, oil painting, and mixed media until my husband and I bought a house. The house is a mid-20th-century ranch and when I researched the design of that era I fell in love. Our house is small and needed a lot of work, and those two things ended up being a wealth of inspiration.
What did you do for a living before starting Modernist Cat?
For most of the past decade I was a visual merchandiser for a major department store and painted custom oil portraits.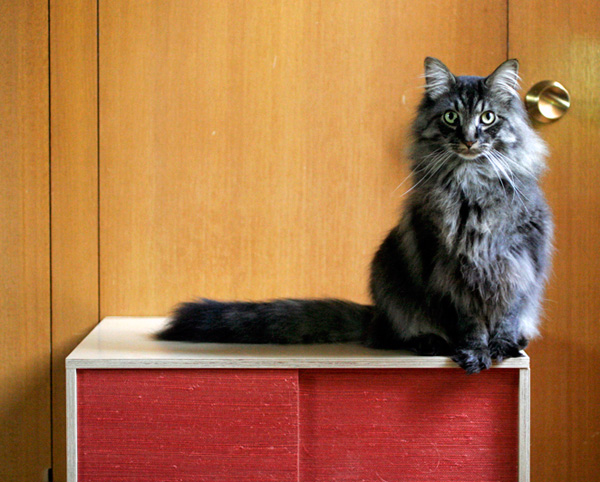 Do you live with a lot of mid-century modern furniture? Please explain your favorites.
Almost exclusively! Since we have a small house and a love for cruising the local antique shops, we end up selling old treasures to make room for new favorite pieces, so our house looks different every season.
We have a lot of Herman Miller Shell chairs in different colors and fabrics, but my favorite piece is a Paul McCobb Planner cabinet with coral linen doors that I got as a surprise anniversary gift. This particular McCobb line inspired the Modernist Cat Circa50 collection. You can see our house on Apartment Therapy.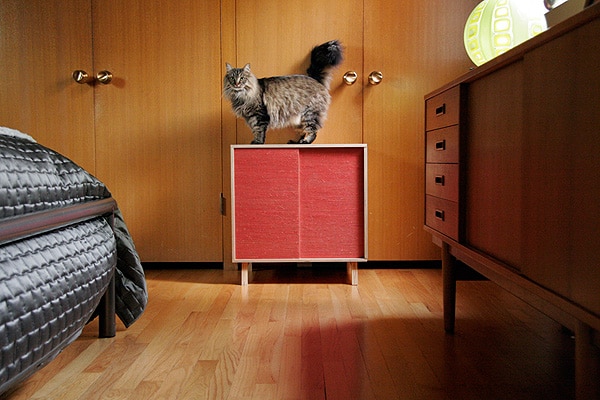 Is there a designer of furniture whose aesthetic you especially admire?
If I were to pick one: Paul McCobb. His furniture is understated, appealing, timeless, and, most of all, functional — all the traits I work for in the Modernist Cat line.
What inspired you to create a stylish solution for the cat litterbox?
Necessity is indeed the mother of invention. Our house is 950 square feet, and there was no place to "hide" our plastic litterbox. I'm too design-conscious to accept that the box was a necessary eyesore, and when I thought of all the uses I could put the top of the cabinet to, I went straight to my table saw with no idea that decision would come to define my career. It took two years and three official prototypes.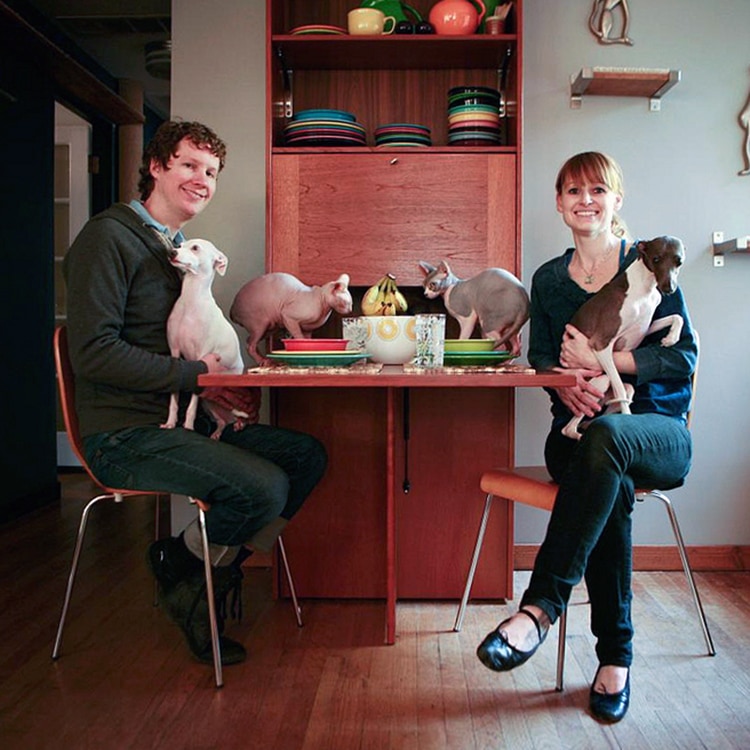 How many cats do you have, and what are their breeds and ages?
Two Sphynxes: Jackson, who is 3-and-a-half and red, and Elliott, who is 3 and blue.
Were they willing participants in the creation of your product?
Oh, they LOVE modeling for me! (Okay, it's probably all the treats I give them to get them to pose.) It's a ton of work photographing them to get just the right images, but when I get the shot I'm looking for we are all very happy!
As for "using" the litter box covers, there was no learning curve or apprehension. We did toilet train them before I started making these, so from time to time they'll still use the real-life toilet. I'm not kidding!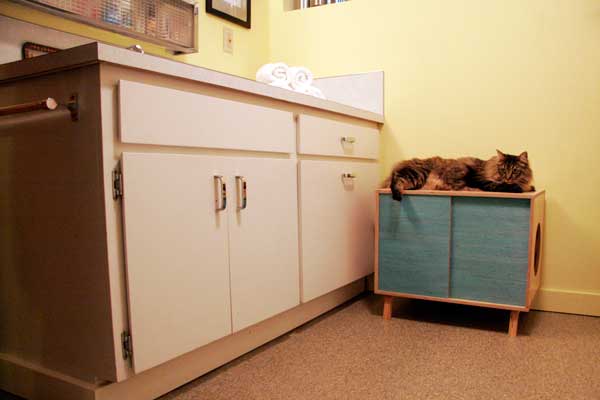 Inquiring minds want to know: What treats did you use to coerce your kitties into modeling duty?
We make our own treats! Actually, we make our own raw pet food consisting of whole chickens and vegetables. We make it once a month and portion it out into little cups for individual meals and we dehydrate the extras and use it for treats. They LOVE it.
Do you think that some people resist adopting a cat because they're afraid the kitty litterbox will make their home look unattractive?
Absolutely, but it just doesn't have to be like that!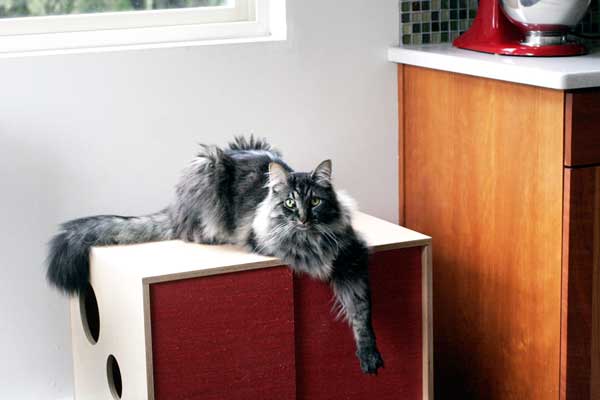 Do you think that having a stylish kitty litter arrangement like Modernist Cat makes the chore of scooping kitty poop less of a drag?
In my experience, those who neglect scooping have put their litter box in their basement, garage, laundry room, etc. Having the litter in a proudly displayed Circa50 means that the human isn't inconvenienced to get to the box, the door opens on a simple hinge, and the scooping is done in moments.
The more the chore is done, the easier it is for the owner and the more pleasant it is for the cat. Modernist Cat elevated the litter box to furniture status, infusing the chore with more dignity than it had in a dank and dark basement.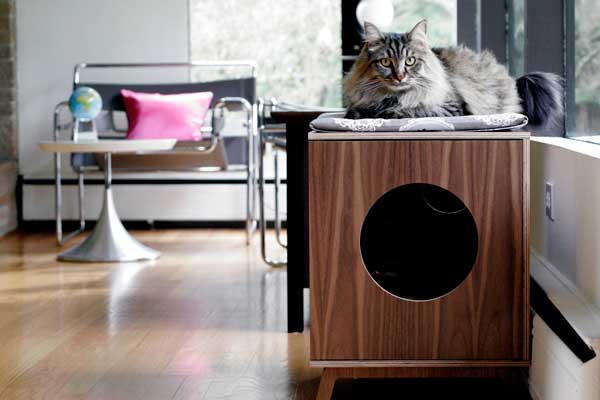 Do you think cats notice the improvement in their litter arrangement?
Definitely. The arrangement that worked best for us is a cabinet with no legs placed on top of a dresser. The cats love to "do their business" with no interruptions from the dogs!
How do these models work? Can you put any plastic litter pan inside, or do you provide a special one?
You can put any one that fits inside, but I do provide the option to add one that fits it perfectly.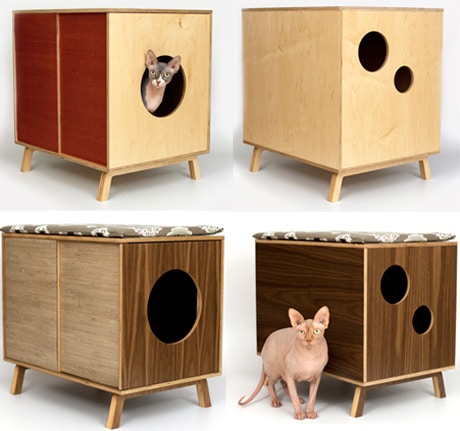 Did it take long for your cats to accept your design?
No, they transitioned immediately. This is a question I've asked my clients, and none have had any issues either.
Were there any "accidents" during the transition from ordinary litter box?
Nope.
When did you unveil your very first Modernist Cat design prototype? What did it look like?
I started working on it in the fall of 2009. My website went live in 2010, and it got quick attention two weeks later in a wonderful post written by Kate Benjamin for her blog, Modern Cat. She has been a loyal supporter. It has a photo of one of my original designs.
The original Litter Hideaway was a bottomless box made with a large circle in front and smaller circles in back with a bunch of custom options for stain, scratch surface, and/ or top cushion.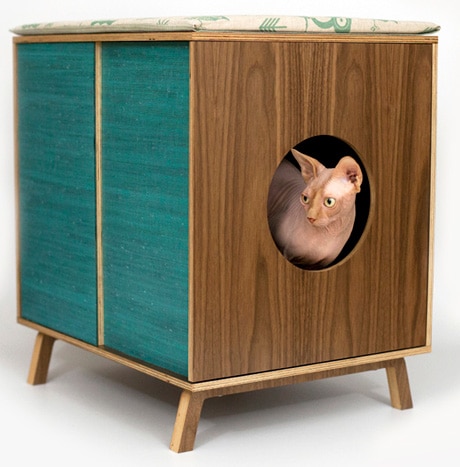 Do you recall your first customer's reaction?
She said, "It looks great!"
How many units have you sold thus far?
83.
Where are your customers — mostly in the US, or here and abroad?
Literally from New York to California, Seattle to Florida, and Minnesota to Texas. I've had inquiries from abroad but shipping costs are prohibitive; I'm seeking solutions, but no luck so far.
What's your most long-distance customer?
I guess that would be Maine or Miami!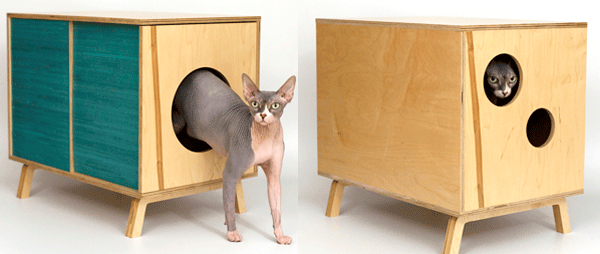 GIVEAWAY TIME!
For a chance to win this Modernist Cat litter hideaway (a small Circa50 w/ Maple finish and Baltic Blue grasscloth to be exact — see above photo), follow @Catster on twitter or on Facebook and then leave a comment on this post.
We'll pick a random winner on Friday, March 30. Please note that shipping is included for US winners, but we can't accommodate that for international winners — if you live outside the U.S., you are welcome to enter, but only if you are willing to cover the shipping fee.