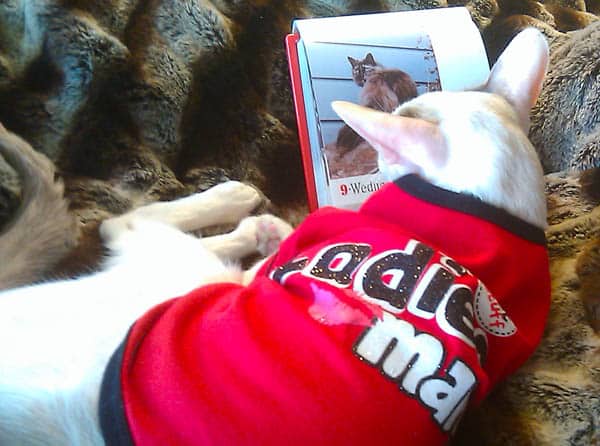 Hey evrybuddy, Skeezix heer!
This week we have a reely grate giveaway going… we're giving away TWO prizes, and I think yoo'll reely like them.
Evry yeer me and the Food Lady buy a 365 Cats Page-A-Day Calendar 2011
. It is chok-full of intristing factoids, and I like to look at the lady cats. Well, imagine my surprize as I was pawing thru the calendar and found that the Cat's Meow and ME and the Food Lady were menshuned in the calendar! They almost had to git me the smellin' salts!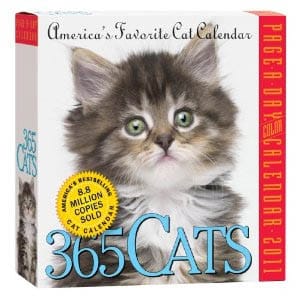 So, if yoo can gess the day in the calendar in wich me and The Cat's Meow are menshuned, yoo'll be entered to win a calendar AND this grate prize: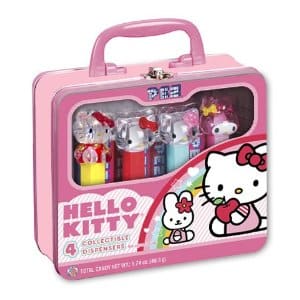 Yep, it's a collectible Hello Kitty Pez 50th Anniversary Set
.
It inkloods a PINK Hello Kitty Collectable Lunch Box and4 Collectible Pez Dispensers. And who duzn't love Hello Kitty AND Pez? I bet a gazillion cats are gonna enter this giveway!
How to Enter
In the comments sekshun of this post, put in the 2011 date on wich you think the FL and me were menshuned in the calendar.

Be sure to fill in a valid emale address so we can contact yoo.
Rules
Just so that everycat has an eqwal chanse at winning, all valid entries that have gest a date within a week BEFORE and a week AFTER the date will be elijible for the final drawing.

The winner will be selected by a random drawing (via random.org) of all finalists.

Only entries submitted before 11:50pm on Sunday, Feb 13th are elijible.

Only cats with Catster profiles, Blogs, or Facebook profiles are elijible.

Only one cat per howsehold is elijible.

No geografik limitayshuns. Both U.S. and non-U.S. cats may enter.

Winner must respond to the winning notifikayshun within 72 hours. If we can't reech yoo, anuther entry will be drawn.

Winner will be announst on Valentine's Day.
So whut are you waitin' for? Enter today!