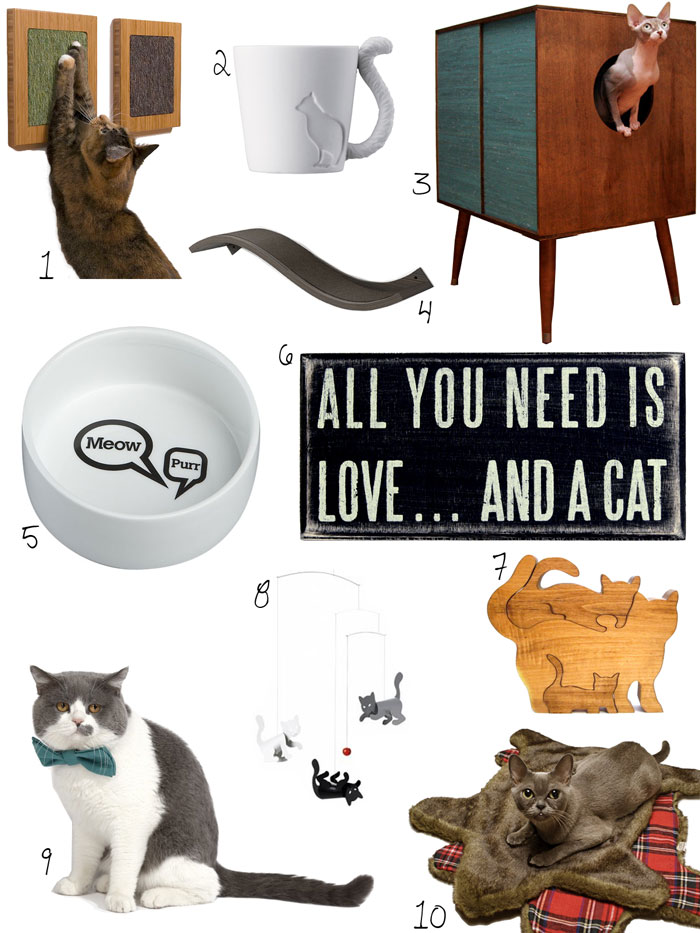 For all of you modern minimalists out there, sharing your home with pets can sometimes lead to a lot of decor anxiety. You want your pets to have everything they need, but you don't want your home to end up looking like a huge cat-astrophe.
If you're looking to streamline your pet decor and show some modern cat pride at the same time, this week's Catster Picks are right up your alley.
1. Itch Amber Vertical Bamboo with Mohair ÔÇö If your cat is itching to scratch (aren't they all?), this modern wall-mounted scratch pad is the way to go. I love the unobtrusive nature of the design.
2. Korin Mugtail Cat ÔÇö This whimsical cat tail mug is as charming as it is stunning. It's a must-have in every chic cat-loving home and makes a stylish gift.
3. Litter Hideaway Circa50 ÔÇö One of the major issues minimalist dwellers face is where to put the litter box. This gorgeous mid-20th-century inspired furniture piece not only conceals your kitty's litter box, it also doubles as a cool side table.
4. Urban PetHaus Curve Perch ÔÇö The wave perch is the purrfect solution for a small space, and its sleek design will be sure to meet your modern decor needs.
5. White Cat Bowl ÔÇö Crate and Barrel's white porcelain bowl features humorous cat conversation bubbles as a charming touch to an otherwise simple bowl. I call it modern-adorableism.
6. All You Need Is Love and a Cat Wall Art ÔÇö If you're looking to add a bit of charm to the walls of your cat-loving home, this is the piece for you. I can guarantee you'll smile every time you look at it. And then you'll hug your kitty.
7. Vintage Wooden Cat Puzzle ÔÇö This lovely vintage puzzle is the perfect piece for your coffee table. You'll love the way it looks next your collection of modern architecture books.
8. Flensted Mobile Kitty Cats ÔÇö Who says mobiles are just for babies? I think this would be a delightful touch to any minimal home.
9. Loyal Luxe Bow Tie ÔÇö Every stylish and modern home needs an equally dapper kitty dwelling in it. A bow tie like this one is a must for your contemporary cat.
10. Faux Bearskin ÔÇö Don't forget to give a bit of texture to your living space with this gorgeous rug. Your kitty will be so grateful you added this to your decor.
Follow Catster's Picks of the Week on Pinterest!