Last week I covered how to get the cutest cat-centric manicure. Today I'll show you how to accessorize your fabulous new nails than with a kitty ring.
I've been writing about cat culture and style for nearly three years, so when it comes to cat anything, it takes a lot to capture my attention. These do. These five rings are unusual. Some are overt, while others are subtle. Regardless of whether they fit your individual style, you can appreciate them as being stylish, humorous, or both.
This fat cat hides a surprise inside in the form of a tiny silver mouse! The secretive accessory is from Xindi, who says it's "probably the coolest cat ring in the history of this or any other universe," and I can't say I disagree.
In addition to being crafted out of sterling silver, this posh pussy also sports a pair of diamond eyes. It's perfect for charming friends or easily disposing of your enemies (just kidding — please don't poison anyone with it!).
Real Harry Potter talk: If I had a patronus, it would be a black cat. I think they are extraordinary creatures and have always been drawn to them. I have a black kitty named Charlie and a tuxedo cat named Priscilla. I love them both very much, and they've always brought me happiness and luck.
So it goes without saying that I was instantly enamored with this brass-and-enamel black cat ring from Galibardy. The stunning statement piece, inspired by a witch's cat (and also maybe Luna from Sailor Moon?), features gorgeous golden details and a mystical moon on its forehead — great for when you need a little help warding off bad spirits or staying in the good graces of feline's fashion elite.
Gross? Amazing? Amazingly gross? It's hard to put into words exactly what I felt the first time I laid eyes on this kitty-crap-inspired creation by Super Shy Girl. To be clear, I love it … but would I actually wear it? That's another question entirely.
Each ring set is made to order out of polymer clay and plastic, and just like in real life, the seller warns that each kitty, litter box, and poop is unique, so they may vary slightly from the picture.
If displaying a litter box on your hand is just too much to bear (I would at least take it off during mealtimes), the designer also makes a slightly less startling version of a cat eating out of a bowl, which may be more suitable for those of us with more delicate sensibilities.
As much as I love black kitties, I also have an affinity for white cats, especially when they're in irresistible ring form. And a pink heart-shaped nose never hurt anyone!
.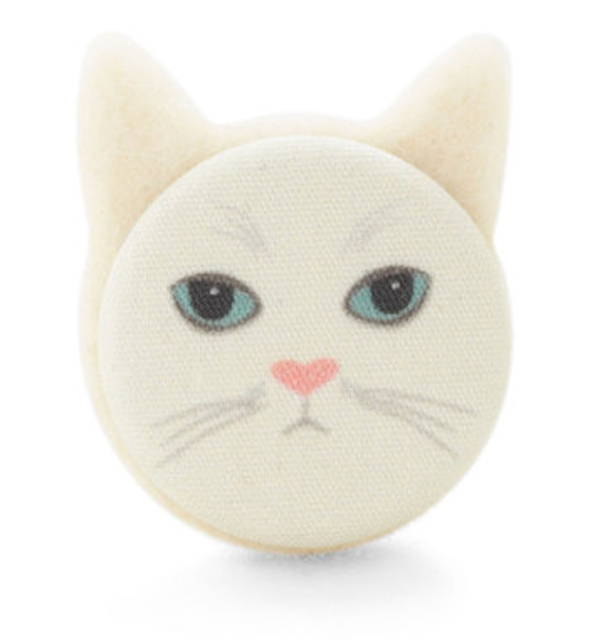 This Vivi Dot ring is cute as a button, but it took a lot of work to get this adorable accessory just right. First, they design their own fabric to cover the buttons (no shortcuts here), and then add laser cut felt ears to ensure maximum squee-ability.
There's something just perfect about this delicate kitty-nomming-fish creation that speaks to my inner cat lady. Perhaps it's the face of a kitty knowing he's completed a job well done.
The handmade SuEnvy piece is made out of mat sterling silver and white diamonds, so it's a little pricier than your average cat costume jewelry, but it will last longer (and hopefully not turn your finger green). Wear it as a testament to your love for all things cat or as a reminder that, like good fishies, good things come to those who wait.
Looking for more cat style? Check these out: