There are few greater pleasures than finding a perfect purse to stash all of your treasures — and by treasures, I mean gum, ID and lip gloss. While a cool cat print bag or tote is always a welcome score, a bag shaped like an actual cat is what will get you to the cat lady Olympics.
I once had a bag that wasn't just shaped like a cat, but was a furry grey Persian cat stuffed animal with straps, and a little zippered compartment on its back with about enough space to store two pennies and a Tic Tac. I named her "Nanette" — because who wouldn't name her pet cat purse? — and you better believe she attracted attention wherever I went. Unfortunately, none of these bags reach Nanette levels of ridicu-fabulousness (I mentioned she was essentially a stuffed animal on a string, right?), but they're still all pretty damn cool.
I freaked (in a good way) when I first laid eyes upon the feline line of purses designed by Titina. The Etsy seller creates criminally adorable animal-themed bags in a variety of colors and shapes — and I basically want them all.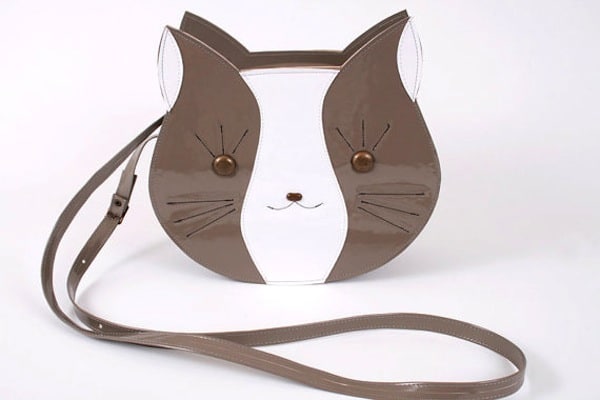 The Mr. Cat Bag is available in multiple color combinations, including grey and white (as pictured), black and white, white, and grey. Like me, you'll purr with delight to learn that the sturdy and chic bags are made out of synthetic patent leather, and come with an adjustable crossbody strap, making them just right to throw over your shoulder and go.
I've been singing the praises of Miss Ella forever now (seriously), so I'd be remiss if I didn't think to throw her brilliant cat ears clutch into my list of fav cat bags.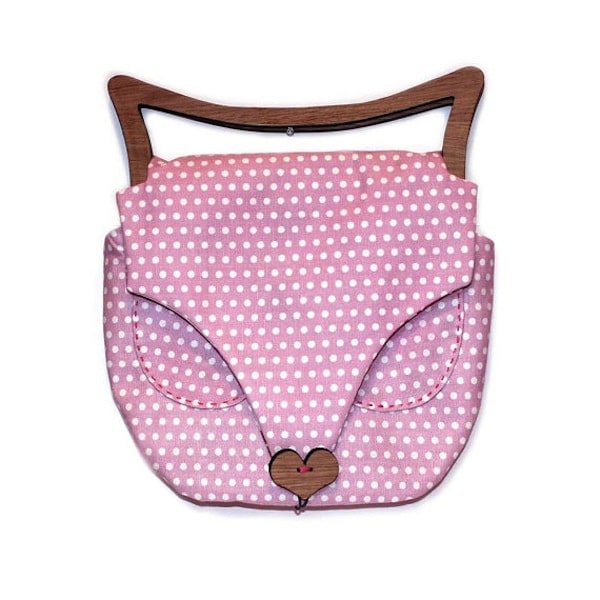 The innovative cat artist designed and laser cut the wooden handles that make up the kitty's ears out of oak veneer, which she promises is "super plush" and "lovely" to hold. The portable puss come in a variety of fabric options, from pink (pictured) to a funky retro kitten print, as well as black and grey. The entire feline look is completed with a precious heart-shaped nose and two front pockets for extra storage. Each custom bag takes Ella seven to ten days to create, making them a true work of art to behold.
Maneki nekos, black cats … I'll basically buy into anything that is cute and also claims to bring me luck. Maybe I'm just a sucker, but it's not hard to fall for this wacky wide-eyed cat purse from ModCloth.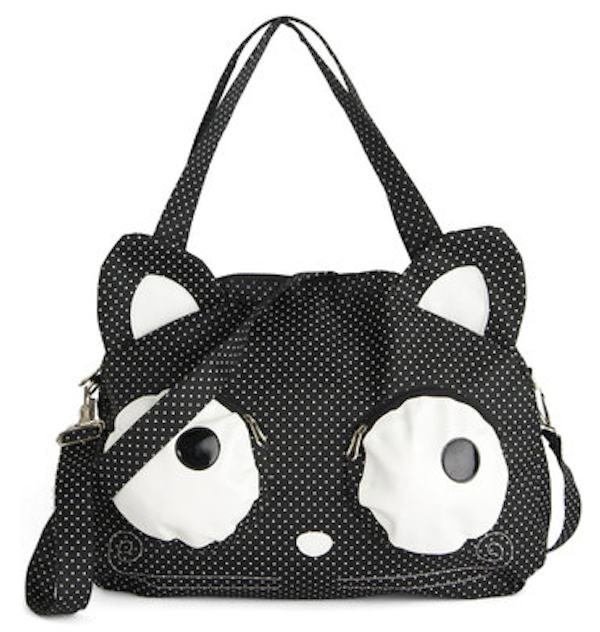 I love the versatility of the top and adjustable shoulder strap, and the tiny white polka dot print prevents the design from veering off into total Chococat territory. The two big ol' cat eyes also serve as both fashion and function — they're actually pockets in disguise!
With over 100 million views on the books, the original Nyan Cat video still lives on in our ears and in the hearts of Etsy sellers around the world, who are responsible for creating some seriously creative Nyan inspired products and art.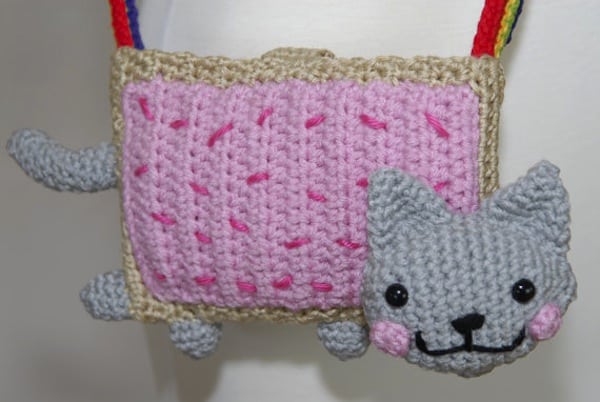 One such item that captured my attention is the crochet Nyan Cat purse from Gitana Flip Flops. The pink pop-tart never looked better, and what cooler way to wear it over your shoulder than with a rainbow colored strap? The bag also has some nice surprise features as well, such as a clay Nyan Cat button in the back and a pretty rainbow print cotton fabric lining to keep the party going inside and out.
All hail the crossbody, nature's way of making sure my hands are always free to do awesome things like sort through racks of clothing and eat pizza and ice cream without having a care in the world.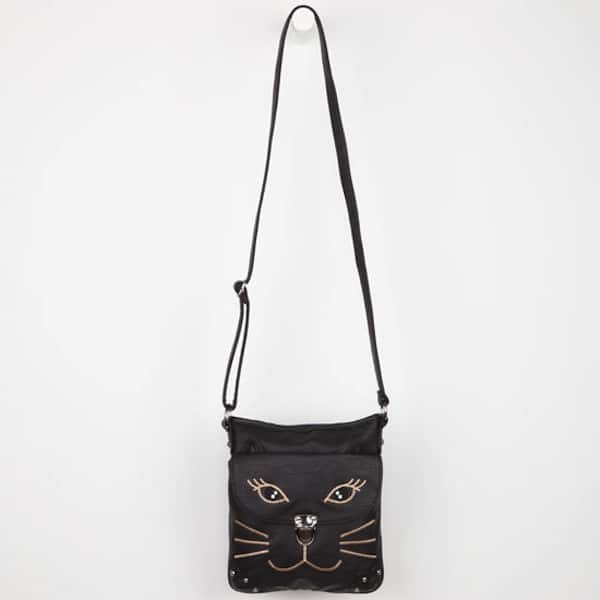 As a black cat fanatic, I'm completely on board with this faux leather crossbody from Tilly's. The slender design removes the annoying bulk of a traditional purse, while the embroidered cat face design is a step up from a boring, plain design. After all, cats may prefer to be in bags, but they still look much better on them.
Looking for more cat style? Check these out: