When I first started writing for Catster nearly two years ago, I struggled with telling people what it was about. "It's a cat fashion column," I would explain to confused friends. "You mean clothes for cats?" they would ask, in amazement. While I eventually amended my description to "A cat style column for people," I still sometimes find myself explaining that the items I round up are cat-inspired clothing for humans, and not cats, which I think to some is still a strange enough concept in itself.
One does not simply wake up one day and decide to be a cat fashion columnist. I was fortunate: Thanks to my blog, Catsparella, Catster saw potential in the concept and generously extended a paw for me to hop on board their kitty train. After nearly two years writing about the latest trends in feline fashion, I am now signing off to embark on a brand new adventure, where I'll still be writing about cats, but just in a whole new way. In the meantime, you can still find me on Catsparella, and don't be surprised if you find me popping up on Catster from time to time, too.
The evolution of cat fashion through the past few years has been astounding — from being a novelty item that you would have to pick up online or in a special boutique, to mass produced fashions you could easily get at the mall. Thank you for allowing me to indulge you with my feline fashion finds for so long — and with what that, I'm officially meowing off with my five favorite posts of the year.
Back in September, I was invited to attend a cat-inspired fashion show that took place during New York Fashion Week. The show was sponsored by Fancy Feast, and featured (human) designs by Malan Breton, inspired by the iconic Fancy Feast cat. I had never been to fashion week before, and the task of finding the right outfit was daunting. I decided to hit up the local mall, not really expecting to find any appropriate feline-inspired fashions, but I hit the jackpot. Nearly every store I went into featured some sort of clothing with cats on it.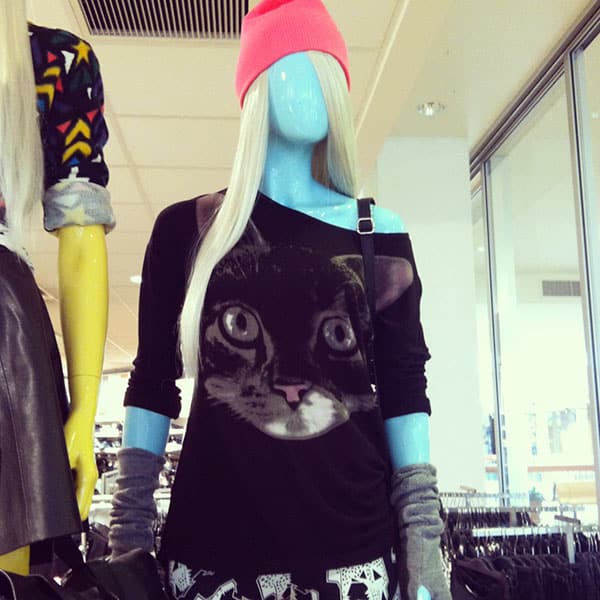 I found black cat leggings at Hot Topic, tons of cat tops and accessories at Forever 21, and a cool cat sweater at Target. I landed on the ultimate cat dress at H&M to wear to the fashion show (it was a big hit!), but also fell in love with several other items in the store, including this chic cat sweatshirt. Only time will tell if the cat fashion trend will continue, but in the meantime, stock up on all of the readily available kitty gear while you still can!
With the explosion of sites like Pinterest, it's never been easier to find a catty project to match your crafty whim. Earlier in the year I noticed a fantastic DIY cat fashion trend emerging, and gathered a few of my favorite projects to share.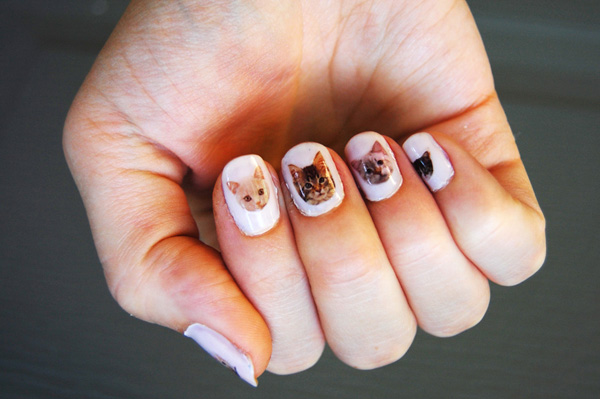 In addition to finding a template for some unique cat nail stickers that you can print yourself, I also found inspiration for creating a ridiculously adorable cat purse and shoes. There were also tips on how to transform an old sweatshirt into a hip kitty top, and a few others that will help you do it yourself, and come up with a look that's all you.
I've had a strange fascination with the idea of crafting with cat hair for awhile. I reviewed the Crafting with Cat Hair book, made the finger puppet, and even crafted Katy Perry (um, Katy Purry) circa "California Gurls" out of cat hair, all for the chance to win $1,000 for the cat charity of my choice (I won!).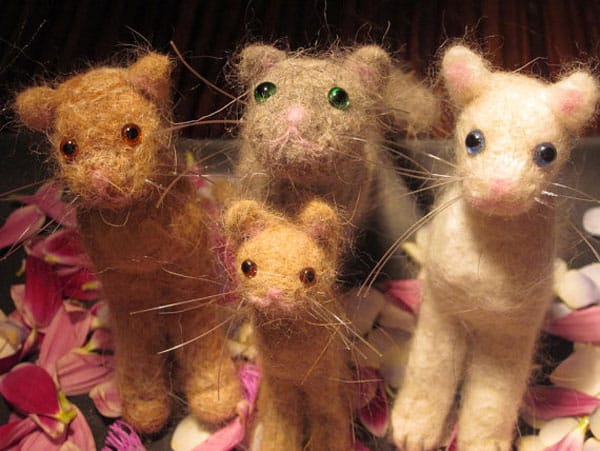 I was lacking inspiration for my column one week, when I started cruising Etsy for the strangest items I could find. Lo and behold, I stumbled across a treasure trove of cat hair crafted goods that were too crazy/crafty/cool not to write about. There was a purse, necklace, and cat toys made out of safely harvested fur that could be had for a fee, but the most intriguing item was the Meowmorials — touching feline tributes that could be commissioned long before your kitty made their journey to the great litter box in the sky. These cool little figures can be made to look just like your cat using their actual hair, and provide a lasting memento in a way that's much cuter (and less creepy) than taxidermy.
Cat fashion is not known for being a controversial topic, but the most opinion-dividing piece I've ever written probably came in a post I wrote on the most innocuous of subjects: Quirky cat rings.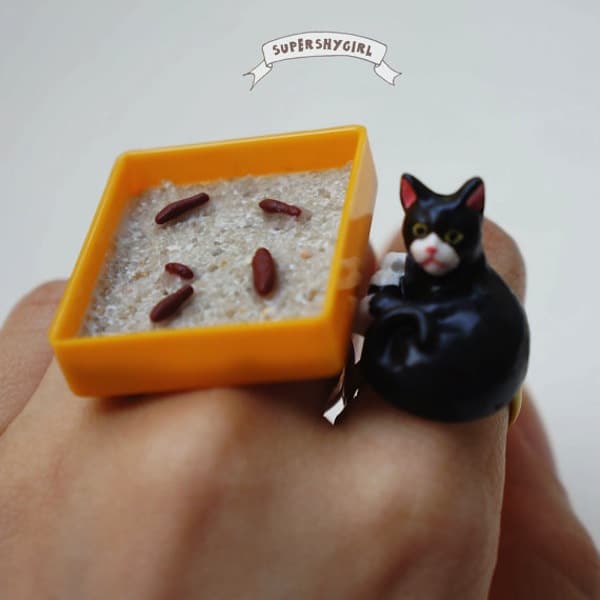 It wasn't the magical black cat ring that got people talking, or even the silver cat poison ring, but rather a plastic and clay ring set, sculpted to resemble a kitty sitting next to a litter box with fresh deposits. Was it just too eww-inducing to be cute, or a hilarious conversation starter not for the faint of heart? I think the only thing most of us could agree on was that no matter what, you should most definitely NOT wear it during lunch!
2013 was the year of Grumpy Cat. Her popularity exploded on the internet and beyond, in the form of officially licensed merch ranging from stuffed animals, to her own coffee drink. I was fortunate enough to the have the opportunity to meet Miss Tardar Sauce in the fur last month, and can confirm that she is all that and a bag of chips, plus more. It's no wonder that fans are falling over themselves to create cool art, and turn their favorite feline into a fashion statement.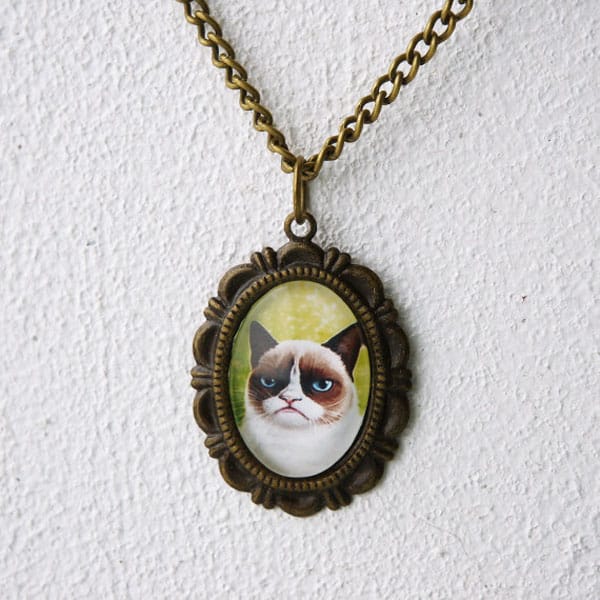 I had a blast pouring through Etsy in search of my favorite wearable Grumpy Cat gear, which included this delightful vintage cameo. Other stylish picks included a grumpy hair bow, gorgeously hand-painted shoes, a crocheted hat, and an embroidered pin to add a bit of grump to any outfit. Cat fashion may come and go, but Grumpy Cat is forever.
Looking for more cat style? Check these out: