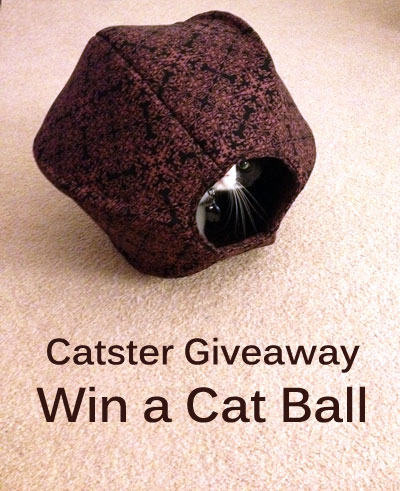 We have a fun giveaway for you today! It's a Cat Ball! What's a cat ball, you ask? Don't worry, your cat will figure it out.
That's what the site says about them, and it's true. Within one minute of getting it out of the bag, Moo was already inspecting it and figured out exactly what his new Cat Ball was all about.
So what is it? Well, it's a bed. And a box. And a hidey spot. And it actually looks good in your house!
The Cat Ball is basically a round all-enclosed cat bed with openings on each side for your kitty to go in and out and peek out of. (Like Moo is doing over there on the right!)
Moo is a kitty who loves boxes, and generally just to get in stuff. If he can get in it — a box, a bag, anything — he's in. I had three boxes lying around the living room, but since he has this fancy new Cat Ball now … maybe I can finally throw them out. (Don't worry; they're not going anywhere just yet. I don't have the heart.)
He also quickly figured out that since the Cat Ball is squishy (but still somehow holds its shape!), he can squish it and sit on top of it. Then it's more like a regular bed. Dual purpose!
HOW TO ENTER
To enter the contest, simply go to the Cat Ball store and leave a comment below on this post with which one you'd like to win! That's it!
We're giving away one Original Cat Ball, which is plenty big enough for cats of any size! Moo is 14 pounds and he has plenty of room to spare.
Comments must be received by Friday, Dec. 16, at midnight ET. Winner will be randomly chosen using random.org and contacted via e-mail. U.S. and Canada shipping only, please. UPDATE: International readers can enter, too, if they would like to pay shipping if they win. (Shipping to New Zealand, for example, is about $37, so that's still a Cat Ball at half price!)
Here are more pictures of Moo in his. He loves it! (Sorry, his print was one-of-a-kind, so you can't choose that one.)