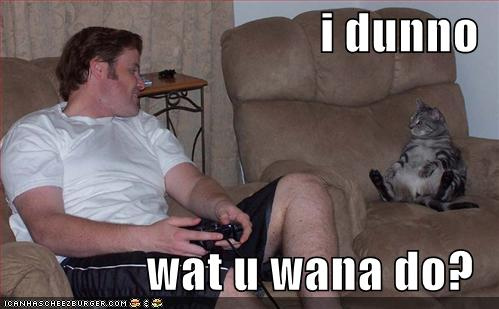 CALLING ALL CAT GUYS! Do you have a cat or two (or 10) at home to keep you company? Do you love the sound of a purr in the morning? Is your idea of a good time watching TV with your kitty on the couch? Do you miss your cat more than anything when you're gone on vacation?
Do you go above and beyond to help cats?
Do you talk about your cats to people at work?
Is your computer screensaver or phone background a picture of your cat?
While we're on that topic … are more than half the pictures on your phone photos of your cats?
How about framed pictures of your cats in your house? Custom cat artwork or your kitty?
How about cat hair? Do you wear it proudly?
Do you have more than two varieties of cat treats in your pantry?
Are your cats your children, your best friends, or your favorite companion?
Check your Facebook wall. Is it full of cat pictures, cat updates, cats that need homes, or LOLcats?
Do you refer to your cats as your children?
If you answered YES to any of these questions, we want to hear from you! We want to show off how wonderful all the caring cat guys are out there!
We're starting a new feature called Meet a Cat Guy, and we'd love YOU to be part of it! E-mail catsterblog (at) gmail.com if you're interested. We have some fun interview questions to ask you — and can't wait to meet all of you and your special cats!
If you leave a comment below, please be sure to leave an e-mail address so we can contact you.
P.S. If your brother, friend, boyfriend, husband, brother's friend's best friend, mother's co-worker's neighbor, second cousin, or the guy two cubicles over is a cat guy, please share this with them as well!