So many cool cat shirts are on the market right now that sometimes it gets overwhelming deciding which one to invest in. One positive trend I've noticed recently is a movement towards fashionable tees that serve the dual purpose of spreading awareness about pet adoption while also donating a portion of the proceeds to an animal related charity.
Last year, I profiled Cat Tee Mission, Sara Menzies' fledgling online shop, devoted to creating unique cat shirts, where 100 percent of the profits are donated to cat rescue organizations around the world. Sara continues to do great work and regularly adds additional designs, but I've also stumbled across some other options that I would be equally proud to wear.
For more charitable cat fashion, check the website of your favorite shelter or welfare organization to see if they have their own online shop. It's never been a better time to pick up a cool tee for summer, and feel good about it in the process.
The Teal Cat Project was started as a way to support TNR efforts (Trap-Neuter-Return), while getting crafty in the process. Founder Isa Chandra Moskowitz and the rest of the Teal Cat team gather used kitty cat tchotchkes and upcycle them into one-of-a-kind collectibles, which raise money for various cat charities.
The teal cat figurines are only available a few times a year and are known to go extremely fast, but if you haven't been lucky enough to snatch one up, you can still help out this cool organization. The Teal Cat Shop has a range of shirts and other items that support their mission, but my favorite is the newly added limited edition "There Are No Ordinary Cats" tee, designed by artist Lisa Congdon. All proceeds from the sale of the chic $24 shirt (available in women's and unisex sizes) go to fund the Teal Cat Project's supplies, so they can keep raising money to help homeless kitties.
Cat behaviorist and My Cat From Hell star Jackson Galaxy is an outspoken animal advocate, who regularly puts his muscle behind various rescue organizations across the country. He recently teamed up with Resqthreads to promote kitty T-shirts that they've designed in collaboration with, and to benefit, the shelters of his choice.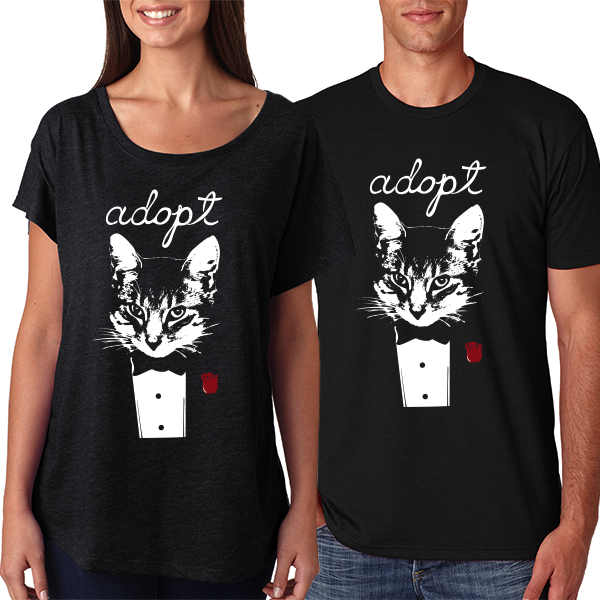 This month's charitable design is a dapper tuxedo cat-inspired tee, which I am completely dying over. The best part is, $10 of the proceeds go to All About Animals, a Phoenix-based rescue dedicated to saving companion animals whose lives are in jeopardy by providing rescue, foster and adoption.
Sometimes the best way to help out a cause is to create awareness, and what better way to spread the word than with an adorable cat tee that is sure to capture attention?
UK-based artist Beth Wilson of Doodlecats created this cute and socially conscious tee as a way to give back to her local rescue center, while also encouraging people to spread the word about the importance of adopting instead of buying. Not only are you saving the life of the fortunate feline you decide to take home, but you're also helping to make room for another shelter kitty to have a chance of finding her forever home, too.
Are you a proud kitty mama or cat daddy who rescued a furchild from a shelter? The ASPCA has a solid line of cat-centric tees that help spread the joys of adoption, while also allowing you to express your inner kitty pride.
I was initially drawn to the "Proud Parent of a Shelter Cat" tee, available in women's and men's sizes, but the "I (heart) my Shelter Cat" tee is also too cute to resist. Three percent of the proceeds from each sale goes to support the ASPCA and its mission to to provide effective means for the prevention of cruelty to animals throughout the United States.
Jill from the Sneaky Pablo Etsy shop wanted to do something for her local shelter, and decided to combine her love of screenprinting with her love of animals to help out in the way she knew best. Not only do sales of her original, hand-silkscreened tees go directly to rescue, but she hopes the shirts can help promote shelter adoptions in the process.
25 percent of the proceeds from her colorful tees are donated to Animal Welfare Association, a private, nonprofit shelter based in Voorhees, NJ.
"I would just like to emphasize the importance of adopting from shelters," Jill says. "Thousands (if not more) of animals are euthanized every day simply because people decided to give them up, for one reason or another, usually nothing to do with the animal itself. Please look at your local shelters and online at Petfinder and consider saving a life instead."
Looking for more cat style? Check these out: