---
**UPDATE: THE DEADLINE FOR SUBMISSIONS HAS COME AND GONE! The winner wil be announced shortly…;-)**
Catster will award 50 zealies and publication in the Cat's Meow blog for the entry judged to exemplify the most embarrassing cat moment. Enter yours for a chance to win! Deadline is Monday, 12/22 at noon PST. We're looking for funny, nerve-racking, frightening examples of embarrassing moments with your pet.
For (an admittedly lame) example, a couple of weeks ago, lured by Temptations, nip, and the promise of a Cat Fancy spread, Skeezix posed in the buff for celebrity pet photographer Mark Rogers.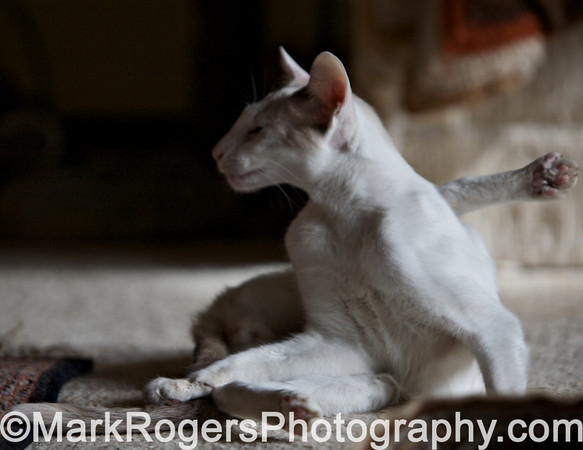 Unfortunately, the photos were leaked, and some risque photos were published on Snuzzy for the entire world to see. Just like Miley Cyrus, after this little teeny tiny lapse in judgement, Skeezy tried to backpedal and say that he trusted Mark's artistic vision and was caught up in moment, but later he admitted he was embarrassed and vowed never to show his Spots #13 or #14 on the Internet again.
I'm sure you have much more embarrassing cat moments than that. So leave your story in the comments field of this post, and good luck!