---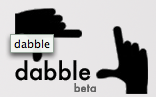 Dabble, a neat-o website that lets you easily bookmark and view videos from anywhere on the internet has just kicked off the 24-hour Dogster & Catster video playlist challenge. To enter, make an account on Dabble and make a playlist of your favorite dog and cat videos. Tag your playlist "Dabble Challenge 2006″
and "Dogster Contest". (More directions are here.)
You can add videos to your account (so you can add to a playlist) from Dogster Video, Catster Video, any video anywhere on the web or from their existing archive of video.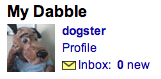 Here's Dogster's playlist. (While you're there add Dogster as a friend once you've made your account.) You can grab their bookmarklet to easy add video to your profile, and here's their playlist tutorial.
The creator of the playlist that gets the most favorites by noon the following day gets a Dogster (or Catster =) and a Dabble T-Shirt – and guarantees themselves a spot in the final competition!