Not Found
The requested URL /org8882.txt was not found on this server.
Additionally, a 404 Not Found error was encountered while trying to use an ErrorDocument to handle the request.
---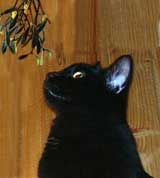 'Tis the season to be furry!
And to celebrate, we are offering the mistletoe gift FREE in the Catster Gift Store through Christmas Day!
P.S. Today and every day, cuddle your kitty and smother them with kisses!
In the photo: Catster member Ben
*/