Snuggle up to your kitty (whether he's in the mood or not) with these custom pet pillows. Made from photographs of cats — possibly yours — these silkscreen pillows are a fun way to decorate your couch or bed … without getting fur on the furniture.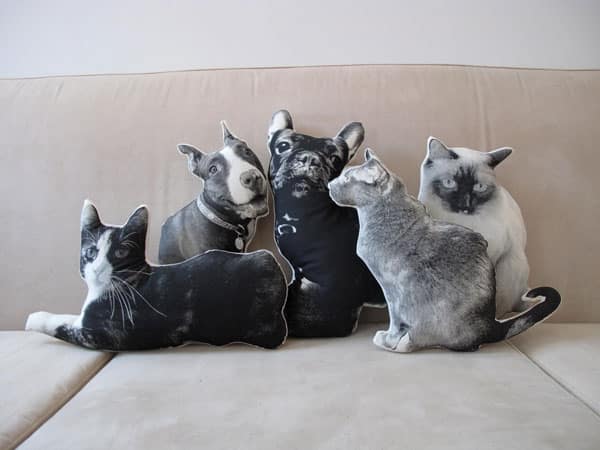 Each pillow is custom made by Broderpress shop owner Shannon Broder, using full-length photos of your pet. The custom pet pillows measure approximately 13 by 17 inches, depending on the proportions of the picture (or, um, how wide your kitty is). The pillows are black and white, giving them a retro feel.
Your kitty can be in any position — sitting down, standing sideways, lying down … or any other way you want to prop them. You can use the pillow for yourself, for decoration, or maybe even for your cat. How weird would that look?
One lucky Catster reader gets to win a custom pet pillow of his or her pet.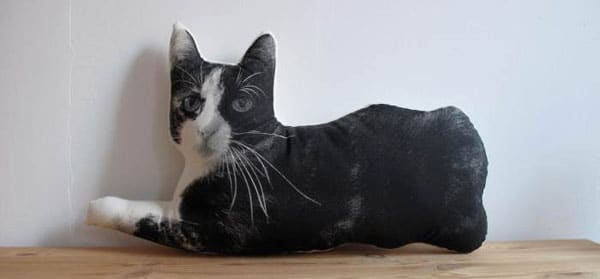 If you win, you'll need to provide a full-length, high-quality photo of your kitty to work from, so be thinking about which one you'll choose now, just in case.
HOW TO ENTER
To enter to win, simply leave us a comment telling us where you think you'll put your custom pet pillow! We'll randomly choose one winner, and we can ship the prize anywhere, so everyone can enter.
All entries must be received by Thursday, Oct. 4, at noon PST.
To be eligible for the prize, use your Disqus account to comment below. Creating a profile and avatar takes just a minute, and it is a great way to participate in Catster's community of people who are passionate about cats. (And note that if your Disqus account doesn't contain a valid email address, you can't win because we can't contact you. Boo! So please check your account.) We'll notify the winner by email, and you have two days to respond or we'll pick someone else. That's just how it goes. Good luck, everyone!
Superfabulous Catster Coupon
Woohoo! Catster readers get the VIP treatment this week. Use coupon code CATSTER12 at the Broderpress shop to get 15 percent off a custom pet pillow — whether you win this giveaway or not. We're all winners! Yay! (The coupon is good until October 18, 2012.)