---
You've heard the sayings: Keep calm and enjoy the catnip. Dogs have owners, cats have staff. Cats rule, dogs drool. I (heart) cats.
If these magical sayings are true for you (and of course they are!), then you're in the right place. Our giveaway today is a six-pack of fabulously feline-loving magnets, which is just what your fridge has been begging you for.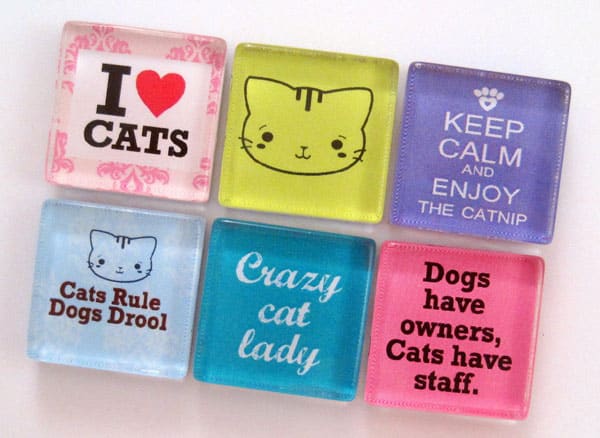 These magnets are handmade by Etsy shop StuckTogetherMagnets out of one-inch crystal clear glass squares with extrastrong magnets on the back. They're super cute and colorful.
One lucky Catster reader will win the whole set. These are perfect to keep for yourself or give to a special friend. Either way, someone's getting lucky here!
HOW TO ENTER
To enter to win, simply leave a comment saying you'd like to be entered. Anyone can win! StuckTogetherMagnets will ship anywhere in the world. All entries must be received by Thursday, May 10, at noon Pacific time. Make sure we have your e-mail address, so we can contact you if you win. We'll choose a winner randomly and contact you via e-mail. You have two days to respond or we're picking someone else. Sorry, those are the rules!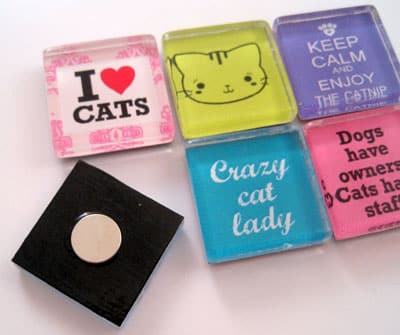 Super extra bonus: If you love other stuff in the StuckTogetherMagnets shop (check out the cats-with-mustaches magnets), Catster readers get an exclusive 10 percent off with their order during the whole month of May with coupon code CATSTER10. Enjoy!
Good luck, everyone!
P.S. Congrats to Linda and her kitties, Harley, Cody and Raj, for winning the Kitty Cradle Cat Hammock giveaway from last week!