---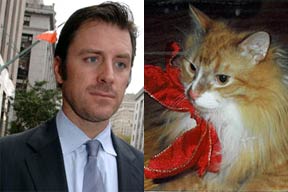 A mistrial was declared in the New York cat killer trial yesterday. The defendant, Joseph Petcka (a former minor-league pitcher for the Mets) claimed his girlfriend's DECLAWED cat attacked him and he only kicked the animal in self defense. The extent of the cat's injuries told another story. Norman (who was a 7-lb cat) suffered multiple broken bones, broken teeth, a torn tongue, and massive internal injuries including bruised lungs, a bruised liver and a chest cavity filled with blood. Juror No. 3 reported that eleven jurors believe Petcka's defense was "bulls—", and deliberations became very heated when juror Francisco DeFlavis held out for acquittal.
Prosecutors said they might retry Petcka.
If you wish to contact the trial judge and prosecutor in this case to urge a new trial, write to:

Judge

The Honorable Michael J. Obus
Supreme Court, New York County
100 Centre Street
New York, NY 10013
Phone: (212) 374-4784

Prosecutor:

The Honorable Leila Kermani
Manhattan DA Office:
One Hogan Place
NY, NY 10013
Phone: 212-335-3630 (or 9400)
Fax: 212-335-9288





Click here for Tips for Effective Letter Writing.
Click here to read comprehensive coverage of the case.
*/