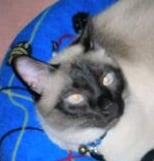 Last week, our Catster friend Snickers (right) alerted us to the story of cats rescued from a gruesome cat hoarding situation in St Anthony, Minnesota.
The cats were found living with Stanley and Cheryl Saladis in a 500 sq ft mobile home, and the stench was so bad that the fire department was called in to evaluate the ammonia levels and ventilate the home before rescuers could enter the trailer. The floorboards had rotted from standing urine.
The story got worse this week, when it was reported that all 118 cats that were rescued were euthanized by the Animal Humane Society of Golden Valley. Humane Society spokeswoman Deb Balzer said that the cats had a host of diseases including FIV, herpes, upper respiratory infections and ringworm.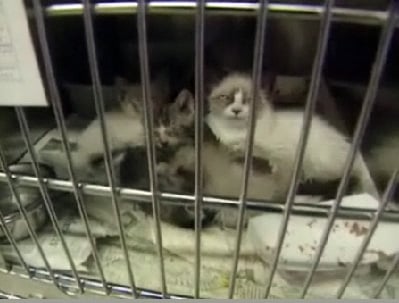 However, Animal Ark, a no-kill Hastings shelter, claims that the deaths were "totally unnecessary" and alleges that the Humane Society ignored calls and emails from people offering to support and adopt the cats.
Mike Fry, the Executive Director of Animal Ark, said, "I personally believe [the Humane Society] not only wasted the lives of these kitties, they squandered the good will of the community that was willing to aid in their care." Animal Ark describes itself as the state's largest "no-kill animal welfare organization."
Animal Ark's website posted Fry's lengthy reaction to the Humane Society's decision to euthanize the cats, pointing out that nearly all of the ailments assigned to the cats posed no risk to humans, and the other illnesses were not a justification to go through with destroying the cats. Fry also questioned the accuracy of some of the diagnoses.
"Given that animals from more severe animal hoarding situations have been rescued where the animals were suffering from far more serious medical and behavior concerns than the felines taken from this home," he said, "it seems clear [the Humane Society] had several options available to them that did not include killing these felines." [Click here to read Animal Ark's unexpurgated response to the killings.]
Humane Society President Janelle Dixon responded, "There is no one who works here who likes euthanasia." On Animal Wise Radio, Nathan Winograd stated that if Dixon ordered the killing of those cats that she should be fired.
As if the story couldn't get worse, this is not the first time the Saladises have been involved in cat hoarding. As recently as 2002, 72 cats were removed from the couple and Stanley Saladis was charged with cruelty to animals. According to one report, Mr Saladis paid $3000 in fines and was prohibited from owning pets during his 2-year probation period. The couple WAS NOT CITED IN THE CURRENT CASE, but was referred to social services.
Watch a video report here:
In a reader? Click here.
Thank you, Snickers, for passing this story along to us. If you have an idea for a Cat's Meow post, please email it to me and we'll toss a few zealies your way!